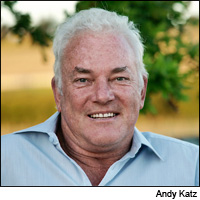 Founder and winemaker, Ken Forrester Wines
Tasting Beat: Guest blogger
Essentially I am a "new kid on the block," with just 15 years of winemaking experience and no formal training in either viti- or viniculture, just stints in various cellars and all the part-time courses I could get my hands on. I own a small vineyard, approximately 50 hectares, in South Africa, on the ocean side of Stellenbosch, about 40 minutes from Cape Town.
I was born in Zambia, the son of a copper miner and confirmed beer drinker. I finished my schooling in South Africa and studied hotel management in Johannesburg. I then spent a stint working for Southern Sun Hotels before opening some restaurants, which met with some success, including Diners Club awards for "Best Winelist" for almost a decade. Then an early mid-life crisis led to the purchase of a distressed historic property first inhabited in 1689, with the original vines planted in 1692. This old site is home to my family—my wife, Teresa, and our two daughters, seven dogs, eight horses, nine geese, some stable cats and flocks of wild guinea fowl.
Ken Forrester winery produces Chenin Blanc, Sauvignon Blanc, Merlot, Cab Franc and Shiraz, with a leased Grenache vineyard from a tiny ward called Tierkloof in the Citrusdal area about 2.5 hours north of Cape Town on a high, 2,500-foot inland plateau. This unique area is specifically known for the production of rooibos (red-bush) tea and is high enough to host wild buchu, a wonderful herb with mild curative properties for stomach disorders, headaches and even symptomatic relief for the common cold.
In the next weeks, I will attempt to give you an account of some of these diverse growing areas, their grapes, the wines and even a glimpse of the people behind it all.
Recent blog posts by Ken Forrester