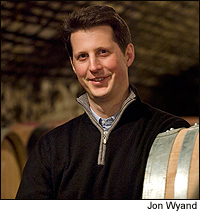 Proprietor, Domaine Dujac
Tasting Beat: Guest blogger
I was born in 1975 in a suburb of Paris, into a bilingual household. My father, Jacques, is French and at that time was winemaker and proprietor of Domaine Dujac in Morey-St.-Denis in Burgundy's Côte de Nuits. My mother, Rosalind, is American. She met my father when she came to work during the harvest at Dujac one year. Growing up in a bilingual household felt completely normal. I did all the things my friends did, the only difference being that I spent my summers in the United States and spoke two languages fluently. High school was a little different: I helped my friends with their English homework. Beyond that, it was great to grow up in the countryside, spending a lot of time outdoors. I helped my father during harvest time.
When I began my studies at Oxford University, I was wavering between pursuing a life in the wine business or marine biology. I studied biology, keeping my options open. I joined the Oxford University Wine Circle, where I got lots of tasting experience and ended up serving as president two years. I decided I wanted to become a winemaker during my second year of university.
After school, I spent two years working for an importer in London, then attended the University of Burgundy for a degree in science de la vigne. During my studies, I visited the Robert Mondavi Winery in Napa, gathering data for my thesis, and met a young California intern, Diana Snowden. After years of visiting each other in various wine regions, Diana became the enologist and cellarmaster at Dujac in 2003, and we were married in 2005. We have a baby boy, Aubert.
Today, my father is semi-retired, and I make the official decisions in the winery. In reality, it's a family affair, with Diana and my father and I tasting every day and making choices together. My mother, my younger brother Alec and our vineyard manager Lillian Robin also provide invaluable help. We own 40 acres in the Côte de Nuits and Côte de Beaune, half of which is farmed biodynamically. In terms of winemaking, I have learned almost everything I know from my father. I try to trust my palate more than numbers, and also to trust the grapes. If we have done our work in the vineyard, the wines tend to make themselves.
Recent blog posts by Jeremy Seysses