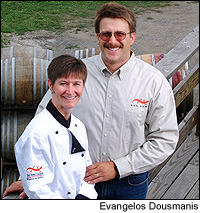 Co-owner and winemaker, Red Newt Cellars Winery & Bistro
Tasting Beat: Guest blogger
Being a native of the Finger Lakes of New York, I have always treasured the great natural beauty and endearing cultural charms of the region. But in the early 1980s, the economic clime of the Finger Lakes wasn't so hot. So, armed with a BS in biology from the State University of NY, I packed literally everything that I owned into my 1971 VW camper and headed west.
It was in and around California's Russian River Valley that I came to appreciate wine. I have many fond memories of visiting wineries in the day, then wheeling my bus up somewhere along the river for an evening of wine by the campfire. After a few weeks of this, I realized that "The wine business is cool!" At the same time, I was starting to hear exciting news about the wine business back in the Finger Lakes. So I packed up (oops! already packed) and headed east.
Through a strange twist of fate (that's another story) I landed a job as a cellar assistant a McGregor Vineyard Winery, a small winery on Keuka Lake growing exceptional, diverse vineyards and making great wines. During my three-year tenure, I learned a great deal very quickly both in the cellar and through the great educational support of the Cornell University Extension viticulture and enology program.
After winemaking stints at a handful of Finger Lakes wineries over the next decade, an opportunity arose in 1998 to start Red Newt Cellars Winery & Bistro (www.rednewt.com). The following summer my wife, chef Debra Whiting, and I opened the doors with a mere 1,200 cases of wine. Our 2008 production will be about 15,000 cases, and includes wines ranging from Riesling, Gewürtzraminer and Pinot Gris to Cabernet Franc, Merlot and Syrah. Our focus is on not only producing exceptional wines and food, but also creating a synergy between them.
Recent blog posts by David Whiting