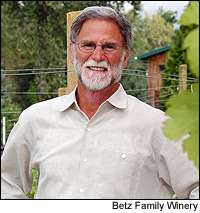 Owner and winemaker, Betz Family Winery
Tasting Beat: Guest blogger
I am the owner and winemaker of Betz Family Winery in Washington, where I've been active in the state's wine industry since the 1970s.
I got my start in the Washington wine business in 1976, after spending a year touring some of the great vineyards of Europe. I spent two decades working for Stimson Lane (known as Ste. Michelle Wine Estates since 2004), the parent of Chateau Ste. Michelle, Columbia Crest and other brands, and eventually became vice president of enology research and education. When I retired in 2003, I was also the managing director of two joint ventures, Col Solare with Antinori of Tuscany, and Eroica, with Ernst Loosen from Germany's Mosel region.
In 1997, the Betz Family Winery crushed its first grapes, focusing on red Bordeaux and Rhône varieties from the Columbia Valley. In 1998, I earned a Masters of Wine (MW) degree from the Institute of Masters of Wine in London. In 2003, I turned my full attention to the winery, which also employs my wife, Cathy, and daughter Carmen.
Read Wine Spectator's 2006 profile of Bob Betz.
Recent blog posts by Bob Betz