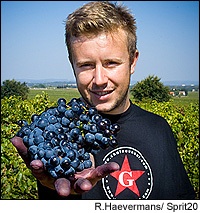 Vigneron, Domaine de la Barroche
Tasting Beat: Guest blogger
In 2002, I came to work for my parents at Domaine la Barroche after traveling a circuitous route. I have a strong personality, and I've always known exactly what I wanted. As a child, my grandmother shared the secrets of cooking with me, and this turned into a passion for fine cuisine. I wanted to learn the culinary arts, but my taste for good food eventually led me back to winemaking.
I studied wine at the University of Montpellier, in the Languedoc region, but I never strayed too far from my recipe books. It was a real revelation when I realized that my viticulture and enology courses at the university were based on the same principles as cooking. At this point, I found for myself a new objective: to learn all there is to know about wine, vines and terroir. Once I received my degree, I spent three years backpacking around the vineyards of France and Australia before returning to my roots in Châteauneuf-du-Pape.
I decided to work with my father in the vineyard, respecting each plot's unique terroir in order to produce a wine greater than the sum of its parts. The 2003 vintage was the first we ever sold in bottle rather than in bulk. In 2006, my father entrusted me with complete responsibility of the vineyard, while continuing to help me out on a regular basis. And I still haven't lost my thirst for knowledge. I discover something new about our terroir every day while working in the vineyard.
Recent blog posts by Julien Barrot