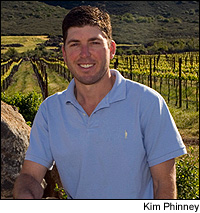 owner/winemaker
Tasting Beat: Guest blogger
Becoming a winemaker began as a simple suggestion from a good friend. While studying abroad at the University of Florence I, like so many other college students, was uncertain what to do following graduation. My roommate was from a family with strong ties to wine in Sonoma County, and he suggested I might enjoy the wine industry. I started tasting wine and was hooked.
Upon returning to the United States, I tried to get all the experience I could (while still a student at the University of Arizona). I met a professor in the agriculture department running a viticulture program, and in the spring of 1997 was able to participate in the planting of a one-acre experimental block in the heart of Tucson. Also during that time I worked at one of the city's best retail wine shops and began to learn the hardest part of the business: selling.
A few months later, with a degree in political science, I began my first harvest at Robert Mondavi Winery. After working the nightshift and getting a crash course in survival Spanish, I was completely hooked. The next year (in 1998), I started Orin Swift Cellars (www.orinswift.com) with two tons of purchased Zinfandel grapes and, as my wife, Kim, likes to say, "one pair of shoes". I worked as a winemaker for some other wineries until 2005, when I switched full time to Orin Swift and a few consulting clients, including Beau Vigne, Cavus, Stanton and Chateau de Vie.
The name Orin Swift is a combination of my father's middle name and my mother's maiden name. Those two tons of Zinfandel have grown into a program that is now our flagship wine, The Prisoner, which has been named to Wine Spectator's annual Top 100 list twice. Over the years, we have added bottlings (with a new Zinfandel in the pipeline), including Sauvignon Blanc (Veladora), Cabernet Sauvignon (Mercury Head) and a blend of Bordeaux varieties (Papillon), and we now make about 80,000 cases a year. The grapes come from a number of hard-working, long-time growers in the Napa Valley, and their counterparts in Sonoma, Contra Costa, Mendocino and Amador counties as well. In the future, we hope to build a winery on our property in the Atlas Peak AVA of Napa Valley.
Recent blog posts by Dave Phinney