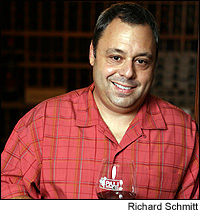 Managing Partner, Pali Wine Company
Tasting Beat: Guest blogger
Born and raised in Brooklyn, N.Y., I went to college at the State University of New York at Stony Brook where I graduated in 1984 with a degree in applied mathematics and statistics. Shortly after graduating, I entered the work force in the insurance industry where I ultimately became an actuary. In 1990, while working for Coopers & Lybrand, I met my wife, Judy, who is also an actuary. We married in 1993 and now have two sons.
In 1994, I started my own actuarial consulting firm, now called Perr&Knight, which has grown to become the ninth-largest firm of its type in the country, employing more than 100 people in all. My wife and I are the majority shareholders, and I am the firm's CEO and chairman. As Perr&Knight has grown, my role has moved away from day-to-day consulting work and towards providing strategic direction and oversight of the firm. This shift in responsibilities has given me the freedom to venture into new businesses, including Pali Wine Company (www.paliwineco.com), which Wine Spectator named one of the hot new dozen Pinot Noir producers in a 2007 article.
At Pali, which is owned by a group of friends and coworkers from the Los Angeles area, I am the managing partner and majority shareholder. In particular, I manage all of the winemaking operations at our winery in Lompoc, Calif., in Santa Barbara County. I coordinate production activities with our consulting winemaker and on-staff winemaker, develop and manage the relationships with our 16 vineyard sources, and ensure that the winery is properly equipped and running smoothly.
As we head into our fourth harvest, we are expecting to process about 90 tons of fruit (5,400 cases) under the Pali brand and about 25 tons of fruit (1,500 cases) under our yet-to-be-named second label. Grapes will be trucked to our winery from vineyards located in Santa Barbara County, Paso Robles, Monterey County, Sonoma, Napa and Oregon's Willamette Valley. Although we started out focused on Pinot Noir, we are expanding, and this year, we'll also be bringing in Chardonnay, Grenache, Barbera, Cabernet Sauvignon, Cabernet Franc, Merlot, Zinfandel and Petite Sirah—which should make for an extra-challenging year! We were also hoping to make a blend of white Rhône varieties, but see my first post for more about that.
I look forward to chronicling my 2008 harvest experience, which will undoubtedly include some tense moments, some happy moments, some disappointing moments and some humorous moments.
Recent blog posts by Tim Perr