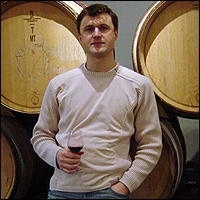 Proprietor, Domaine Michel et St茅phane Ogier
Tasting Beat: Guest blogger
"Il est tomb茅 dedans quand il 茅tait petit"鈥攖hat is what my father says about me, meaning that I fell into a wine tank as soon as I was born!
This was in October 1977, and from a very young age, I wandered the family vineyard鈥攑lanted by both my grandfathers鈥攁s well as the cellars to explore the very special and attractive scent they emit.
It was clear that my future lay in making wine. Therefore, at the age of 15, I left my village, Ampuis, in the northern Rh么ne's C么te-R么tie appellation, and went up north to Burgundy to study viticulture and enology. I stayed in Beaune for five years, and it is definitely there that I discovered the pleasure of drinking wine. That is why great Burgundy, along with Rh么nes, are my preferred red wines. I also appreciate Barolo, which represents a good part of my personal wine cellar, along with German Rieslings, Alsace, old Bordeaux, California and Australian wines.
Just after the end of my studies, I started to work along with my father on the family domaine, now called Domaine Michel & St茅phane Ogier; 1997 was my first vintage in the C么te-R么tie. During this period, I also had the opportunity to go to South Africa during their vintage.
When I started out 10 years ago, my father was only growing 3 hectares of old vines in the C么te-R么tie. This seemed too small for me, and my objective since then has been to further develop the vineyard. I had the chance to plant more Syrah, Viognier and Rousanne in the La Rosine vineyard, which is situated just above the appellation.
In 2001, I crossed the river and planted Syrah on the "terres de Vienne" area, where we have been making the L'Ame Soeur bottling since 2004. Most important was the creation of new vineyards in the C么te-R么tie with lieu-dits such as But de Mont, La Gerine, Le Besset and Fongeant. All these different terroirs have contributed to bringing even more richness and complexity to our C么te-R么tie.
More recently I have bought 1.2 hectares of 15-year-old vines in the Condrieu appellation, where 2007 is our first vintage. In total, we are farming 12.5 hectares this year.
These past ten years have meant a lot of changes in the cellars. Perhaps we can see an evolution of the domaine style and at the same time keep the Ogier style of wines developed by my father鈥攖he true expression of the terroir by finesse and delicacy.
I have a lot of projects in mind for the future, but quality of life and pleasure are important, and when I have free time, I enjoy go-carting and hiking. I also appreciate travelling and the pleasure of having great food (with great wine!) made by a great chef!
Read James Molesworth blogs about his visits to the Ogier family domaine in 2007 and 2008.
Recent blog posts by St茅phane Ogier