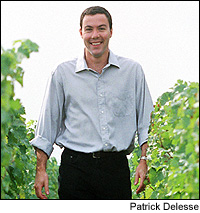 CEO, Château Lynch-Bages
Tasting Beat: Guest blogger
Born in 1974 in Bordeaux, I spent my youth in Pauillac, where my father, Jean-Michel Cazes, had just moved from Paris to manage our family's vineyards at fifth growth Château Lynch-Bages. He also managed a portfolio of estates for French insurance company AXA from 1987 to 2000.
I studied economics and finance at the Bordeaux University, and during summer holidays, I worked at Lynch-Bages, racking barrels or as an assistant winemaker during the harvest. After internships in the banking business in New York and Paris, I moved to São Paulo, Brazil, working for two years as a finance controller for a French company in the automotive industry.
In mid-2001, I returned to Bordeaux to join J.M. Cazes-Sélection, the wine distribution company my father had recently founded. Along with my responsibilities as a sales manager for Scandinavia, the United Kingdom and the Americas, I studied at the Bordeaux University of Oenology, finishing the Diplôme Universitaire d'Aptitude à la Dégustation in 2005. Since June 2006, I have assumed the responsibility of CEO of the family estates, which also include the Bordeaux properties of Château Les Ormes-de-Pez in St.-Estèphe and Château Villa Bel-Air in Graves, Domaine des Sénéchaux in Châteauneuf-du-Pape, L'Ostal Cazes in the Languedoc-Roussillon region of France, Xisto in Portugal's Douro Valley and Tapanappa in South Australia. My father remains involved as chairman of the board.
Recent blog posts by Jean-Charles Cazes