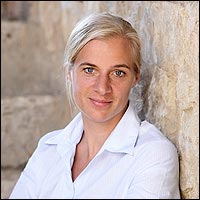 winemaker, La Brancaia and La Brancaia in Maremma
Tasting Beat: Guest blogger
I grew up in Zurich. After graduating from high school in 1991, I often worked at the Brancaia Wine Shop, part of the winery my parents, Brigitte and Bruno Widmer, owned in Tuscany. I didn't discover a fondness for wine right away, however, and decided to study architecture.
After two years I had a creative crisis and holed up in the family's estate in Tuscany. That did it. I went back to Zurich and got a wine merchant's diploma. The next year I went to Domaine des Balisiers in Geneva—Switzerland's largest producer of organic wine, with about 62 acres—as a trainee. I worked in the vineyards for six months, then in the cellar. After a half-year stint at the Brancaia Wine Shop, comanaging purchases and organizing major tastings, I began to study enology at the technical college of higher wine education at Wädenswil.
In 1998, I took charge of wine production at Brancaia. Together with my husband, Martin Kronenberg-Widmer, I have been leading Brancaia and Brancaia in Maremma since 2002. Martin is responsible for the management and the worldwide distribution, while I am responsible for the production.
Our original winery is located in the heart of Chianti Classico, and we have two nearby vineyards—Brancaia (Castellina in Chianti) and Poppi (Radda in Chianti), both located between 750 feet and 1,300 feet above sea level. Since 1998, my family has owned a sister winery, Brancaia in Maremma. It is located southeast of Grosseto, about 7 miles from the sea in the municipality of Morellino di Scansano. The cellars opened in 2003.
Watch the video of Barbara Kronenberg-Widmer's presentation of the Brancaia Toscana Il Blu 2004 at the Top 100 of 2006 seminar at the 2007 Wine Experience.


Recent blog posts by Barbara Kronenberg-Widmer