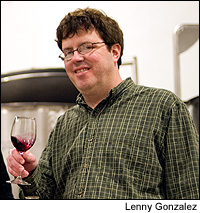 Co-founder, Siduri Wines and Novy Family Winery
Tasting Beat: Guest blogger
I was born in Austin, Texas, in September 1964 and was raised rather strictly Southern Baptist (in other words, I didn't drink). I moved to San Antonio and attended college at Trinity University where I drank a lot (but rarely fine wine). After graduating with a degree in French history, specializing in the comparative history of the French and American prison systems, I was largely unemployable—except, apparently, for the wine business, in which I got a job as an assistant manager at Austin Wine & Spirits.
At Austin Wine & Spirits, I learned about the wines of the world, thanks to a great group of wine distributors and courtesy of the portfolios of importers such as Bobby Kacher, Terry Theise and Marco de Grazia. I also had the opportunity to taste a great deal of Bordeaux and even had the opportunity to travel to California and meet with winemakers such as Tom Rochioli, Burt Williams and Ed Selyem and Reg Oliver of El Molino. This is where my love of Pinot Noir started.
Eventually, I became the president of the three stores that made up Austin Wine & Sprits and then I moved to Dallas where I became one of the wine buyers at Neiman Marcus. There, I met a young lady named Dianna Novy, and we started dating, fell in love, got married, and eventually moved to Northern California to pursue a career in wine.
In 1994, we pulled together our $24,000 and started Siduri Wines, making Pinot Noir from a vineyard in Anderson Valley. This wine (and subsequent releases) garnered some fine praise from wine critics, and our own brand was off and running. In 1998, we started Novy Family Winery, focusing more on Syrah, with Dianna's family as investors. We now make more than 20 different single-vineyard Pinots, from Oregon's Willamette Valley down to California's Santa Rita Hills, and also numerous single-vineyard Syrahs, as well as playing with Zinfandel, Chardonnay, Viognier and who knows what else.
Dianna and I have been busy otherwise, as well, with three children: Christian (9), Amber (4) and Truett (2).
Adam Lee, Brian Loring and other Pinot Noir producers are blogging more about their harvest at www.pinotharvest.com.
Watch Wine Spectator senior editor James Laube's video interview with Adam Lee.
Recent blog posts by Adam Lee