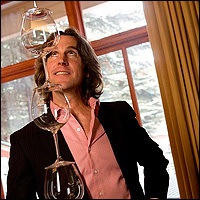 Winemaker and importer, Betts and Scholl
Tasting Beat: guest blogger
I was born in the "other" New York (read: upstate) and grew up in the Old Pueblo of Tucson, Ariz. I migrated to the fine liberal arts institution of Occidental College in Los Angeles for my undergraduate work and earned a suntan and, surprisingly, a B.A. in 1994. I took a break and followed a lovely Italian woman (now my wife) to Italy, where I fell head-over-heels in love with the dining tradition, of which wine is an inseparable part and likely the cause of my fall. I went on to complete my M.S. at Northern Arizona University and was headed to law school when I had a glass of wine that changed it all and thus decided to follow my love and get into food and wine instead.
Reading and tasting everything, I cooked for chef Alan Zeman at Fuego in Tucson, where I finished as saucier and volunteer "sommelier from the kitchen." In 1998, I joined James Beard Award-winning chef Janos Wilder as his first sommelier opening his new restaurant in Tucson. I have been with the Little Nell in Aspen since summer 2000 as their wine director. (Best wine job on earth!) In spring 2003, I passed the Court of Master Sommeliers' master sommelier exam on the first attempt, becoming only the ninth person to do so, and earned the Krug Cup in the process … I do like Krug ….
Recently, I cofounded my own wine label and import company, Betts and Scholl, which specializes in "the best from wherever it may come," including: Australian Grenache, California Syrah and Hermitage rouge et blanc. Today, I'm loving life in Aspen with my wife, Mona, daughter, Isabella (7 years old), and the best golden retriever ever, Mukki (11).
Recent blog posts by Richard Betts