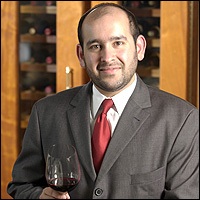 Wine director, The Mina Group
Tasting Beat: Guest blogger
I am the wine director for the Mina Group, a restaurant company headed by chef Michael Mina with restaurants in San Francisco; San Jose, Calif.; Dana Point, Calif.; Las Vegas, Atlantic City, N.J., and soon Mexico City. The flagship, which is called Michael Mina, is in San Francisco, the city I happily call home. At Michael Mina, I have put together a list with 2,500-plus selections, which earned a Wine Spectator Grand Award in 2005. The list is international in nature, but I admit to a special emphasis on my true loves of Burgundy and the Rhône.
I grew up in Calcutta, India, in a family that cooks and loves cuisine. This culinary passion has never left me, and today I am still an avid cook and my palate for food is as crucial to doing my job as my palate for wine. The pursuit of food ultimately led me to hotel school and then to chef school at the Culinary Institute of America in Hyde Park, N.Y. While there, I happened to read an article about sommelier Larry Stone, and something just clicked for me. I knew that I wanted to find him in San Francisco and learn about wine from him. So after graduation, I flew out to San Francisco and basically knocked on the door of Rubicon, where Larry then worked, and convinced him to give me a job. Over time, I became his assistant and continued learning until it was time to branch out on my own. I took the job of wine director at the Fifth Floor, winning a Wine Spectator Grand Award for that wine list in 2001.
This career has been a dream so far. What more could you ask for than the chance to travel, taste and share experiences with friends and guests? Working as a sommelier on the restaurant floor is like throwing a party every night. While I have been fortunate to help open nine restaurants in the past 12 years as a sommelier (seven of them with Michael Mina), a new project has me very excited: the opportunity to participate in the winemaking process. I started my own label, Parr Selection, in 2004, and it has given me the chance to work with some of the most talented winemakers in California, as well as to put to test some of my own theories and ideas about wine.
I look forward to discussing these things--and many others concerning the wines and the business of being a sommelier--with you in the coming days. Please feel free to post questions and comments, as I much prefer dialogue to the sound of my own voice.
Recent blog posts by Rajat Parr