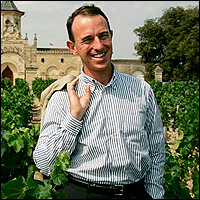 CEO of Domaines Reybier
Tasting Beat: Guest blogger
I was born in 1969 into a family where wine is religion; I'm the fourth generation to be involved in the management of Château Cos-d'Estournel.
My father, Bruno, who is now retired, was a key figure in the Bordeaux trade. He managed Cos-d'Estournel from 1970 to 1998. His grandfather, Fernand Ginestet, bought the second-growth St.-Estèphe château in 1917; he also owned other Bordeaux estates, including Château Margaux, as well as a large négociant firm, Ginestet. My father's other grandfather, Jean Prats, was the founder and president of Saint-Raphael, a major French spirit company of his time.
After earning a degree in business management from the European Business School, I went to work with my father in 1995. In 1998, I took over as president of the estate, and in that same year my family sold the château; then, in 2000, it was sold again, this time to Michel Reybier, a French businessman. I stayed on through all the changes, and am now CEO of Domaines Reybier, which includes Cos, Château Marbuzet (also in St.-Estèphe) and a new high-end wine called Goulée.
I am one of the youngest managers of a top Médoc estate, and am proud to be part of a new generation that is a "changing of the guard" in Bordeaux. I'm also a member of the board of directors of the Conseil des Crus Classés en 1855, the Académie du Vin de Bordeaux and the Commanderie du Bontemps du Médoc et des Graves, de Sauternes et Barsac.
On the personal side, my wife's name is Stéphanie; we are the proud parents of two sons, Jean-Quentin and Baptiste, and three girls, Marine, Margot and Clarisse. I am also a very keen player of real tennis (jeu de paume). I was the youngest player ever to play for the French team in an international match and was French amateur champion in 1994, 1995, 1996 and 1998.
Recent blog posts by Jean-Guillaume Prats