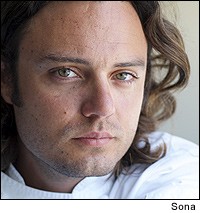 Chef and co-owner, Sona and Boule
Tasting Beat: Guest blogger
My name is David Myers, and I am the co-owner of Sona, a Wine Spectator Grand Award-winning restaurant, and Boule, a Parisian-style pâtisserie, both in Los Angeles.
I was born in Boston and raised in Cincinnati, where I spent springs and summers helping my grandparents with their farm gardens, therein learning the value and beauty of fresh produce that has been raised with care. Although I began an undergraduate business program at Ohio State University, the fact that I was spending far more time cooking than studying made me realize that I was destined to be a chef. After learning my basic skills in Columbus, Ohio, I went to work for Charlie Trotter, who gave me the culinary education of a lifetime before sending me to stage at Les Crayères in Reims, France. I returned to the States and went to work for Daniel Boulud at Daniel, in New York, and later became executive sous chef at Joachim Splichal's Patina, in Los Angeles. I opened JAAN, in the Raffles L'Ermitage Hotel in Beverly Hills, as executive chef, and then opened a second branch of JAAN in the Westin Stamford Equinox in Singapore.
In the kitchen at Sona, I have the privilege of creating food that reflects my philosophy of cooking, in which the emphasis is on movement, spontaneity, improvisation and perfection. In late spring of 2007, we'll open Comme Ça, a modern brasserie in West Hollywood. I'm looking forward to blogging about my experiences, from cooking in France to opening a third restaurant venture in a major American city. I'm also looking forward to reading your comments and answering your questions about food, wine, cooking and the restaurant business.
Recent blog posts by David Myers