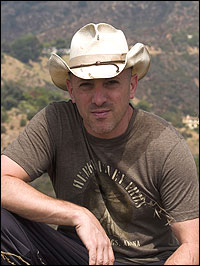 Owner, Caduceus Cellars
Tasting Beat: Guest blogger
I've gone from West Point cadet to cofounder of international recording acts Tool, A Perfect Circle and Puscifer. And I've made my way to Arizona, where I have been a resident since 1995, from Ohio and Michigan via Boston and Los Angeles.
In addition to collecting wine (I estimate there are about 6,000 bottles in my cellar), I have now started my own winery, Caduceus, in Cornville, Ariz., near my home, where I'm making wine with the help of Page Spring Cellars owner Eric Glomski. In fall 2006, harvest got underway as I was wrapping up a tour to promote Tool's latest album, 10,000 Days. On top of that, Caduceus released the third bottling, a 2004 Cabernet Sauvignon-Syrah called Nagual del Sensei, from my first year of blends. The first two wines were the 2004 Primer Paso, a Shiraz and Malvasia blend, and the 2004 Nagual de la Naga, a Cabernet and Sangiovese blend, both of which are already sold out.
In January 2007, Eric and I bought the former Dos Cabezas vineyars, now renamed, from which we'll be producing a new line of Arizona Stronghold Vineyards wines.
My intuition serves me well. After I dove headfirst into the world of winemaking, I found out from a rarely seen, somewhat distant relative that wine is in my blood. My great grandparents and my great uncle, Mr. Marzo, had vineyards and made wine somewhere in pre-World War II Europe, either southeastern France or northern Italy--by some reports, the Susa area in Piedmont. My tastes in wine reflect this history. It's even apparent in my choice of home. Clearly I and my fathers are one.
Read our Q&A with Maynard James Keenan
.
Recent blog posts by Maynard James Keenan