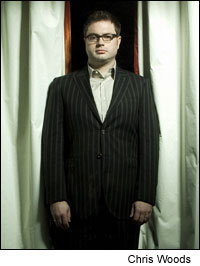 Co-founder, singer/songwriter of Barenaked Ladies
Tasting Beat: Guest blogger
Hello everyone, my name is Steven Page, and I'm one of the founders and lead singer/songwriters of the band Barenaked Ladies. You may know us from some of our songs like "One Week," "If I Had a Million Dollars," or our latest single, "Easy." I am also a passionate wine fan, and have been a subscriber to Wine Spectator for more than a decade, and I've subscribed to this Web site since its inception, so suffice it to say that I'm very excited to be a guest blogger here.
Normally, I live in Toronto with my wife and three sons, but right now, on the heels of the release of our new CD, Barenaked Ladies Are Me, I'm preparing to spend the rest of the year on the road, traveling across the United States playing concerts and sampling the fine regional fare. Over the course of the tour, I'll be blogging about my experiences with and opinions on wine, food, music, wine, Canada, travel and wine. Oh, and maybe some wine talk, too.
And I look forward to reading and responding to your questions and comments. Hope you have as much fun reading this blog as I do writing it!
Recent blog posts by Steven Page