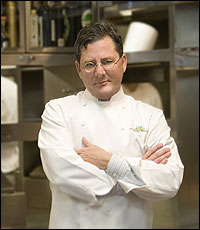 Chef, Charlie Trotter's
Tasting Beat: Guest Blogger
In 1987, I opened a restaurant in a townhouse on the northern edge of Chicago. Charlie Trotter's is still open nearly two decades later, and we're fully booked almost every night. The restaurant has received many honors; among those I value most are from Wine Spectator--a Grand Award for our wine program, which we have held since 1993, and being named "America's Best Restaurant" in 2000.
In 2004, I opened my second restaurant, in the One&Only Palmilla resort in Los Cabos, Mexico. With the help of a great team, I've published 15 cookbooks (Charlie Trotter's Spa Cuisine at One&Only Palmilla is the most recent) and host a television show, The Kitchen Sessions, broadcast nationally on PBS.
I believe it's important to give back, and devote time and energy to a range of charity events. In 1999, I established the Charlie Trotter's Culinary Education Foundation, which offers scholarships to culinary students and hosts weekly dinners for high-school students. To date, the foundation has raised about $850,000. And this October, I will make my fourth appearance at Wine Spectator's annual Wine Experience, which raises money for the Wine Spectator Scholarship Foundation.
Recent blog posts by Charlie Trotter