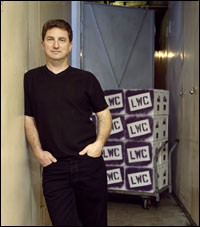 Founder, Loring Wine Company
Tasting Beat: Guest Blogger
My name is Brian Loring, and my obsession is Pinot Noir. I worked in wine shops during high school and college to support my love of loud concerts, fast cars and girls. Along the way, I developed a passion for wine. It started with California Cabernet and Chardonnay (how boringly typical). But it gradually developed into a romance with Burgundy. Ah, the most fickle of loves, Burgundy provided as much pain as it did pleasure. At least there was always Champagne to comfort my wounded heart.
After college, I went into the aerospace world, working as a software engineer. I designed and wrote code for submarine missile launch and torpedo guidance systems. Or, as I like to say, I was keeping the world safe for Pinot Noir. I also worked on more mundane things like sonar and radar systems. Important work, but not as much bang for the buck, if you get my meaning.
In the early 1990s, I met Norman Beko, owner of Cottonwood Canyon Winery, at a tasting in The OC. We became friends, and after I helped at the winery during the 1997 and 1998 harvest, I convinced Norm to sell me 3 tons of Pinot Noir in 1999. That was the start of Loring Wine Company.
I was lucky to get fruit from Garys' and Clos Pepe vineyards in 2000. Reviews of those wines helped catapult Loring Wine Company to the attention of those who love California Pinot Noir. A few articles later, including being part of Wine Spectator's cover story on California's New Generation, and now I'm completely unbearable to be around.
The winery's success has allowed my sister, Kimberly, and me to quit our day jobs and work fulltime in the glamorous world of wine. Without any employees, we're still able to produce about 7,000 cases of Pinot Noir each year, from vineyards ranging from Oregon to Santa Barbara County. We've just completed building a new winery in beautiful Lompoc, CA. We can't wait to experience our first harvest in the new place!
What else? I'm 5'9", brown hair, blue eyes, and I only eat things that have a face. I'm not a fan of long walks on the beach--I'd rather sit on the couch with a nice glass of bubbly and watch reruns of The Deadliest Catch. And I love blogging about my favorite subject: ME! ☺
Brian Loring, Adam Lee and other Pinot Noir producers are blogging more about their harvest at www.pinotharvest.com.
Recent blog posts by Brian Loring