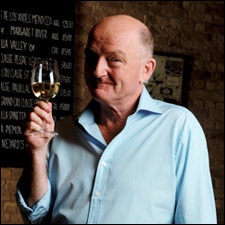 Guest blogger
My passion for wine dates from my student days at Oxford University. Since that time, I've written numerous books, trying to combine extensive wine knowledge with an accessible, no-nonsense approach—along with wit and directness. My most recent publications include Oz Clarke: Grapes & Wines, Let Me Tell You About Wine, and my annual Pocket Wine Guide, among others.
I also make frequent BBC TV and radio appearances that are broadcast around the world, and will be brought to BBC America in the next year, including Oz and James's Big Wine Adventure, with Top Gear co-presenter James May. My latest TV venture is Oz and Hugh's Last Orders, with British comedian and actor Hugh Dennis, to be screened January 2011 on BBC2.
Before wine took over my life in 1984, I was a full-time actor and singer, appearing in West End hit shows such as Evita, Sweeney Todd and The Mitford Girls, and touring with the Royal Shakespeare Company. I am also sports mad and support Gillingham Football Club, near my childhood home in Kent.
Those of you who are longtime attendees of Wine Spectator's Wine Experience may have seen me as the keynote speaker at the events both in New York and in San Francisco. It's good to be back.
For more from me, visit www.OzClarke.com. And check out my video interview.
Recent blog posts by Oz Clarke