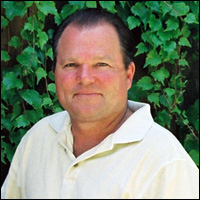 owner and winemaker, Caymus Vineyards
Tasting Beat: Guest blogger
I represent my family as owner and winemaker of Caymus Vineyards, a title I'm humbled by.
We Wagners come from Alsace, but have been farming in Napa for 101 years. I have spent all my life in the vineyards just outside the town of Rutherford, a small community in the center of the Napa Valley.
My maternal great-grandfather, Lafeyette Stice, was a winemaker for Gustave Niebaum of Inglenook, among others. I wish I could have spent time with him! From that side, I have three family members in the wine business in the Napa Valley.
As a child, I played alone with a dog, and was not inspired by much; in high school, I preferred sports to studying. Things changed a couple of decades ago when I had kids and got serious about the wine business. Fortunately, I was able to learn a few things about making wine from my dad, Charlie, and especially from George Deuer, who was winemaker for Inglenook for something like 27 of their golden years.
My wife, Charlotte, and I enjoy family, friends and movies (she is proprietor of the Cameo Cinema in St Helena, which she painstakingly restored after acquiring the business over 10 years ago). With four kids, I have found vines easier to raise. And I am a grandpa with 1-year-old twins.
My hobbies include reading histories of the American movement west to California, and learning about the character of those people. Genealogy is something that I have been seriously involved in for five years or so.
I smoke the occasional cigar and love stinky cheese and smelling the air during harvest. I have no idea why I am so lucky to be living on this great earth!
My dad always said that it's best to drink a glass or two of wine with dinner on a regular basis, and that is what I do. One of the best things about wine? Wine makes friends … and is good for your health! Great wines are a highlight of my day.
To learn more about Caymus:
• Watch our video interview with Chuck Wagner.
• Read our article Napa's 50 top Cabernets and the complete analysis in the Nov. 15, 2006, issue cover package.
Recent blog posts by Chuck Wagner