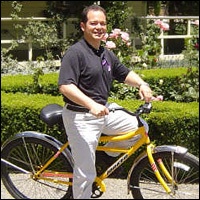 general manager, Rubicon Estate
Tasting Beat: Guest blogger
My exposure to food and wine began at a tender age. My father was a produce buyer at the Pike Place Market, and I got to tag along with him when he went shopping at the farmers' and merchants' stalls. I could distinguish a really fresh salmon from one that had been iced over and over again, and I knew about 10 varieties of apple and five of pear. My mother had grown up in rural Romania and taught me how to make pâte à choux and velouté (They liked French food in Romania). I loved food, going to farms and picking fruit or buying vegetables freshly picked from the fields. And I loved the smell of wine and liked to blind taste even while I was in elementary school. When I was around 15, I even made "wine," from concentrate, in the storage room of the building where we lived.
After coming out of college with a degree in comparative literature, I used my restaurant experience (dishwashing) and wine knowledge to convince one of the most wine-dedicated restaurateurs in Seattle to give me a job as an assistant sommelier. After a few months, I realized that I enjoyed this profession enormously—it was a lot of fun to taste wine and to expose people to new wines or ones they had never heard of before. At the time, there were very few sommeliers and fewer positions. This didn't discourage me, because I could see from the success of publications such as Wine Spectator that people were seeking real wine knowledge and expertise. My entrance into the sommelier profession, just a few years after the Judgment of Paris, coincided with the infancy of wineries like Rubicon Estate, Opus One, Grgich Hills, Quilceda Creek, Duckhorn and Cain Cellars.
I never looked back. In time I became a master sommelier. I worked at the Four Seasons in Seattle and Chicago, then left to join Charlie Trotter's, where I formed a lifelong friendship with chef Trotter, a generous, wine-loving man who introduced me to so many people. In 1994, I helped open Rubicon restaurant (which later earned a Wine Spectator Grand Award) in San Francisco with Drew Nieporent, Francis Coppola, Robert DeNiro and Robin Williams. I loved every minute there. Along the way, I had the opportunity to work with some great people—too many to name in this space.
A few years ago, I joined Francis Coppola's Napa Valley winery, Rubicon Estate, as a board member. Today, I am even more involved in the winery as its general manager. The place inspires everyone who works here with its history and traditions. Winemaker Scott McLeod is focused on returning this estate to its preeminence, knowing every square inch of the vineyards and memorizing the details of each fermentation. And Francis, too, is deeply involved in every detail. So I'd better sign off now and get to work.
Recent blog posts by Larry Stone