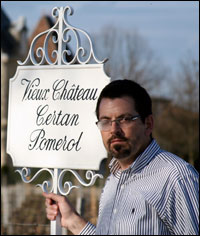 wine director, Delmonico Steakhouse Las Vegas
Tasting Beat: Guest blogger
I am currently the wine director and sommelier for chef Emeril Lagasse's Delmonico Steakhouse at the Venetian Resort in Las Vegas, where I have been since 1999.
We have built the wine list at Delmonico to around 1,800 selections, and in 2004 we were awarded Wine Spectator's Grand Award--essentially the Oscar for sommeliers and restaurateurs. This award, and passing the master sommelier exam in 1999, are the two crowning achievements of my career. I could not have accomplished either one without the unwavering support from chef Emeril and my wife, Lynda.
I was born in Victoria, Texas, and moved to Las Vegas in 1991 to study at the University of Nevada, Las Vegas, where I graduated with a degree in hotel administration in 1993. I joined chef Emeril in 1996 as sommelier and wine manager at his New Orleans Fish House at the MGM Grand, and have been with his organization ever since. In the meantime, Lynda and I have had the good fortune to enjoy two lovely daughters, Madison and Juliana.
Recent blog posts by Kevin Vogt