Posted: September 30, 2013 By Harvey Steiman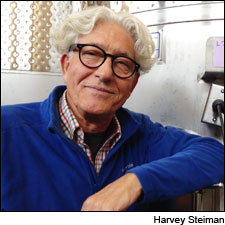 Blogs : Harvey Steiman At Large
Burgundian winemaker enjoying his first vintage
Posted: September 24, 2013 By Harvey Steiman
Rain is falling outside. Jacques Lardière's first grape crop in Oregon is still only about half picked. But he can't help smiling. He looks like he's having the time of his life.
Only a month ago Lardière and his longtime employer, Maison Louis Jadot in Burgundy, announced that they had purchased Resonance Vineyard in the Oregon's Yamhill-Carlton AVA and would start making their own estate wine from it.
Blogs : Harvey Steiman At Large
Young chef Michael Warring goes it alone
Posted: September 17, 2013 By Harvey Steiman
The plates look like casual perfection at Michael Warring, the secret eponymous restaurant of Solano County. Pale green pressed cucumber soup, dolloped with creamy sabayon and topped with a salad of vivid baby greens, comes in a square-bottomed jar, looking like a terrarium. A softly poached egg enriches already creamy risotto, made to order and generously flecked with black truffle shavings. Sautéed slices of giant squid share space with lobes of golden sea urchin atop beautifully browned pain perdu, nestled in an ecru puddle of apple cream.
Everyone in the small dining room gets a ringside view as Warring cooks five-course dinners one by one.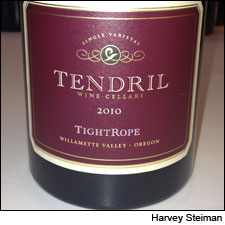 Blogs : Harvey Steiman At Large
Let's see, it's Oregon, uses only one grape variety …
Posted: September 11, 2013 By Harvey Steiman
Tendril's front label for its TightRope 2010 says "single varietal," but it doesn't says exactly what that grape might be. If this were the official front label, it would be illegal. It may look like the official label, but it's not. Confused? It's a fairly common occurrence, and there's nothing wrong with it, but it can be puzzling.
Wineries are allowed to present all of the required information in the required format. And this one does, but it's on what looks like a back label. Atop all the small type explaining what the wine is all about, it identifies the variety as Pinot Noir.
Personality clashes lead owner Pete Kight to part with Barossa Valley vintner
Posted: September 3, 2013 By Harvey Steiman
Blogs : Harvey Steiman At Large
What all the attention might mean
Posted: September 3, 2013 By Harvey Steiman
It was a seminal moment in Oregon's wine history when Robert Drouhin, of Burgundy's celebrated Maison Joseph Drouhin, bought a 225-acre rolling hillside in Dundee Hills in 1987, planted what is now a 90-acre vineyard and built a winery. It was like a stamp of approval. Everyone cheered.
Drouhin's success bolstered the state's burgeoning reputation as a source of great Pinot Noir, mostly created by homegrown talent and owners. They have attracted increasing interest and investment by outsiders, and this year the action has been fast and furious.
Aug. 31, 2013 Issue : Features
A Silicon Valley mainstay builds a cellar deep in Burgundy
Posted: August 31, 2013 By Harvey Steiman
Aug. 31, 2013 Issue : Tasting Reports
After a period of market turmoil, quality is rising amid a tide of new wines
Posted: August 31, 2013 By Harvey Steiman
Blogs : Harvey Steiman At Large
Science marches on, one sip of wine at a time
Posted: August 21, 2013 By Harvey Steiman
I love science. I grew up reading Isaac Asimov essays, and I lap up the latest scientific papers about wine. I came across the following nuggets in recent weeks, ranging from intriguing to frankly frivolous. Each one of them got me thinking. Maybe they will for you too.
Blogs : Harvey Steiman At Large
But how good is it? Results of a sampling
Posted: August 2, 2013 By Harvey Steiman
Every state in America makes wine. So everywhere I go, I try to taste at least a few examples of the local product. As my wife and I spend several weeks every summer in the Colorado Rockies, we have been exposed to Colorado bottlings from time to time. I've ordered glasses or bottles of local wines in places such as Arizona, Texas, Michigan, Maryland and Virginia, which get little respect except for a relatively few supporters. Generally I find what I've tasted likable enough. But two big questions keep me from hopping up and down with excitement. I ran into both of those questions as I tasted through a representative sample of 10 Colorado wines with Kyle Schlachter of the Colorado Wine Press website.