Piero Selvaggio's Valentino celebrates 40 years of bringing the best of Italy to Americans
Posted: October 31, 2012 By Harvey Steiman
New offerings bring new excitement with menus and wine programs that range from traditional to cutting-edge
Posted: October 29, 2012 By Harvey Steiman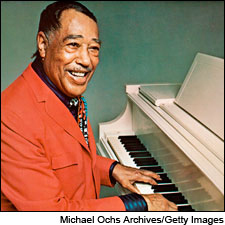 Blogs : Harvey Steiman At Large
Are there really only two kinds of wine?
Posted: October 24, 2012 By Harvey Steiman
Some of us believe that Duke Ellington was America's greatest composer, even though he wrote in an idiom that many people then (and now) do not consider serious enough—jazz. His being something of an outsider, both because of his race and his musical genre, probably prompted his most famous quote, that "there are only two kinds of music: good music, and the other kind."
It's a telling remark, one that resonated with me the first time I ever heard it as a music student. I like to quote it today, when the diversity of the music we can pipe through our iPod earphones covers a range even the Duke couldn't imagine.
The same could be said about our favorite beverage. We can experience a wider choice of good wines today than ever before. And we are having the same kind of arguments over how to define good wine as those we had over just what constituted good music in Duke Ellington's day, or today, for that matter.
Blogs : Harvey Steiman At Large
Herewith, some restaurants to consider
Posted: October 17, 2012 By Harvey Steiman
If you're joining us this week at the New World Wine Experience at the JW Marriott Hotel in Los Angeles, and you're staying downtown for the event, you can find a good selection of restaurants, from casual to fancy, in the neighborhood.
Blogs : Harvey Steiman At Large
The 2010 Pinot Noirs' delicacy make them worthy of attention
Posted: October 15, 2012 By Harvey Steiman
After tasting select wines from barrel last year, I said that 2010 would be a polarizing vintage for Oregon's Pinot Noirs. Those who crave delicacy in Pinot Noir, who prize pretty aromas and flavors, will love it. Others may find it wimpy and wonder what all the fuss is about.
Now that I have blind-tasted out of the bottle more than half of the 2010s I expect to review, I still believe that. Time after time I hesitated after writing a tasting note that described the charms of pretty fruit character, delicate structure, and a welcome sense of transparency to it all. Lovely wines, but I wondered, did they have the depth, the length, the complexity to qualify as great? These elements make a wine truly memorable.
The answer, more often than not, was yes, although more than a few of the wines came up just a bit short on those factors.
Oct. 15, 2012 Issue : Features
Los Angeles' latest openings bring traditional, quirky and cutting edge restaurants
Posted: October 15, 2012 By Harvey Steiman
Blogs : Harvey Steiman At Large
Tasting the differences, and history, with Jason Lett
Posted: October 3, 2012 By Harvey Steiman
Jason Lett has been working on a project, tasting through every single bottle of Eyrie Vineyard's library wines, then recorking them. The collection represents one of the true treasures of American Pinot Noir, hundreds of bottles that testify to the longevity and quality possible in Oregon.
When he has time, Lett opens eight cases of a vintage to recork. It takes about half a day and most of the time 90 percent of the bottles are just fine. Sometimes, he said, "only half will be correct for the vintage," an experience that has led him to reseal the bottles with a cork alternative called Diam, a conglomerate cork that promises zero cork taint.
Jason's father, David Lett, one of Oregon's earliest pioneers, founded Eyrie in 1966, and made the wine that called the world's attention to what was happening with Pinot Noir in Oregon—Eyrie Vineyard Pinot Noir Oregon South Block 1975, from a portion of the estate vineyard in what is now known as the Dundee Hills AVA.
Blogs : Harvey Steiman At Large
From fish market to a rush of sushi at the celebrated sushi bar
Posted: September 20, 2012 By Harvey Steiman
Yoshikazu Ono runs his thumb over the exposed surface of an abalone, a grimace spreading across his face. He thinks the shellfish is too small, and it feels too firm. "Not good. I don't know if we can serve abalone today," he mutters in Japanese. "It should be plump. And darker. These are yellow."
Ono, 52, is responsible for buying the fresh fish each day for Sukiyabashi Jiro, the 11-seat sushi bar where he makes sushi shoulder-to-shoulder with his father, 86-year-old Jiro Ono. They were featured earlier this year in the film documentary Jiro Dreams of Sushi.
Blogs : Harvey Steiman At Large
Eel and tempura provide highlights, diversions in a week of sushi
Posted: September 17, 2012 By Harvey Steiman
A week in Tokyo drove home the point that the most venerated sushi restaurants there only serve sushi. They don't also make tempura. They don't deal in teppanyaki. You can't get ramen or soba noodles in the same place. They devote 100 percent of their efforts to making rice, finding great fish, butchering, aging, cooking and curing the seafood properly, then serving it simply.
Sushi is not the only specialty food craft that's treated with such specificity and luxury. In the span of 24 hours I experienced what many believe to be the very best specialists of three of these foods, steered in the right direction by Masuhiro Yamamoto, author of several books on sushi and what he calls "cuisines de terroir" of Tokyo.
Blogs : Harvey Steiman At Large
Contrasts in creativity, style on different levels
Posted: September 12, 2012 By Harvey Steiman
Differences between sushi in Japan and sushi at home are getting clearer as I try a few of Tokyo's thousands of options. Restaurants that specialize in one thing (such as tempura, sukiyaki, even eel) are more revered than those that offer a wider menu. Sushi is at the top of the food chain.