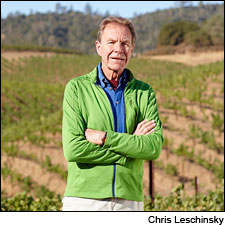 Blogs : Harvey Steiman At Large
It's not defined as, um, crisply as you might think
Posted: March 17, 2014 By Harvey Steiman
Ripeness (and its kissing cousin, alcohol) seems to be the wine issue of the year. So I made it a point to attend winery group In Pursuit of Balance's panel discussion on the subject last week at its San Francisco confab and tasting.
The panel, led by London-based wine writer Jamie Goode, included Justin Willett of Tyler in Santa Barbara, Josh Jensen of Calera in Mt. Harlan, Wells Guthrie of Copaín in Anderson Valley and Katy Wilson of LaRue in Sonoma Coast. Each presented two wines, exploring just how much ripeness matters in determining a Pinot Noir's quality.
Blogs : Harvey Steiman At Large
Bien sûr! say Le Bernardin's Eric Ripert and Aldo Sohm—even red Bordeaux with fish
Posted: March 11, 2014 By Harvey Steiman
When the perfectly named (for a sommelier) Aldo Sohm went to work at the classic New York French fish restaurant Le Bernardin seven years ago, one of his first special assignments was to select wines for chef Eric Ripert's birthday party.
The entrée was escolar with sauce Bearnaise. Sohm, unaware that Ripert famously loves to drink red Bordeaux with everything and damn the consequences, chose Hubert de Lignier Morey St-Denis Chaffots 2001, a deliciously fragrant and silky red Burgundy. "It was drinking perfect," said the affable sommelier, still with a tinge of his native Austria in his accent.
Ten minutes before the event started, however, the maître d' and two captains approached the new guy. "They started yelling, 'Didn't they tell you chef only likes Bordeaux?'"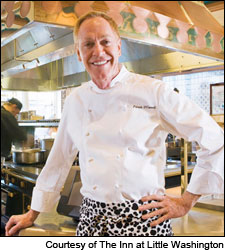 A tangy, hearty lamb dish jazzed up with shoestring sweet potatoes, from the maestro of The Inn at Little Washington
Posted: March 10, 2014 By Harvey Steiman
Feb. 28, 2014 Issue : Features
Posted: February 28, 2014 By Harvey Steiman
Feb. 28, 2014 Issue : Tasting Reports
Posted: February 28, 2014 By Harvey Steiman
Feb. 28, 2014 Issue : Features
Our editors highlight 30 wine roads less-traveled, to guide your explorations in the coming year
Posted: February 28, 2014 By Harvey Steiman
Blogs : Harvey Steiman At Large
Drilling down into the ideal alcohol kerfuffle
Posted: February 26, 2014 By Harvey Steiman
Alcohol, a necessary byproduct of fermenting ripe grapes, seems to have polarized the wine community these past few years. Most wine drinkers seem to like ripe flavors in wine, and don't mind if alcohol levels are higher, but a vocal minority wants to change that. There's even an organization of vintners in California, In Pursuit of Balance, which stumps for lower levels of alcohol.
This dichotomy jumped out at me when I read reactions to a recent study that reported consumer responses to Cabernet Sauvignons made at different alcohol levels. The study, conducted in Sydney, presented 104 consumers ages 18 to 65 who drink red wine at least once a week with five different Cabernet Sauvignons harvested sequentially, with alcohol levels varying from 12 percent up to 15.5 percent, and asked them to give each wine a preference score on a scale of 0 to 9. Ratings for each of the five wines on nearly two dozen sensory attributes pertaining to appearance, aroma and palate were determined in a separate panel comprising 12 trained tasters from the Australian Wine and Research Institute (AWRI).
Blogs : Harvey Steiman At Large
Screw caps would reduce the risk of aging red wines
Posted: February 24, 2014 By Harvey Steiman
When will the wine world come to its senses about how wine ages under screw caps? My good friend James Laube, who champions twist-offs (as he prefers to call them) didn't mention the possibilities in his recent tirades against the risks of aging wine too long. But I will.
Blogs : Harvey Steiman At Large
Isabelle Meunier leaves; partner Rajat Parr says Burgundy's Dominique Lafon will play larger role
Posted: February 19, 2014 By Harvey Steiman
The changes continue at Evening Land in Oregon, one of the state's top-rated producers of Pinot Noir and Chardonnay. Wine Spectator has learned that Isabelle Meunier has left the winery where she has been overseeing winemaking and viticulture since Mark Tarlov founded it in 2007.
Sommelier, investor and winemaker purchase an interest in the promising winery and take over management
Posted: February 3, 2014 By Harvey Steiman