Blogs : Harvey Steiman At Large
When tasting notes specify flavors that can seem unpleasant
Posted: May 8, 2014 By Harvey Steiman
The photograph on Twitter showed a lineup of Hermitage bottles. The caption read "Liquid Rock."
This was obviously meant to laud the mineral character that famously runs through great Hermitage reds, made from Syrah on granite slopes. I get it. Minerality is the flavor darling of the moment in wine. We may not agree on exactly what it is—a whiff of the aroma we get off of wet pavement? River stones? That bricklike character that basalt rocks can give off? Or maybe just a vibrancy that comes from high acidity? But wines that have it get extra kudos from many sommeliers and wine writers, including me.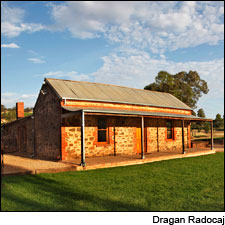 News & Features : Tasting Highlights
New reviews of expressive reds from Down Under
Posted: May 2, 2014 By Harvey Steiman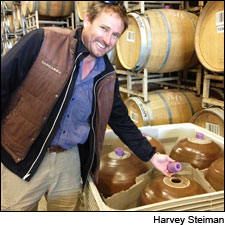 Blogs : Harvey Steiman At Large
Surprises in Clarendon Hills from Jackson Family
Posted: April 28, 2014 By Harvey Steiman
Australians were worried when Jackson Family, which seems to be all over the California wine world, added a historic vineyard in Clarendon Hills to its voluminous holdings in 2001. A big California wine company taking over 250 acres of vineyards that included some vines that had been producing enviable wines for more than 50 years? Seemed like heresy. The Jacksons renamed it Yangarra Estate and quietly went to work on improving things.
Then, in February 2012, Jackson Family won the bidding for the historic 450-acre Hickinbotham Vineyard, about 2 miles away. Rather than making its own wines, Hickinbotham had been producing grapes for Clarendon Hills' single-vineyard bottlings and material for Penfolds Grange and Eileen Hardy Shiraz. Heady stuff.
On my recent visit to Australia I checked in on some experiments at Yangarra and tasted through the debut vintage of Hickinbotham Clarendon Hills Estate wines, due to be released next year.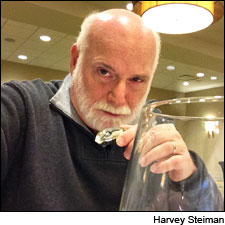 Blogs : Harvey Steiman At Large
Is it better to be neutral or flavorful? Putting wine-and-oyster pairings to the test
Posted: April 22, 2014 By Harvey Steiman
I can't help it. I am a wine guy. I want my wines to contribute to the conversation on my palate when I drink them with food. That comes to mind when I occasionally participate in fun tastings such as the Pacific Coast Oyster Wine Competition. I joined in on the 20th annual judging as much for unlimited quantities of really good oysters as for the wines, but also to test out a theory.
My brain says, let's find a wine that can stand on its own but also makes nice with the mollusks. Jon Rowley, the tasting's organizer, takes a different approach. "Don't taste the wine first," he admonished us. He wanted us to chew up the oyster first to establish its flavor and texture in our mouths, then wash it down with the wine.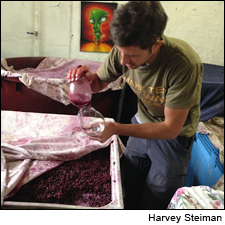 Blogs : Harvey Steiman At Large
A snapshot of the scene in Australia
Posted: April 16, 2014 By Harvey Steiman
Winemakers who keep their wineries spotless and hygienic would have been horrified by the sight that greeted me at Jauma, one of the stars of the natural wine movement in Australia. Flies buzzed about a motley assortment of upturned barrels and plastic tanks—any handy vessel large enough to contain a fermentation—the tops draped with old tablecloths and bedsheets.
Blogs : Harvey Steiman At Large
And what of Dave Powell, the ousted founder?
Posted: April 9, 2014 By Harvey Steiman
Torbreck, which ranks high on anyone's list of modern Australian wine producers, made headlines late last year when Dave Powell, who founded Torbreck in 1994, was summarily fired. Owner Pete Kight, the American entrepreneur who started CheckFree and also owns Quivira winery in Sonoma County, refused to renew Powell's contract.
A crossfire of accusations got ugly, lighting up the Australian press for several weeks. Powell has since been served with court papers invoking a non-compete clause in his contract. He cannot make any wine on his own in 2014, the vintage just wrapping up. The lawsuit goes to trial April 28 in Adelaide.
I recently visited Torbreck to taste the newest vintages, and then sat down with Powell to hear his plans for the future.
Blogs : Harvey Steiman At Large
Is it just the place, or how it defines the wine?
Posted: April 7, 2014 By Harvey Steiman
Actually tasting the effects of terroir in a wine can be problematic. This elusiveness makes cynics wave off the idea as nothing but a marketing ploy by French vintners looking for an edge. Although that does happen, I do believe terroir applies not just in France but anywhere in the world serious efforts go into the wine.
We often can't agree on what the word means, however. For some of us, myself included, it comprises all the physical elements of a place that can affect the character of wine made from it. To others it's a specific character, or a cluster of characteristics, they expect to find in the wine at hand, even if introduced by the winemaker.
In other words, is terroir about the basic material, or how it expresses itself in the wine?
Blogs : Harvey Steiman At Large
Cluster M45 is looking a lot like a classic
Posted: April 2, 2014 By Harvey Steiman
On my first day in Victoria, the cool-climate capital of Australia, I went up to Heathcote to see what Michel Chapoutier has been up to. Unfortunately, the Rhône-based vintner arrives to check on the 2014 harvest after I must move on to appointments in South Australia. With limited time, I figured to taste a few fermenting 2014s and perhaps a few older bottles, meet the rest of the crew and get back to Melbourne to check in at my hotel before it got to be too late.
To my pleasant surprise, Ron Laughton was there waiting with a nifty vertical of La Pleiade, produced in partnership with Chapoutier. Because the original name is a bit too close to a preexisting California wine, the U.S. label is Cluster M45, the scientific name for Pleiades, the constellation visible to both of the partners from their homes a hemisphere away from each other.
WineSpectator.com members can read my non-blind scores and tasting notes.
Posted: March 31, 2014 By Harvey Steiman, Ben O'Donnell, Aaron Romano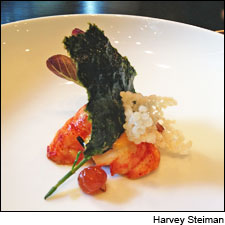 Blogs : Harvey Steiman At Large
And a classy tour of Australian wine's past, present and future
Posted: March 25, 2014 By Harvey Steiman
Several Sydney insiders told me Sepia was the place to go for a great wine-pairing menu, so it was my first stop after arriving in Australia last week. Chef Martin Benn, once a protégé of Marco Pierre White in London, indulges a modernist bent since he left his post as chef de cuisine at Tetsuya's in 1999. His wife, Vicki Wild, once Tetsuya's personal assistant, brings warmth to the sharp-edged dining room on the ground floor of a Darling Harbour high-rise, and sommelier Rodney Setter has built up a broad and knowledgeably chosen international wine list of more than 1,100 selections, mostly current vintages although older wines, especially Bordeaux, Rhône and Australian Shiraz bottlings, scatter throughout.