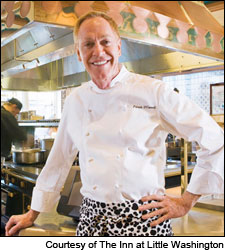 A tangy, hearty lamb dish jazzed up with shoestring sweet potatoes, from the maestro of The Inn at Little Washington
Posted: March 10, 2014 By Harvey Steiman
Feb. 28, 2014 Issue : Features
Posted: February 28, 2014 By Harvey Steiman
Feb. 28, 2014 Issue : Tasting Reports
Posted: February 28, 2014 By Harvey Steiman
Feb. 28, 2014 Issue : Features
Our editors highlight 30 wine roads less-traveled, to guide your explorations in the coming year
Posted: February 28, 2014 By Harvey Steiman
Blogs : Harvey Steiman At Large
Drilling down into the ideal alcohol kerfuffle
Posted: February 26, 2014 By Harvey Steiman
Alcohol, a necessary byproduct of fermenting ripe grapes, seems to have polarized the wine community these past few years. Most wine drinkers seem to like ripe flavors in wine, and don't mind if alcohol levels are higher, but a vocal minority wants to change that. There's even an organization of vintners in California, In Pursuit of Balance, which stumps for lower levels of alcohol.
This dichotomy jumped out at me when I read reactions to a recent study that reported consumer responses to Cabernet Sauvignons made at different alcohol levels. The study, conducted in Sydney, presented 104 consumers ages 18 to 65 who drink red wine at least once a week with five different Cabernet Sauvignons harvested sequentially, with alcohol levels varying from 12 percent up to 15.5 percent, and asked them to give each wine a preference score on a scale of 0 to 9. Ratings for each of the five wines on nearly two dozen sensory attributes pertaining to appearance, aroma and palate were determined in a separate panel comprising 12 trained tasters from the Australian Wine and Research Institute (AWRI).
Blogs : Harvey Steiman At Large
Screw caps would reduce the risk of aging red wines
Posted: February 24, 2014 By Harvey Steiman
When will the wine world come to its senses about how wine ages under screw caps? My good friend James Laube, who champions twist-offs (as he prefers to call them) didn't mention the possibilities in his recent tirades against the risks of aging wine too long. But I will.
Blogs : Harvey Steiman At Large
Isabelle Meunier leaves; partner Rajat Parr says Burgundy's Dominique Lafon will play larger role
Posted: February 19, 2014 By Harvey Steiman
The changes continue at Evening Land in Oregon, one of the state's top-rated producers of Pinot Noir and Chardonnay. Wine Spectator has learned that Isabelle Meunier has left the winery where she has been overseeing winemaking and viticulture since Mark Tarlov founded it in 2007.
Sommelier, investor and winemaker purchase an interest in the promising winery and take over management
Posted: February 3, 2014 By Harvey Steiman
Blogs : Harvey Steiman At Large
Antonio Mastroberardino changed more than his own region in Italy
Posted: January 31, 2014 By Harvey Steiman
He did not seem like a revolutionary when I met Antonio Mastroberardino, who died this week at age 86, nearly 30 years ago. He carried himself with almost a regal bearing. Quiet-spoken, he matter-of-factly explained why he chose to focus his family's vineyards and wines on grapes hardly anyone on this side of the Atlantic knew: Fiano, Greco and, especially, Aglianico.
His son Carlo, who was with him on a tour of the U.S., really did look like a firebrand, intense, vigorous, single-mindedly pushing the notion that his region's historic grape varieties could and should stand on their own. It's difficult to underestimate the importance of that approach.
Blogs : Harvey Steiman At Large
Knowledgeable crowd at WineAustralia trade tasting encouraged by wide range of wines
Posted: January 22, 2014 By Harvey Steiman
Australian wine is gaining the attention of American wine drinkers again, significantly that of the gatekeepers: wine merchants, sommeliers and writers.
The reasons for Australia's slide in these parts from 2008 to 2012 probably involve some combination of their own overreach and a wine-drinking public's fascination with some other Next Big Thing. Whatever, every Aussie winemaker I've met trying to sell their wares in the U.S. this past year has spoken of doors opening that had been shut to them.