Posted: June 15, 2014 By Harvey Steiman
Blogs : Harvey Steiman At Large
How I first got adventurous about what to eat
Posted: June 10, 2014 By Harvey Steiman
I moved to Miami from Los Angeles in 1969 to work for the Miami Herald, my first job on a big-city newspaper. From our apartment a few blocks from the office, my wife and I strolled the neighborhood and discovered a familiar sight to former Angelenos, but unusual then in Miami. A Chinese restaurant had just opened.
Hooked, we went often, and when I became the restaurant critic at the Herald I wrote up Tiger Tiger Teahouse. It became hugely popular. Regulars, we got to know the family, who often shared with us whatever they were cooking for themselves. When James Beard came to Miami to teach a cooking class, knowing that he had been raised in Oregon by a Chinese amah, I asked Mr. Tom to cook some of the family dishes for him. Tears streamed down Beard's face as he devoured pork trotters in hoisin sauce. Just like home, he said.
Blogs : Harvey Steiman At Large
Even if you can't identify brettanomyces, study confirms you could love it, hate it, or not even notice
Posted: June 6, 2014 By Harvey Steiman
One sure way to start an argument when tasting with others is to decry the effects of the yeast organism brettanomyces in a wine. Someone is bound to roll eyes and proclaim the opposite. I know. It's happened to me. A lot.
But if it takes an academically trained pro to detect brettanomyces, should it matter for ordinary wine drinkers? I say it does, and here's why.
Posted: May 31, 2014 By Esther Mobley, Ben O'Donnell, Harvey Steiman
May 31, 2014 Issue : Dining Out
Five new venues from accomplished chefs
Posted: May 31, 2014 By Harvey Steiman
Blogs : Harvey Steiman At Large
Or how protecting a wine district can ruffle feathers
Posted: May 30, 2014 By Harvey Steiman
Wine regions have shown vigilance in protecting their names. Years ago Champagne successfully campaigned to get people to quit applying their region's name to every sparkling wine, not just on labels but in descriptions. Chablis, Burgundy, Chianti and Tokaji did so too. Wine Australia wants the same courtesy for Orange.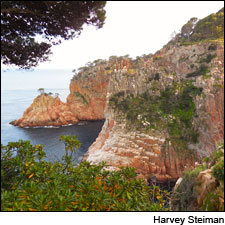 Blogs : Harvey Steiman At Large
For this recipe picked up on the coast of Spain, all it takes is decent red wine and fruit accoutrements
Posted: May 23, 2014 By Harvey Steiman
Memorial Day being the official start of summer eating and drinking, make this stellar recipe for sangria my contribution to your enjoyment. I watched the bartender make this version at a terrific seaside hotel in the Costa Brava of Spain last year, and it's become a warm-day favorite around our house (on those few days when late-afternoon temperatures rise in San Francisco). I watched the bartender make it enough times to glean the recipe, which I'll share with you.
Blogs : Harvey Steiman At Large
Noble Shiraz, but the whites made from Marsanne are the head-turners
Posted: May 22, 2014 By Harvey Steiman
Château Tahbilk, the winery estate in central Victoria's Goulburn Valley, dates from the 19th century. The Australian property has been in the Purbrick family since 1925, known for Shiraz from old vines, some dating to 1860. Alister Purbrick, the fourth generation, has run the estate (now at 120,000 cases) since 1979. He brought a series of mini-verticals for me to taste in San Francisco.
Blogs : Harvey Steiman At Large
Yarra Valley favorite shows what a tasting room can be
Posted: May 15, 2014 By Harvey Steiman
Healesville, a Yarra Valley town an hour's drive from Melbourne, attracted me not only for the wines, but also a visit to Innocent Bystander, where Phil Sexton makes Pinot Noirs and Chardonnays in the steely style currently in vogue. His Giant Steps label, which focuses on single-vineyard Yarra Valley wines, often rates among my leaders for Chardonnay.
More than the wines intrigued me. The modern building is an architectural award winner for its angled placement, green certifications and distinctive long swaths of wooden slats on the exterior. The 70,000-case cellar door (Aussie talk for tasting room) also bakes artisan bread, makes pizza, mongs cheese and pulls some of the better espresso in the neighborhood. Dipping into the lunch menu is rewarding.
Blogs : Harvey Steiman At Large
Onetime baseball player takes a cool (climate) approach in Australia
Posted: May 13, 2014 By Harvey Steiman
Gary Mills of Jamsheed makes modern-style wines that are polar opposite of what most Americans think of as Aussie Shiraz. He even calls them Syrah, to emphasize the difference. They have firm structure, open texture and a savory spiciness around pure fruit at the core. They display tremendous and distinctive personalities, even as alcohol levels seldom exceed 14 percent.