Blogs : Harvey Steiman At Large
After a dozen vintages, this Australian Shiraz has the goods

Posted: August 22, 2014 By Harvey Steiman
I recently had a chance to blind-taste all 12 finished and bottled vintages of Two Hands Ares, one of Australia's top Shiraz, with owner Michael Twelftree at Aspen's Casa Tua restaurant, with the help of sommelier Jill Zimorski.
Blogs : Harvey Steiman At Large
Using insider knowledge to find a wine list's sweet spot
Posted: August 6, 2014 By Harvey Steiman
The wine list was in my hands, often the case when a bunch of us go out to dine. Comes with the work title. Champagne would have been easy to start with, but I was looking for something closer to $50 (not $100) that might be fun and delicious, and not an obvious choice. Two offbeat selections—a white from Oregon and a Nebbiolo from Italy—fit the bill.
July 31, 2014 Issue : Features
Posted: July 31, 2014 By Harvey Steiman
Blogs : Harvey Steiman At Large
How to save the day when you choose the wrong bottle
Posted: July 30, 2014 By Harvey Steiman
Like many of us, my friend, let's call him Fred to protect the guilty, has acquired many more bottles of good wine for his cellar than he and his wife can possibly drink in their lifetimes. But for every bottle he gives away, he seems to get one in return. Which led to a potentially very awkward situation one night ...
Blogs : Harvey Steiman At Large
Slowly, Australia's southerly island might be making inroads in the United States
Posted: July 25, 2014 By Harvey Steiman
Tasmania, already a favorite among Australian wine drinkers for its crisp Chardonnays, juicy Pinot Noirs and bright sparkling wines, has made little impact in the U.S. Most of the wineries are small, so there isn't much volume to go around, and until recently the often-tart styles have not been able to find a welcome.
Most Americans have no clue where Tassie is. Says George Galey of American Estate Wines, which has had wines from the island in its import portfolio for 20 years, "I actually used to carry a world map around with me and asked people to point out Tasmania. Restaurateurs and retailers usually pointed to Madagascar." Only off by about 5,800 miles. That's changing.
Blogs : Harvey Steiman At Large
A moment in the life of a new dish reflects the search to get things right
Posted: July 21, 2014 By Harvey Steiman
One key moment stands out when I was researching my Wine Spectator Aug. 31 issue profile of Eric Ripert, chef and partner of New York's fabled fish restaurant, Le Bernardin. It was the creative meeting.
Ripert and his top-ranking chefs meet daily in a small conference room, away from the hustle and bustle of the kitchen, to perfect their ideas for new dishes. The menu is constantly in flux. Anyone in the kitchen can present an idea, then work out the details until the results get the approval of Ripert and his lieutenants. They bring trays full of the latest iteration of the dish, along with some options they are considering, all in an effort to keep things fresh and lively.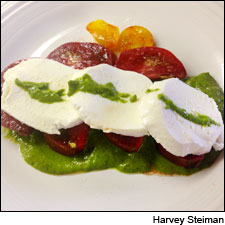 Blogs : Harvey Steiman At Large
But it's great with tomatoes or pasta, and a glass of rosé
Posted: July 16, 2014 By Harvey Steiman
Wine Spectator editor at large Harvey Steiman offers his recipe for Not Pesto, a basil-and-pine nut puree perfect over sliced heirloom tomatoes and fresh mozzarella or burrata and paired with a crisp rosé.
Blogs : Harvey Steiman At Large
Washington winery with "chemical symbols" on the label returns with a new direction
Posted: July 8, 2014 By Harvey Steiman
The Washington wine label Wines of Substance was invented in 2006 by a couple of Walla Walla hotshots—Waters' winemaker Jamie Brown and Greg Harrington, founder of Gramercy Cellars. It had a promising early run. Some of the wines hit 90 points on the Wine Spectator 100-point scale. The black-and-white label design emulated the periodic table of the elements you might recall from chemistry class, assigning two-letter symbols to the grape varieties used to make the wines, priced at $14 to $20.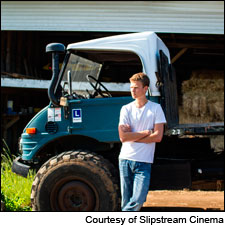 Blogs : Harvey Steiman At Large
A scattered view of those who give it all up for wine
Posted: June 27, 2014 By Harvey Steiman
American Wine Story is a fascinating, gritty and ultimately bittersweet movie about the people who give up their day jobs to make wine in unexpected places across the United States. It focuses on the story of Brooks Wines, a small but fast-growing winery in Oregon founded in 1998, and the outpouring of support from others in the industry on the untimely death of its founder in 2004.
Blogs : Harvey Steiman At Large
Cooler temperatures and wetter weather make for starker choices
Posted: June 20, 2014 By Harvey Steiman
Ripeness and alcohol continue to polarize wine drinkers. The prevailing trend almost everywhere these days is toward more moderate levels of alcohol, but a highly vocal wing still finds too much alcohol in too many wines.
It's the sugar in the grapes, of course, that ferments into alcohol, so winegrowers are seeking ways to get enough ripeness to deliver pleasurable flavors without the sugar getting out of hand. Finding a cool climate can do it. But sometimes a cool vintage is a mixed blessing, as my recent experience sampling 2011 Washington reds demonstrates.