In Washington and beyond, Charles Smith Takes an eclectic approach to make wines people love to drink
Posted: October 15, 2014 By Harvey Steiman
Oct. 15, 2014 Issue : Features
Posted: October 15, 2014 By Harvey Steiman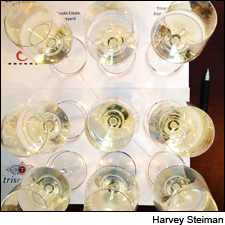 Blogs : Harvey Steiman At Large
It's not just Chardonnay and Pinot Gris for white wines
Posted: October 14, 2014 By Harvey Steiman
Riesling, an off-and-on success in Oregon, has started to shine brighter in recent vintages. Of the 40 Oregon Rieslings to receive scores of 90 points or higher (Outstanding on the Wine Spectator 100-point scale), 26 have come since the 2010 vintage.
What's causing this? Partly, it's the emergence of wineries concentrating on the varietal, most notably Trisaetum (first vintage 2007). James Frey's operation makes eight different Rieslings, sorted by vineyard source and whether they're dry or off-dry, and no Chardonnay or Pinot Gris, Oregon's signature white wines.
Blogs : Harvey Steiman At Large
Even 2013, which looked like a disaster, is worth a good look
Posted: October 7, 2014 By Harvey Steiman
When it happened, Oregon's 2013 Pinot Noir vintage looked like a flop. A warm growing season climaxed with a couple of heat spikes in mid-September. And then it rained. And rained. And rained some more. Some vineyards counted 9 inches of rain in a week. Most of Willamette Valley got around 4 inches. "I never saw rain so sideways here, and it hit when everything was pretty damn ripe," said Rollin Soles of Roco.
Now that the wines are ready to bottle, many 2013s I tasted last week displayed precise flavors and even the sort of delicacy that made 2010 and 2011 so charming. It all depends on how carefully the grapes were sorted and when they were picked.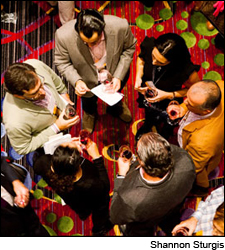 Senior editors Harvey Steiman and Tim Fish with tips on how to approach a a diverse walkaround tasting
Posted: October 6, 2014 By Harvey Steiman, Tim Fish
Blogs : Harvey Steiman At Large
Two New York sommeliers balance old and new styles eclectically
Posted: October 2, 2014 By Harvey Steiman
At Hearth restaurant and his various Terroir wine bars in New York, owner Paul Grieco fills his wine lists with offbeat wines made from grapes unfamiliar to casual wine drinkers in regions that seldom come up in conversation except for serious wine geeks. In person he has cultivated a wild-man image that has endeared him to those who want anything but a nice Chardonnay or a big Napa Cabernet.
So what's a 1992 Harlan Cabernet doing on his list at Hearth? "Oh, that's from the cellar of one of the partners [in the restaurant]," he shrugged. "Helluva wine, too." Much as he champions "who's that?" wines, he also has an eclectic palate. And it extends to his sommelier at Hearth, Christine Wright, who strode confidently to our table on a recent visit. With me were colleagues James Laube, whose recent Wine Spectator column, "Dim Somms," stirred up howls of protest, and executive editor Thomas Matthews, who suggested the restaurant.
Blogs : Harvey Steiman At Large
Wines to make a beeline to sample at the 2014 Wine Spectator Wine Experience
Posted: September 29, 2014 By Harvey Steiman
The Grand Tastings at the New York Wine Experience are a playground for those of us who can't get enough great wine. Two floors of the Marriott Marquis Hotel house 267 producers those of us who review the wines nominated as our choices to be there. It's a who's who of wine, an opportunity to taste wines that are hard to find or so expensive the cost of a ticket wouldn't even buy one bottle.
Even though each producer can only pour one wine, it requires some forethought to get the most out of the experience. I scope out which ones I am gung-ho to get to, especially wines I don't get to taste regularly. When I walk through the door at the Grand Tastings Oct. 16 and 17, I'll have a plan. To help with yours (and to give you an idea of the kinds of wines on tap), here are some of the highlights of my list.
Blogs : Harvey Steiman At Large
New winery to have a big presence south of the city
Posted: September 19, 2014 By Harvey Steiman
Charles Smith has made some bold moves in his life, as he recounted in my profile of the Washington vintner in the Oct. 15 issue of Wine Spectator ("Marching to His Own Drummer"), but moving his base of operations from Walla Walla wine country to Seattle may be the biggest.
When I visited, Smith unlocked the unimposing front door of the warehouse he purchased earlier this year, walked me through a warren of deserted offices into the airplane hangar-sized space that's perfect for a functional and versatile winery. Charles Smith Wines has outgrown its patched-together warehouse winery in downtown Walla Walla.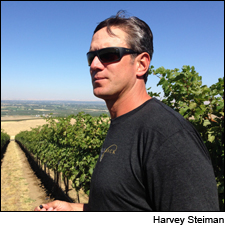 Blogs : Harvey Steiman At Large
Drew Bledsoe's Doubleback gains yardage—er, acreage—in Walla Walla
Posted: September 17, 2014 By Harvey Steiman
On a warm September afternoon, Drew Bledsoe stood in an acre of closely cropped grass. The ex-NFL star quarterback adjusted his sunglasses and surveyed the field, only he wasn't looking over a menacing defense but rows and rows of young grapevines. Their purple bunches of Cabernet Sauvignon stood out against close-cropped green canopies cascading down a steep north-facing slope. In the distance, buildings in the town of Walla Walla reflected the afternoon sun.
Blogs : Harvey Steiman At Large
Millbrandt winemaker explores what it means in Washington
Posted: September 9, 2014 By Harvey Steiman
There are those who say only steely, lean wines can express terroir, but the style of Millbrandt's Chardonnay The Estates 2013 ($20) runs counter to that. This is a rich, plush Washington white, but the spicy aromatics and creamy texture play against vibrant acidity, a core of peach and melon finishing with length and a sense of elegance.
Millbrandt, a big vineyard owner in eastern Washington, sells grapes to a roster of A-list wineries, and makes its own wines as well. The Estates Chardonnay comes from its Evergreen Vineyard in the cool-climate Ancient Lakes AVA. It lies on shallow soils littered with chalk and limestone that are earning a reputation for crisp, minerally white wines. You can taste it in this wine.