Blogs : Harvey Steiman At Large
What a good cocktail can teach us about wine
Posted: December 11, 2014 By Harvey Steiman
These days a cocktail can be a lot more than a simple vodka-and-tonic (my go-to choice in years past). Bartenders—no, pardon me, mixologists—can do dazzling things Mr. Boston never heard of, using the same fresh and vibrant ingredients as successful chefs. And, I've noticed, these barkeeps aim for more or less the same balance of alcohol, acidity, sweetness and disparate flavors found in good wines.
Blogs : Harvey Steiman At Large
And a bit of a mea culpa from the winemaker
Posted: December 3, 2014 By Harvey Steiman
When he was the winemaking partner with Dan Philips for the ultimately ill-fated stable of Grateful Palate Australian brands, Chris Ringland learned a thing or two about how to produce really good Barossa Valley wine to sell for a lot less than you might think it should. He has now put his connections and know-how to work on a brand called CR Wines, which includes a popular $25 Shiraz made entirely from Barossa grapes.
Posted: November 30, 2014 By Ben O'Donnell, Harvey Steiman
At Mollydooker, Australia's Marquis family matches strong personalities with big reds and bold winemaking
Posted: November 15, 2014 By Harvey Steiman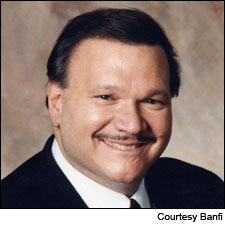 The Banfi vice president of fine wines knew how to forge business and friendships
Posted: November 14, 2014 By Harvey Steiman
Casella hopes its marketing and distribution know-how can help iconic Barossa winery
Posted: November 12, 2014 By Harvey Steiman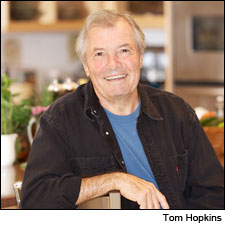 Blogs : Harvey Steiman At Large
The chefs' chef talks about TV, Julia Child and wine
Posted: November 11, 2014 By Harvey Steiman
Jacques Pépin, the chef who taught several generations of American chefs about cooking, turns 80 next year. The celebration has only just started. I caught up with Pépin while he was in San Francisco shooting his final cooking series, Jacques Pépin: Heart & Soul.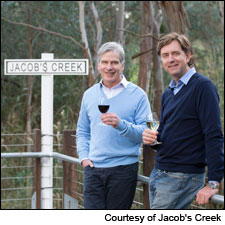 Blogs : Harvey Steiman At Large
Guess who's making wine in Australia now
Posted: November 3, 2014 By Harvey Steiman
Jacob's Creek's wine reputation rests on a popular fruit-driven style rooted in Barossa Valley and South Australia. Ehren Jordan, owner-winemaker of Failla, is a prominent member of In Pursuit of Balance (IPOB), a brigade of California wineries professing to seek lighter, more elegant expressions of Pinot Noir and Chardonnay.
Now Jordan and Jacob's Creek are collaborating on a new brand, Two Lands, due for release in early 2015.
Oct. 31, 2014 Issue : Features
Posted: October 31, 2014 By Harvey Steiman
Blogs : Harvey Steiman At Large
Wineries finding more special sites for their Pinot Noirs
Posted: October 27, 2014 By Harvey Steiman
For Pinot Noir, the vineyard defines the potential of any wine made from its grapes. As Oregon has established itself, every winery with ambition seems to compete for access to the same well-known independent vineyards—among them Shea, Guadalupe, Hyland, Meredith Mitchell, Momtazi, Stoller, Temperance Hill and Freedom Hill. In my own tastings and on visits in Oregon recently, unfamiliar names are starting to show their moxie. Two vintners, in particular, make a point of it.