Oct. 31, 2014 Issue : Features
Posted: October 31, 2014 By Harvey Steiman
Blogs : Harvey Steiman At Large
Wineries finding more special sites for their Pinot Noirs
Posted: October 27, 2014 By Harvey Steiman
For Pinot Noir, the vineyard defines the potential of any wine made from its grapes. As Oregon has established itself, every winery with ambition seems to compete for access to the same well-known independent vineyards—among them Shea, Guadalupe, Hyland, Meredith Mitchell, Momtazi, Stoller, Temperance Hill and Freedom Hill. In my own tastings and on visits in Oregon recently, unfamiliar names are starting to show their moxie. Two vintners, in particular, make a point of it.
Generous friend and boss found dead in Oregon, reportedly from suicide
Posted: October 24, 2014 By Harvey Steiman
Blogs : Harvey Steiman At Large
Big-name Burgundians have arrived in Willamette Valley
Posted: October 21, 2014 By Harvey Steiman
It was a moment of validation for Oregon wine in 1987 when Robert Drouhin, patriarch of the Beaune-based négociant firm, bought land for a vineyard in Willamette Valley. Over the years Domaine Drouhin Oregon's wines, made by his daughter Véronique Drouhin-Boss, earned a reputation for finesse and consistency.
In Washington and beyond, Charles Smith Takes an eclectic approach to make wines people love to drink
Posted: October 15, 2014 By Harvey Steiman
Oct. 15, 2014 Issue : Features
Posted: October 15, 2014 By Harvey Steiman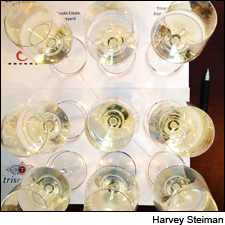 Blogs : Harvey Steiman At Large
It's not just Chardonnay and Pinot Gris for white wines
Posted: October 14, 2014 By Harvey Steiman
Riesling, an off-and-on success in Oregon, has started to shine brighter in recent vintages. Of the 40 Oregon Rieslings to receive scores of 90 points or higher (Outstanding on the Wine Spectator 100-point scale), 26 have come since the 2010 vintage.
What's causing this? Partly, it's the emergence of wineries concentrating on the varietal, most notably Trisaetum (first vintage 2007). James Frey's operation makes eight different Rieslings, sorted by vineyard source and whether they're dry or off-dry, and no Chardonnay or Pinot Gris, Oregon's signature white wines.
Blogs : Harvey Steiman At Large
Even 2013, which looked like a disaster, is worth a good look
Posted: October 7, 2014 By Harvey Steiman
When it happened, Oregon's 2013 Pinot Noir vintage looked like a flop. A warm growing season climaxed with a couple of heat spikes in mid-September. And then it rained. And rained. And rained some more. Some vineyards counted 9 inches of rain in a week. Most of Willamette Valley got around 4 inches. "I never saw rain so sideways here, and it hit when everything was pretty damn ripe," said Rollin Soles of Roco.
Now that the wines are ready to bottle, many 2013s I tasted last week displayed precise flavors and even the sort of delicacy that made 2010 and 2011 so charming. It all depends on how carefully the grapes were sorted and when they were picked.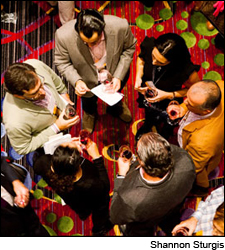 Senior editors Harvey Steiman and Tim Fish with tips on how to approach a a diverse walkaround tasting
Posted: October 6, 2014 By Harvey Steiman, Tim Fish
Blogs : Harvey Steiman At Large
Two New York sommeliers balance old and new styles eclectically
Posted: October 2, 2014 By Harvey Steiman
At Hearth restaurant and his various Terroir wine bars in New York, owner Paul Grieco fills his wine lists with offbeat wines made from grapes unfamiliar to casual wine drinkers in regions that seldom come up in conversation except for serious wine geeks. In person he has cultivated a wild-man image that has endeared him to those who want anything but a nice Chardonnay or a big Napa Cabernet.
So what's a 1992 Harlan Cabernet doing on his list at Hearth? "Oh, that's from the cellar of one of the partners [in the restaurant]," he shrugged. "Helluva wine, too." Much as he champions "who's that?" wines, he also has an eclectic palate. And it extends to his sommelier at Hearth, Christine Wright, who strode confidently to our table on a recent visit. With me were colleagues James Laube, whose recent Wine Spectator column, "Dim Somms," stirred up howls of protest, and executive editor Thomas Matthews, who suggested the restaurant.