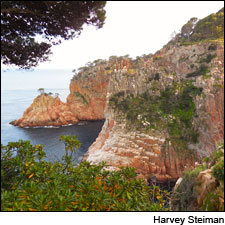 Blogs : Harvey Steiman At Large
For this recipe picked up on the coast of Spain, all it takes is decent red wine and fruit accoutrements
Posted: May 23, 2014 By Harvey Steiman
Memorial Day being the official start of summer eating and drinking, make this stellar recipe for sangria my contribution to your enjoyment. I watched the bartender make this version at a terrific seaside hotel in the Costa Brava of Spain last year, and it's become a warm-day favorite around our house (on those few days when late-afternoon temperatures rise in San Francisco). I watched the bartender make it enough times to glean the recipe, which I'll share with you.
Blogs : Harvey Steiman At Large
Noble Shiraz, but the whites made from Marsanne are the head-turners
Posted: May 22, 2014 By Harvey Steiman
Château Tahbilk, the winery estate in central Victoria's Goulburn Valley, dates from the 19th century. The Australian property has been in the Purbrick family since 1925, known for Shiraz from old vines, some dating to 1860. Alister Purbrick, the fourth generation, has run the estate (now at 120,000 cases) since 1979. He brought a series of mini-verticals for me to taste in San Francisco.
Blogs : Harvey Steiman At Large
Yarra Valley favorite shows what a tasting room can be
Posted: May 15, 2014 By Harvey Steiman
Healesville, a Yarra Valley town an hour's drive from Melbourne, attracted me not only for the wines, but also a visit to Innocent Bystander, where Phil Sexton makes Pinot Noirs and Chardonnays in the steely style currently in vogue. His Giant Steps label, which focuses on single-vineyard Yarra Valley wines, often rates among my leaders for Chardonnay.
More than the wines intrigued me. The modern building is an architectural award winner for its angled placement, green certifications and distinctive long swaths of wooden slats on the exterior. The 70,000-case cellar door (Aussie talk for tasting room) also bakes artisan bread, makes pizza, mongs cheese and pulls some of the better espresso in the neighborhood. Dipping into the lunch menu is rewarding.
Blogs : Harvey Steiman At Large
Onetime baseball player takes a cool (climate) approach in Australia
Posted: May 13, 2014 By Harvey Steiman
Gary Mills of Jamsheed makes modern-style wines that are polar opposite of what most Americans think of as Aussie Shiraz. He even calls them Syrah, to emphasize the difference. They have firm structure, open texture and a savory spiciness around pure fruit at the core. They display tremendous and distinctive personalities, even as alcohol levels seldom exceed 14 percent.
Blogs : Harvey Steiman At Large
When tasting notes specify flavors that can seem unpleasant
Posted: May 8, 2014 By Harvey Steiman
The photograph on Twitter showed a lineup of Hermitage bottles. The caption read "Liquid Rock."
This was obviously meant to laud the mineral character that famously runs through great Hermitage reds, made from Syrah on granite slopes. I get it. Minerality is the flavor darling of the moment in wine. We may not agree on exactly what it is—a whiff of the aroma we get off of wet pavement? River stones? That bricklike character that basalt rocks can give off? Or maybe just a vibrancy that comes from high acidity? But wines that have it get extra kudos from many sommeliers and wine writers, including me.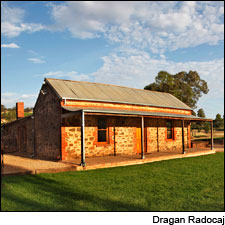 News & Features : Tasting Highlights
New reviews of expressive reds from Down Under
Posted: May 2, 2014 By Harvey Steiman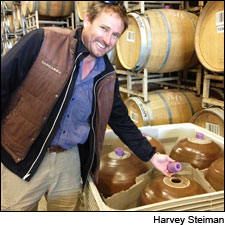 Blogs : Harvey Steiman At Large
Surprises in Clarendon Hills from Jackson Family
Posted: April 28, 2014 By Harvey Steiman
Australians were worried when Jackson Family, which seems to be all over the California wine world, added a historic vineyard in Clarendon Hills to its voluminous holdings in 2001. A big California wine company taking over 250 acres of vineyards that included some vines that had been producing enviable wines for more than 50 years? Seemed like heresy. The Jacksons renamed it Yangarra Estate and quietly went to work on improving things.
Then, in February 2012, Jackson Family won the bidding for the historic 450-acre Hickinbotham Vineyard, about 2 miles away. Rather than making its own wines, Hickinbotham had been producing grapes for Clarendon Hills' single-vineyard bottlings and material for Penfolds Grange and Eileen Hardy Shiraz. Heady stuff.
On my recent visit to Australia I checked in on some experiments at Yangarra and tasted through the debut vintage of Hickinbotham Clarendon Hills Estate wines, due to be released next year.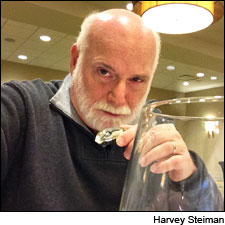 Blogs : Harvey Steiman At Large
Is it better to be neutral or flavorful? Putting wine-and-oyster pairings to the test
Posted: April 22, 2014 By Harvey Steiman
I can't help it. I am a wine guy. I want my wines to contribute to the conversation on my palate when I drink them with food. That comes to mind when I occasionally participate in fun tastings such as the Pacific Coast Oyster Wine Competition. I joined in on the 20th annual judging as much for unlimited quantities of really good oysters as for the wines, but also to test out a theory.
My brain says, let's find a wine that can stand on its own but also makes nice with the mollusks. Jon Rowley, the tasting's organizer, takes a different approach. "Don't taste the wine first," he admonished us. He wanted us to chew up the oyster first to establish its flavor and texture in our mouths, then wash it down with the wine.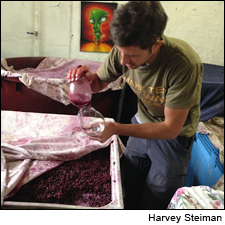 Blogs : Harvey Steiman At Large
A snapshot of the scene in Australia
Posted: April 16, 2014 By Harvey Steiman
Winemakers who keep their wineries spotless and hygienic would have been horrified by the sight that greeted me at Jauma, one of the stars of the natural wine movement in Australia. Flies buzzed about a motley assortment of upturned barrels and plastic tanks—any handy vessel large enough to contain a fermentation—the tops draped with old tablecloths and bedsheets.
Blogs : Harvey Steiman At Large
And what of Dave Powell, the ousted founder?
Posted: April 9, 2014 By Harvey Steiman
Torbreck, which ranks high on anyone's list of modern Australian wine producers, made headlines late last year when Dave Powell, who founded Torbreck in 1994, was summarily fired. Owner Pete Kight, the American entrepreneur who started CheckFree and also owns Quivira winery in Sonoma County, refused to renew Powell's contract.
A crossfire of accusations got ugly, lighting up the Australian press for several weeks. Powell has since been served with court papers invoking a non-compete clause in his contract. He cannot make any wine on his own in 2014, the vintage just wrapping up. The lawsuit goes to trial April 28 in Adelaide.
I recently visited Torbreck to taste the newest vintages, and then sat down with Powell to hear his plans for the future.