Blogs : Harvey Steiman At Large
Wines to make a beeline to sample at the 2014 Wine Spectator Wine Experience
Posted: September 29, 2014 By Harvey Steiman
The Grand Tastings at the New York Wine Experience are a playground for those of us who can't get enough great wine. Two floors of the Marriott Marquis Hotel house 267 producers those of us who review the wines nominated as our choices to be there. It's a who's who of wine, an opportunity to taste wines that are hard to find or so expensive the cost of a ticket wouldn't even buy one bottle.
Even though each producer can only pour one wine, it requires some forethought to get the most out of the experience. I scope out which ones I am gung-ho to get to, especially wines I don't get to taste regularly. When I walk through the door at the Grand Tastings Oct. 16 and 17, I'll have a plan. To help with yours (and to give you an idea of the kinds of wines on tap), here are some of the highlights of my list.
Blogs : Harvey Steiman At Large
New winery to have a big presence south of the city
Posted: September 19, 2014 By Harvey Steiman
Charles Smith has made some bold moves in his life, as he recounted in my profile of the Washington vintner in the Oct. 15 issue of Wine Spectator ("Marching to His Own Drummer"), but moving his base of operations from Walla Walla wine country to Seattle may be the biggest.
When I visited, Smith unlocked the unimposing front door of the warehouse he purchased earlier this year, walked me through a warren of deserted offices into the airplane hangar-sized space that's perfect for a functional and versatile winery. Charles Smith Wines has outgrown its patched-together warehouse winery in downtown Walla Walla.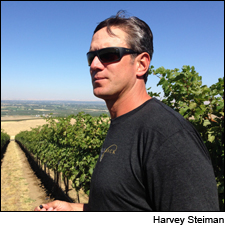 Blogs : Harvey Steiman At Large
Drew Bledsoe's Doubleback gains yardage—er, acreage—in Walla Walla
Posted: September 17, 2014 By Harvey Steiman
On a warm September afternoon, Drew Bledsoe stood in an acre of closely cropped grass. The ex-NFL star quarterback adjusted his sunglasses and surveyed the field, only he wasn't looking over a menacing defense but rows and rows of young grapevines. Their purple bunches of Cabernet Sauvignon stood out against close-cropped green canopies cascading down a steep north-facing slope. In the distance, buildings in the town of Walla Walla reflected the afternoon sun.
Blogs : Harvey Steiman At Large
Millbrandt winemaker explores what it means in Washington
Posted: September 9, 2014 By Harvey Steiman
There are those who say only steely, lean wines can express terroir, but the style of Millbrandt's Chardonnay The Estates 2013 ($20) runs counter to that. This is a rich, plush Washington white, but the spicy aromatics and creamy texture play against vibrant acidity, a core of peach and melon finishing with length and a sense of elegance.
Millbrandt, a big vineyard owner in eastern Washington, sells grapes to a roster of A-list wineries, and makes its own wines as well. The Estates Chardonnay comes from its Evergreen Vineyard in the cool-climate Ancient Lakes AVA. It lies on shallow soils littered with chalk and limestone that are earning a reputation for crisp, minerally white wines. You can taste it in this wine.
Blogs : Harvey Steiman At Large
Looking for the unexpected when tasting wine
Posted: September 4, 2014 By Harvey Steiman
As I tasted through an impressive array of 2012 Willamette Valley Pinot Noirs last week, my nose picked up unexpected aromatics. In one I smelled apricots. In another, unmistakable nuances of pineapple and coconut. Fresh lime zest informed the character of a third red, an expression of the wine's lively acid balance. These are attributes most of us associate with white wines.
Pinot Noir famously and notoriously produces unusual flavors and aromatics. The usual catalog of red and black fruits, earth and spice notes may not be all that's there. As a wine critic, I should home in on what distinguishes the wine before me from all the others. It could be structural, or textural. Or an unexpected flavor note.
Aug. 31, 2014 Issue : Features
A wine supernova in San Francisco
Posted: August 31, 2014 By Harvey Steiman
Aug. 31, 2014 Issue : Tasting Reports
Posted: August 31, 2014 By Harvey Steiman
Chef Eric Ripert uses the ocean's bounty to create beauty and harmony at Le Bernardin
Posted: August 31, 2014 By Harvey Steiman
Aug. 31, 2014 Issue : Tasting Reports
Shiraz still dominates Australian exports, but the country's No. 2 red is coming on strong
Posted: August 31, 2014 By Harvey Steiman
Blogs : Harvey Steiman At Large
After a dozen vintages, this Australian Shiraz has the goods

Posted: August 22, 2014 By Harvey Steiman
I recently had a chance to blind-taste all 12 finished and bottled vintages of Two Hands Ares, one of Australia's top Shiraz, with owner Michael Twelftree at Aspen's Casa Tua restaurant, with the help of sommelier Jill Zimorski.