Blogs : Harvey Steiman At Large
More wineries look to find wine drinkers in America
Posted: February 19, 2015 By Harvey Steiman
Wine Spectator editor at large Harvey Steiman visits the annual WineAustralia tasting in San Francisco to get a look at what American consumers haven't had a chance to taste, and highlights some of the best Australian wines we might be seeing soon.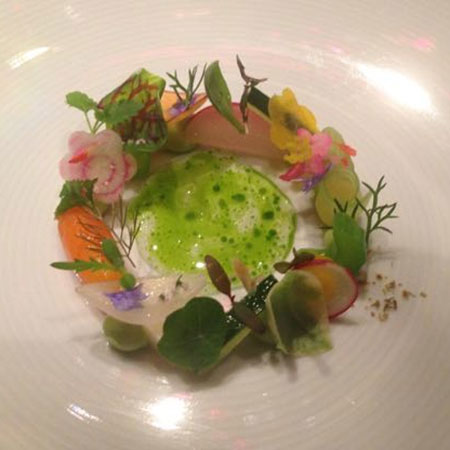 Blogs : Harvey Steiman At Large
Honolulu hideaway looks like the one to watch
Posted: February 13, 2015 By Harvey Steiman
Who would expect to find one of America's great restaurants hidden in the basement of a big shopping center in Honolulu? The archway entrance in the middle of the Ala Moana Shopping Center's lower parking level makes it feel like sneaking into a very fancy speakeasy. The meal I had there last week left me dazzled.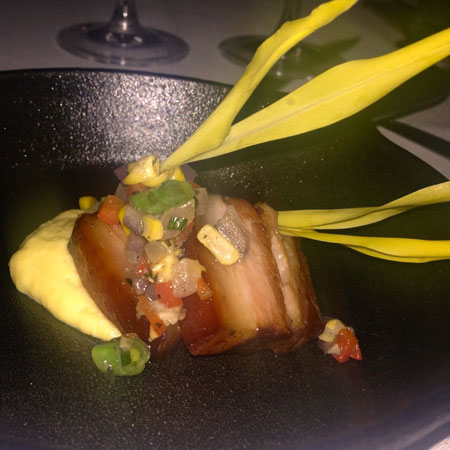 Blogs : Harvey Steiman At Large
Cooking with coffee—everything but the drink itself
Posted: February 6, 2015 By Harvey Steiman
Has anyone ever put together an eight-course menu in which every dish involves coffee—and mostly without using the beans themselves or the drink made from them? Frank Kramm, the chef at Daylight Mind, my cousin's ambitious coffee bar, café, restaurant and coffee school in Kona, Hawaii, creatively pureed the coffee fruit itself to flavor a butter, burned chaff from roasting the beans to smoke roast duck, and sprinkled coffee-flavored salt over slices of raw fish. We paired the dishes with Roederer Champagne Cristal, Château Margaux, Beaux Fréres Pinot Noir and a Muscat de Beaumes-de-Venise.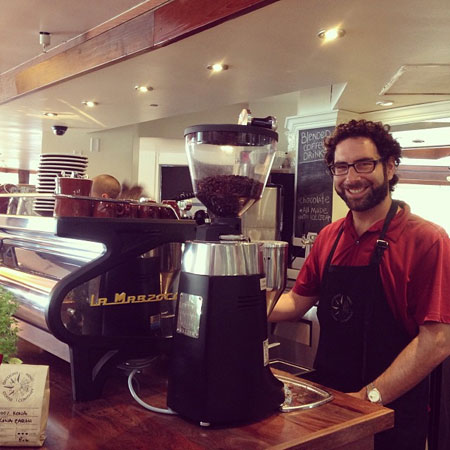 Blogs : Harvey Steiman At Large
Finding parallels with different brews and wines
Posted: February 2, 2015 By Harvey Steiman
My cousin, coffee guru Shawn Steiman, agreed to try three different wines with three distinct kinds of coffee with me, to compare how both beverages might reflect where they were grown and how they were made. I chose a fresh white wine, a lighter style of red and a full-bodied red, and Shawn used three different coffees in three styles: drip, full-immersion and espresso.
Blogs : Harvey Steiman At Large
Helen Keplinger takes on a new role as consultant at Force Majeure
Posted: January 27, 2015 By Harvey Steiman
The Washington winery that snagged the winemaker from Bryant Family, a California cult favorite, has added to the intrigue by bringing Helen Keplinger into the fold, too. Keplinger was Bryant's winemaker for two years before going off on her own in 2012 to focus on Grenache.
Now she's signed on to consult with the innovative Force Majeure, where her former assistant at Bryant, Todd Alexander, was named winemaker last year. Alexander worked at PlumpJack and followed Keplinger as Bryant's ace in the cellar, a position Philippe Melka, Helen Turley and Mark Aubert held previously. Starry names, all.
Blogs : Harvey Steiman At Large
Warring sides among today's wine lovers
Posted: January 22, 2015 By Harvey Steiman
The biggest divide in the wine world isn't between high alcohol and low alcohol, it's between fruit and savory. Many people shy away from the wet earth, cedar, meat and herb qualities preferred by those who go for savory styles. Most people like fruit. The contrasting 2011 and 2012 Oregon Pinot Noir vintages offer a perfect illustration.
Blogs : Harvey Steiman At Large
Étoile, the restaurant at Domaine Chandon, launched an era
Posted: January 13, 2015 By Harvey Steiman
The restaurant that jump-started fine dining in Napa Valley closed Jan. 1, to be converted into an elaborate tasting room. Étoile had too much competition from the long list of great restaurants that stretch from Napa to Calistoga these days, and its operators reportedy could not reach an agreement on lease arrangements.
Blogs : Harvey Steiman At Large
Changing ways to book and pay for dining out
Posted: January 6, 2015 By Harvey Steiman
Technology is changing how we book restaurant tables and pay for dinner. The people behind Alinea and Next in Chicago are making their innovative system, Tock, available to other restaurants. Per Se in New York and, when it reopens later this year, the French Laundry in Napa Valley are both switching to this system. Trois Mec in Los Angeles has been ticketing since it opened last year, and Coi in San Francisco has been using it as well.
It works like any event ticket. Pay in advance and show up at the appointed time. Walk out when you're finished.
Blogs : Harvey Steiman At Large
The in crowd avoids flutes and flat saucers for something bigger
Posted: December 30, 2014 By Harvey Steiman
With New Year's Eve approaching, Wine Spectator editor at large Harvey Steiman examines the range of wineglass options for Champagne.
Blogs : Harvey Steiman At Large
Danish chef Christian Puglisi of Relæ explains how to use wine like seasoning
Posted: December 18, 2014 By Harvey Steiman
Good cooks know that just splashing a bit of wine into a sauce or a dish as it cooks is no way to get the most out of it. What matters is how good the wine is, when and how much is added, and how long it's cooked.
In the recently published Relæ: A Book of Ideas (Ten Speed, $50), chef Christian Puglisi outlines his approach to using wine, honed working at El Bulli and Noma. At Relæ, his restaurant in Copenhagen, he uses wine directly from the bottle only for long-cooked dishes where wine must bathe the food, such as beef Bourguignon or Piemontese brasato. But for most dishes, especially sauces, he prefers to boil down the wine in advance and add it to taste.