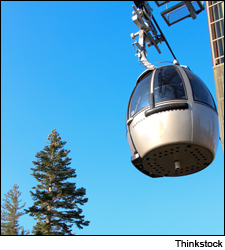 Taking the temperature at three top hotels' new restarants
Posted: November 25, 2013 By Harvey Steiman
Blogs : Harvey Steiman At Large
Tasting wines from four decades of Henschke's iconic Shiraz
Posted: November 22, 2013 By Harvey Steiman
When I could not get to Australia for the Henschke winery's massive 40-vintage tasting of its signature wine earlier this year, the iconic Shiraz Hill of Grace, Stephen Henschke offered to bring a few of the older vintages to me when he came for the New York Wine Experience.
Here are my scores and tasting notes on the Henschke Hill of Grace 1973, 1986, 1990, 2001 and 2008.
Blogs : Harvey Steiman At Large
The ongoing story of New Albion Ale, the beer that started it all
Posted: November 18, 2013 By Harvey Steiman
These days we take American craft beers and microbrews for granted. They're everywhere. Even at places other than baseball parks, I have been known to sip a Sierra Nevada Pale Ale, Samuel Adams Boston Lager or Pyramid Hefeweizen with dinner when the wine offerings don't wow me.
The choices we have today started with New Albion, an idiosyncratic microbrewery in Sonoma County, a malty drop amidst a sea of wine.
Posted: November 15, 2013 By Harvey Steiman
Nov. 15, 2013 Issue : Features
Six producers taking Cabernet in new directions
Posted: November 15, 2013 By Aaron Romano, Harvey Steiman, Augustus Weed
Blogs : Harvey Steiman At Large
Chicago's legendary chef showed the way for many others
Posted: November 7, 2013 By Harvey Steiman
The news Tuesday stunned the food and wine world. Charlie Trotter, the legendary Chicago chef who, as much as anyone, defined modern fine dining in America, was dead. At 54, how could this be?
It turns out he had a secret. He had been diagnosed with an aneurysm deep inside his brain, according to friend and sommelier Larry Stone in Chicago Tribune's obituary. It was inoperable. But he refused to use his illness to play for sympathy. Instead, he announced just after midnight on New Year's 2012 that he would be closing his restaurant after a 25-year run to pursue an advanced degree in philosophy and travel with his wife.
Oct. 31, 2013 Issue : Dining Out
The Adrià brothers of Spain's El Bulli branch out with hot spots in the Catalonian capital
Posted: October 31, 2013 By Harvey Steiman
Blogs : Harvey Steiman At Large
A spin through the Wine Experience proves good wine doesn't need funk for character
Posted: October 29, 2013 By Harvey Steiman
Am I the only person dismayed at how the discourse about wine seems to have devolved into posturing about whether this particular wine is "natural" enough, or that one has enough "authenticity"?
Blogs : Harvey Steiman At Large
A meditation on finesse and transparency
Posted: October 18, 2013 By Harvey Steiman
The 2011 Pinot Noirs from Oregon are going to polarize wine drinkers. Vintners will tell you how much they love their 2011s. They expect that those who value deftness, lightness and delicacy will too. But if you want consistency, clearly delineated flavors and a sense of presence, you might be disappointed.
A serious cook juggles fine restaurants and reality TV
Posted: October 15, 2013 By Harvey Steiman