Posted: May 31, 2013 By Harvey Steiman
A great cuisine has taken different paths in Japan and America, but delivers delights in both
Posted: May 31, 2013 By Harvey Steiman
Blogs : Harvey Steiman At Large
Will lowering the legal blood alcohol concentration limit improve safety? An important conversation for the alcohol industry and the country
Posted: May 28, 2013 By Harvey Steiman
The National Transportation and Safety Board recently recommended lowering the maximum allowed blood alcohol concentration (BAC) for drivers to 0.05 from its current 0.08. Beer and restaurant industry groups called foul. So far official voices of the wine industry have been silent.
For me it's simple: I don't want to be the cause of someone's death if I can help it, and I can minimize that risk if I don't get behind the wheel buzzed. If I am driving, I simply won't take that extra drink. That's my choice. The sticky issue is whether the law should be tightened.
Blogs : Harvey Steiman At Large
It's a whole different non-trendy world
Posted: May 24, 2013 By Harvey Steiman
It was in Barcelona that I realized why they call it a tapas bar. You know what it's like in a crowded pub, the crush of humanity trying to get the bartender's attention over the happy buzz of the drinking crowd? The shoulder-to-shoulder throng pressed together in tiny El Xampanyet, near the Picasso Museum in Barcelona's Barrì Gotic, had the same vibe on a rainy Saturday afternoon. I could not fathom how a barmaid, er, waitress, could possibly get plates of croquetas and pintxos, not to mention glasses of cava, to those who ordered them.
Somehow Barcelona denizens, happily regaling each other in Spanish and Càtalan, navigate these treacherous scenes with aplomb. Here are my notes of five of the more popular tapas bars.
Blogs : Harvey Steiman At Large
An emerging category is missing a moniker
Posted: May 16, 2013 By Harvey Steiman
Near as I can tell, Ridge Vineyards started the trend. Saxum does it too. Andrew Will pioneered it in Washington, where Cadence followed suit, and Owen Roe is the latest to jump in. These are all first-class wineries, and they independently came to the same conclusion: That for these wines they would rather blend grape varieties from a single vineyard to a site-specific wine than make a series of vineyard-designated varietals.
It struck me, as I removed the bag in yesterday's blind tasting from Owen Roe's Cabernet Sauvignon-dominant blend simply called DuBrul Vineyard, that this is becoming a separate category. And yet, we don't have a name for it.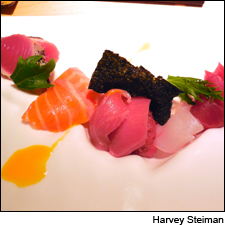 Blogs : Harvey Steiman At Large
Two of the Catalan city's most exciting restaurants owe much to sushi
Posted: April 30, 2013 By Harvey Steiman
Here in Barcelona on vacation, I could not resist trying what by all accounts is the go-to sushi place, Koy Shunka. Having explored the sushi cultures of Japan and America in my cover story of the May 31 issue of Wine Spectator, I wanted to see how another great food culture, that of Catalunya, translates the subtleties of Japan's most famous cuisine using the products of the Mediterranean Sea, as abundantly revered here as those of the Pacific Ocean are in Japan.
And then, for good measure, wouldn't you know that Japanese cuisine and sushi would play a critical role in the latest venture from brothers Albert and Ferran Adrià (who famously closed his own celebrated restaurant, El Bulli). They opened Pakta in early April, serving what they call Nikkei cuisine. Sushi is a part of the cuisine, Japanese by way of Peru, an east-west fusion made famous in America by Nobu Matsuhisa.
Blogs : Harvey Steiman At Large
Sweat the details only if, like me, you really enjoy the exploration
Posted: April 16, 2013 By Harvey Steiman
A common trope about wine pretension says that we wine folks intimidate the rest of the world with our insistence upon always drinking the right wine with the right food. I don't know anyone who does that. Do you? I gave up a long time ago believing that there's a perfect wine for every dish.
That doesn't mean I ignore the message from my own taste buds that certain wines and foods can make beautiful music together. But I stubbornly resist didactic rules. The day I absent-mindedly picked up my glass of red wine to sip with my grilled fish, and discovered how the wine just brightened up and sang more clearly, started me on a lifelong quest for similarly unexpected but terrific wine-and-food combinations.
Blogs : Harvey Steiman At Large
Wherein I scandalize wine snobs of all stripes
Posted: April 9, 2013 By Harvey Steiman
Most people know me as a pretty reasonable guy. But I apparently have the ability to stun people with my wine behavior. You should have seen the jaws drop one hot day in Oregon when I swirled ice cubes into a glass of Pinot Noir in front of a crowd of wine lovers. Oh, the horror!
Blogs : Harvey Steiman At Large
A new reference book, American Wine, by Jancis Robinson and Linda Murphy, looks beyond the obvious to all 50 states
Posted: April 3, 2013 By Harvey Steiman
One of the very first books I read about wine was Leon Adams' remarkable Wines of America. Published in 1973, its narrative took us into vineyards to see the land and into cellars to meet the people and learn their histories, just as wine was on the cusp of entering American culture. California was only just coming into focus for most Americans, but the intrepid Adams ranged from coast to coast. He explored the Finger Lakes in New York, the byways of the Ozark Mountains in Missouri and hardy souls seeking to make something of the grape in Texas, Arkansas, Ohio and Michigan. He did not miss the first glimmers of what would be coming from Washington and Oregon, either.
Over the years, others have taken a shot at capturing between the covers of a book the vibrant developments in the world of wine across America. Jancis Robinson and Linda Murphy are the authors of the latest, American Wine: The Ultimate Companion to the Wines and Wineries of the United States (University of California Press, 278 pages, $50), just published.
Blogs : Harvey Steiman At Large
Why we don't always like the same wines others do
Posted: March 27, 2013 By Harvey Steiman
You pour a wine you adore for friends. It hits all your buttons and makes your eyes light up. One friend takes a sip, winces, and utters, "Yuck." How does this happen? Chances are a characteristic jumps out at your friend, who hates it but it doesn't bother you. This simple phenomenon explains so much rancor surrounding wine.