Blogs : Harvey Steiman At Large
A meditation on finesse and transparency
Posted: October 18, 2013 By Harvey Steiman
The 2011 Pinot Noirs from Oregon are going to polarize wine drinkers. Vintners will tell you how much they love their 2011s. They expect that those who value deftness, lightness and delicacy will too. But if you want consistency, clearly delineated flavors and a sense of presence, you might be disappointed.
A serious cook juggles fine restaurants and reality TV
Posted: October 15, 2013 By Harvey Steiman
Blogs : Harvey Steiman At Large
Be prepared—you never know what you might find
Posted: October 14, 2013 By Harvey Steiman
Whenever I plan to serve older bottles of wine, I always pull an extra bottle or two from the cellar, even if they aren't the same wine, to be ready in case the first disappoints. Individual wines often don't age as well as expected, or hoped. And inevitably, cork taint or maderization from some percentage of bad corks will force you to pour away some bottles.
All this is part of the fun of opening older wines you've saved for a while. And that's why, when my Welsh friend Mr. Jones finally accepted my longstanding invitation to raid my wine cellar on one of his visits to San Francisco, I opened four bottles for the four of us to drink over dinner (not counting the sparkling wine aperitif): Gaja Barbaresco 1986, Quintarelli Valpolicella 1982, Louis Latour Chambertin 2003 and Beaux Frères Pinot Noir 2002.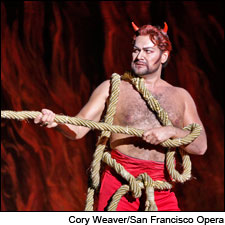 Blogs : Harvey Steiman At Large
Exploring wine bar offerings with opera star Ildar Abdrazakov
Posted: October 1, 2013 By Harvey Steiman
Ildar Abdrazakov is a Russia-born bass currently singing the title role in Boito's lavish Mephistopheles at San Francisco Opera. He makes a dashing devil, all muscle and menace on the surface, his singing sonorously suave. And, as an opera lover, I could not forgo an opportunity to add him to my singer friends, most of whom I have gotten to know because of our mutual interest in each other's fields of work.
Shortly before opening night, my wife and I met him and our mutual friend for drinks and snacks at St. Vincent, a terrific wine bar about midway between our home and the opera house. We settled in and left it up to the savvy staff to pick some interesting wines for us. Partly, I wanted get a handle on Ildar's palate, especially which kinds of wines he likes.
Posted: September 30, 2013 By Harvey Steiman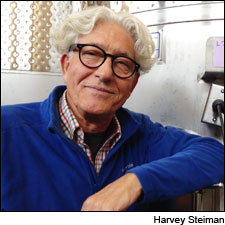 Blogs : Harvey Steiman At Large
Burgundian winemaker enjoying his first vintage
Posted: September 24, 2013 By Harvey Steiman
Rain is falling outside. Jacques Lardière's first grape crop in Oregon is still only about half picked. But he can't help smiling. He looks like he's having the time of his life.
Only a month ago Lardière and his longtime employer, Maison Louis Jadot in Burgundy, announced that they had purchased Resonance Vineyard in the Oregon's Yamhill-Carlton AVA and would start making their own estate wine from it.
Blogs : Harvey Steiman At Large
Young chef Michael Warring goes it alone
Posted: September 17, 2013 By Harvey Steiman
The plates look like casual perfection at Michael Warring, the secret eponymous restaurant of Solano County. Pale green pressed cucumber soup, dolloped with creamy sabayon and topped with a salad of vivid baby greens, comes in a square-bottomed jar, looking like a terrarium. A softly poached egg enriches already creamy risotto, made to order and generously flecked with black truffle shavings. Sautéed slices of giant squid share space with lobes of golden sea urchin atop beautifully browned pain perdu, nestled in an ecru puddle of apple cream.
Everyone in the small dining room gets a ringside view as Warring cooks five-course dinners one by one.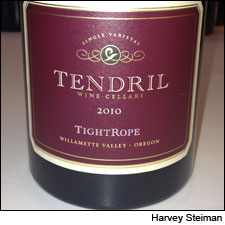 Blogs : Harvey Steiman At Large
Let's see, it's Oregon, uses only one grape variety …
Posted: September 11, 2013 By Harvey Steiman
Tendril's front label for its TightRope 2010 says "single varietal," but it doesn't says exactly what that grape might be. If this were the official front label, it would be illegal. It may look like the official label, but it's not. Confused? It's a fairly common occurrence, and there's nothing wrong with it, but it can be puzzling.
Wineries are allowed to present all of the required information in the required format. And this one does, but it's on what looks like a back label. Atop all the small type explaining what the wine is all about, it identifies the variety as Pinot Noir.
Personality clashes lead owner Pete Kight to part with Barossa Valley vintner
Posted: September 3, 2013 By Harvey Steiman
Blogs : Harvey Steiman At Large
What all the attention might mean
Posted: September 3, 2013 By Harvey Steiman
It was a seminal moment in Oregon's wine history when Robert Drouhin, of Burgundy's celebrated Maison Joseph Drouhin, bought a 225-acre rolling hillside in Dundee Hills in 1987, planted what is now a 90-acre vineyard and built a winery. It was like a stamp of approval. Everyone cheered.
Drouhin's success bolstered the state's burgeoning reputation as a source of great Pinot Noir, mostly created by homegrown talent and owners. They have attracted increasing interest and investment by outsiders, and this year the action has been fast and furious.