Blogs : Harvey Steiman At Large
Wherein I scandalize wine snobs of all stripes
Posted: April 9, 2013 By Harvey Steiman
Most people know me as a pretty reasonable guy. But I apparently have the ability to stun people with my wine behavior. You should have seen the jaws drop one hot day in Oregon when I swirled ice cubes into a glass of Pinot Noir in front of a crowd of wine lovers. Oh, the horror!
Blogs : Harvey Steiman At Large
A new reference book, American Wine, by Jancis Robinson and Linda Murphy, looks beyond the obvious to all 50 states
Posted: April 3, 2013 By Harvey Steiman
One of the very first books I read about wine was Leon Adams' remarkable Wines of America. Published in 1973, its narrative took us into vineyards to see the land and into cellars to meet the people and learn their histories, just as wine was on the cusp of entering American culture. California was only just coming into focus for most Americans, but the intrepid Adams ranged from coast to coast. He explored the Finger Lakes in New York, the byways of the Ozark Mountains in Missouri and hardy souls seeking to make something of the grape in Texas, Arkansas, Ohio and Michigan. He did not miss the first glimmers of what would be coming from Washington and Oregon, either.
Over the years, others have taken a shot at capturing between the covers of a book the vibrant developments in the world of wine across America. Jancis Robinson and Linda Murphy are the authors of the latest, American Wine: The Ultimate Companion to the Wines and Wineries of the United States (University of California Press, 278 pages, $50), just published.
Blogs : Harvey Steiman At Large
Why we don't always like the same wines others do
Posted: March 27, 2013 By Harvey Steiman
You pour a wine you adore for friends. It hits all your buttons and makes your eyes light up. One friend takes a sip, winces, and utters, "Yuck." How does this happen? Chances are a characteristic jumps out at your friend, who hates it but it doesn't bother you. This simple phenomenon explains so much rancor surrounding wine.
Blogs : Harvey Steiman At Large
Six years on, these two cool-climate Syrahs from Washington and Australia are going strong
Posted: March 19, 2013 By Harvey Steiman
Usually I try not to inflict wine-geek stuff on unsuspecting guests, but I knew that our friends coming for dinner Sunday loved full-bodied red wines and had some great ones in their own cellars. So to drink with dinner I pulled out a couple of New World Syrahs that I think of as candidates for modern standard-bearers. I did not feel at all guilty, especially when I learned that none of them had ever tasted either wine.
I chose Terlato & Chapoutier Shiraz Pyrenees Malakoff 2007 from Australia and Owen Roe Syrah Yakima Valley Lady Rosa 2006 from Washington for several reasons. First of all, the wineries have gotten plenty of ink and they have been making these wines only recently—since 2004. They are distinctive, and I have consistently rated them both in the low to mid-90s. Australia, long known for its Shiraz (its name for Syrah), is finally beginning to get some love around the world for its cooler-climate styles, of which this one is a fine example. As for the Washington wine, it eloquently makes the case that Syrah belongs right up there with Cabernet and other Bordeaux varieties as the state's calling card.
Blogs : Harvey Steiman At Large
What it means and why it matters
Posted: March 5, 2013 By Harvey Steiman
Recently, several prominent wine writers argued on Twitter in a contentious back-and-forth with me and others that blind tasting was bad. It's tasting without context, they said. I am not setting up a straw man here. Here are some of their actual tweets:
"Why should wine routinely be tasted blind, devoid of context or perspective? Why deprive those who would judge it of that information?" contended Bruce Schoenfeld, who writes a wine column for Travel + Leisure magazine.
"I question whether blind tasting … can uncover the most compelling and virtuous wines," read another comment from Jon Bonné, wine editor of the San Francisco Chronicle.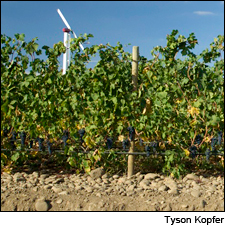 Blogs : Harvey Steiman At Large
Washington vintners who use grapes from "The Rocks" won't be able to put it on their labels
Posted: February 28, 2013 By Harvey Steiman
A new American Viticultural Area is being considered for one of the most distinctive terroirs in America, one that has produced unmistakably great wines. Unfortunately, most of the actual wines won't be able to use it.
On an old riverbed south of the town of Walla Walla, cobblestones litter the ground, in some areas totally obliterating any view of the soil. Locals have taken to calling this part of the Walla Walla Valley AVA "The Rocks." Vines struggle to grow, resulting in tiny grapes of amazing flavor intensity. And yes, the wines show the sort of flavors that fall under the heading of "minerality," although to my taste it's more like black olive and tar.
The stones drew Christophe Baron to plant grapes in the region, just north of the town of Milton-Freewater, Ore., starting in 1997. He named the vineyard Cailloux, French for stones, and planted six others in the area. They produce the grapes for his highly coveted Cayuse wines, no stranger to the Wine Spectator Top 100.
Jan. 31 - Feb. 28, 2013 Issue : Features
Editor at large Harvey Steiman has been with Wine Spectator since 1984. He is lead taster for the wines of Australia, Oregon and Washington.
Posted: February 28, 2013 By Harvey Steiman
Jan. 31 - Feb. 28, 2013 Issue : Tasting Reports
2010 proves a landmark vintage for balanced and flavorful Oregon Pinot Noir
Posted: February 28, 2013 By Harvey Steiman
Blogs : Harvey Steiman At Large
A thought-provoking evening at an ambitious new restaurant
Posted: February 25, 2013 By Harvey Steiman
Sommelier Mark Bright poured a splash of Krug Champagne Grande Cuvée as I settled in for an 18-course dinner at Saison in San Francisco. "We welcome all our guests with Krug," he said, a clear message that this is meant to be a luxury experience, if the credit card deposit of $248 per person didn't already do that.
That's pretty ambitious for a restaurant that started life only three years ago as a pop-up. Its first brick-and-mortar incarnation in a tiny Mission District space got two Michelin stars in the most recent San Francisco guide, and chef-owner Joshua Skenes could fill a trophy case with rising star chef awards. The new location, in a historic building a block from the San Francisco Giants' AT&T Park, ups the ante with a unique, spacious design, a longer menu and a price tag that puts it among the most costly in the U.S., even more than the long-venerated French Laundry in Napa Valley.
Blogs : Harvey Steiman At Large
Always deft in style, the wines are getting more specific
Posted: February 20, 2013 By Harvey Steiman
Over a casual dinner of sardine chips, pasta with bergamot and steak with chimichurri and mushrooms at the new Rich Table in San Francisco, Wolf Blass' Chris Hatcher brought me up to date on what his end of the company had been up to. Never among the biggest wines on the block, Wolf Blass has always aimed for balance and drinkability without losing the ripe flavors Australia can do so well.
We tasted three examples of what's coming next. The first wine encapsulated in a single sip the overarching trend in Australian wine today. Wolf Blass Chardonnay Adelaide Hills White Label 2010, silky in texture, graceful, expressive but not at all weighty, tasted like biting into a raw heirloom apple, getting complexity more from maturing on lees in older barrels than from oak. The first word that came to mind was "deft."