Blogs : Harvey Steiman At Large
First 10 vintages of Barossa Shiraz show consistency, distinction
Posted: November 28, 2012 By Harvey Steiman
In Wine Spectator's Top 100 Wines of 2012, a familiar name stands at No. 3. Two Hands Shiraz Barossa Valley Bella's Garden has made it into the Top 100 eight times, including four years in the Top 10. What's astounding is that the wine has existed only since the 2001 vintage. Recently, Two Hands proprietor Michael Twelftree offered to taste all 10 vintages of Bella's Garden with me, blind. Here are my notes and unofficial scores.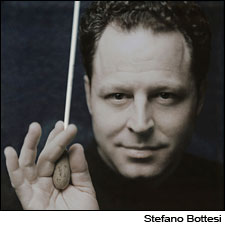 Blogs : Harvey Steiman At Large
Conductor crosses the lines thanks to a childhood accident
Posted: November 21, 2012 By Harvey Steiman
John Axelrod tastes music and hears food and wine. As a result, he has a particular fascination for the links between music and gastronomy. He claims to be the only conductor who also ran a wine business. In the late 1990s he ran the Robert Mondavi wine center at Disneyland in Anaheim for three years. It was Mondavi's wife, Margrit Biever, who encouraged the young Axelrod, who has studied privately with Leonard Bernstein, to "take the leap of faith," as he put it, and pursue a career in music.
Today he leads the Orchestra National des Pays de la Loire in Angers, France, the Verdi Orchestra in Milan, Italy, and guest conducts throughout Europe. We chatted via Skype recently after he led a performance in Naples of Gustav Mahler's Symphony No. 5. Axelrod explained that he has a form of synesthesia, a neurological condition in which stimulation of one sensory or cognitive pathway leads to automatic, involuntary experiences in a second sensory or cognitive pathway. For Axelrod it is taste and sound, and it developed after he got mercury poisoning as a child. "The treatment created a bridge between taste and my hearing," he said.
Blogs : Harvey Steiman At Large
Give the match game a rest for this one day
Posted: November 16, 2012 By Harvey Steiman
How do you decide which wines to deploy for Thanksgiving duty? Do you fret about matching the perfect wine with each element of the meal? That way lies madness. Nah, Thanksgiving is a day for hanging out with family and friends, and saying thanks for all our blessings. Now let's watch some football and eat some turkey, gravy and sweet potatoes.
Devotée as I am of the magic that can happen when wine and food find common ground and make the other better, I don't recommend it for big meals with a table full of contrasting dishes and a crowd that can range from wine snobs to those who merely drink it for lubrication.
Blogs : Harvey Steiman At Large
Sparkling ice wine, anyone? An old brut and a Syrah show well with a homecooked meal for friends
Posted: November 13, 2012 By Harvey Steiman
I am not certain how I came into possession of a 375ml bottle of Canadian sparkling ice wine, let alone how it languished in my cellar for almost a decade. Good friends were coming for dinner, and I had already chosen some fizz for before dinner and a Washington Syrah to drink with the main course. (More about those a bit later.) I wanted something light and pretty to go with the planned dessert, a rather light version of sticky toffee pudding (a cakelike British dessert).
As I rummaged through the dessert wines, my eye caught the golden label of the Inniskillin Sparking Ice Wine Vidal Niagara Peninsula 2001. Maybe it was the British Isles association (it's named after a place in Ireland). Maybe I just figured the effervescence might lighten up the wine's natural sweetness and make a good match with the dessert.
Blogs : Harvey Steiman At Large
A tasting retrospective on Steingarten, a limited-production Riesling from a big wine company
Posted: November 6, 2012 By Harvey Steiman
Until about 20 years ago, Riesling was Australia's go-to white wine. It never made much an impact here in the United States, where Riesling from anywhere was a tough sell, but in Australia it seemed as if everyone drank it regularly, from punters to pundits. At least until Chardonnay rode its worldwide popularity to replace Riesling in Australian wine drinkers' glasses.
The good news for those of us who appreciate the clarity, ageability and zing of a good Aussie Riesling is that the grape never went away. In fact, it has become a darling of sommeliers and retailers here in America who decry oak and high alcohol in white wines. In the same way as two other personal favorites, Spain's Albariños and Italy's Falanghinas, dry Aussie Rieslings offer piquancy and charm to meld well with seafood, which I eat as often as I can.
Piero Selvaggio's Valentino celebrates 40 years of bringing the best of Italy to Americans
Posted: October 31, 2012 By Harvey Steiman
New offerings bring new excitement with menus and wine programs that range from traditional to cutting-edge
Posted: October 29, 2012 By Harvey Steiman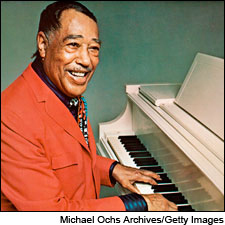 Blogs : Harvey Steiman At Large
Are there really only two kinds of wine?
Posted: October 24, 2012 By Harvey Steiman
Some of us believe that Duke Ellington was America's greatest composer, even though he wrote in an idiom that many people then (and now) do not consider serious enough—jazz. His being something of an outsider, both because of his race and his musical genre, probably prompted his most famous quote, that "there are only two kinds of music: good music, and the other kind."
It's a telling remark, one that resonated with me the first time I ever heard it as a music student. I like to quote it today, when the diversity of the music we can pipe through our iPod earphones covers a range even the Duke couldn't imagine.
The same could be said about our favorite beverage. We can experience a wider choice of good wines today than ever before. And we are having the same kind of arguments over how to define good wine as those we had over just what constituted good music in Duke Ellington's day, or today, for that matter.
Blogs : Harvey Steiman At Large
Herewith, some restaurants to consider
Posted: October 17, 2012 By Harvey Steiman
If you're joining us this week at the New World Wine Experience at the JW Marriott Hotel in Los Angeles, and you're staying downtown for the event, you can find a good selection of restaurants, from casual to fancy, in the neighborhood.
Blogs : Harvey Steiman At Large
The 2010 Pinot Noirs' delicacy make them worthy of attention
Posted: October 15, 2012 By Harvey Steiman
After tasting select wines from barrel last year, I said that 2010 would be a polarizing vintage for Oregon's Pinot Noirs. Those who crave delicacy in Pinot Noir, who prize pretty aromas and flavors, will love it. Others may find it wimpy and wonder what all the fuss is about.
Now that I have blind-tasted out of the bottle more than half of the 2010s I expect to review, I still believe that. Time after time I hesitated after writing a tasting note that described the charms of pretty fruit character, delicate structure, and a welcome sense of transparency to it all. Lovely wines, but I wondered, did they have the depth, the length, the complexity to qualify as great? These elements make a wine truly memorable.
The answer, more often than not, was yes, although more than a few of the wines came up just a bit short on those factors.