June 30, 2013 Issue : Features
Three new restaurants in San Francisco bring a casual vibe to elevated dining
Posted: June 30, 2013 By Harvey Steiman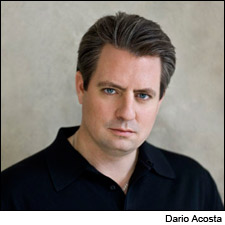 Blogs : Harvey Steiman At Large
Tenor Matthew Polenzani keeps an open mind when exploring new wines
Posted: June 28, 2013 By Harvey Steiman
This story should sound familiar to anyone who has fallen for the world of wine. One day about a decade ago, a budding opera singer and his wife were sitting outside a caffè in Rome. "I had quit drinking in my very early 20s due to the financial constraints of college and grad school," said Matthew Polenzani, "but on a beautiful warm evening the moment called for a nice glass of wine. We've never looked back."
Blogs : Harvey Steiman At Large
Like a musical recording, it may not be what it seems
Posted: June 18, 2013 By Harvey Steiman
After offering my take on ingredient labeling for wine, I got to thinking about why this is such a vexing issue. We do, after all, want to know what goes into what we consume, including wine. The tricky aspect for wine, of course, is that what goes in does not necessarily wind up in the bottle.
All of the adjustments winemakers can apply to wine remind me of what can happen in making music recordings. It's an apt analogy on several levels. One can even argue that, as humans, we need music as much as we need food and wine. At least some of us do.
Here's the thing. Just as manipulations in the winery can make a wine seem like more than what the vineyard actually produced, what we hear on most recordings is not exactly what the musicians actually played and sang. Sophisticated electronic and digital processes add reverberation, replace flubbed notes, and these days can even modify pitch to get a sour note in tune.
Blogs : Harvey Steiman At Large
What you see is not necessarily what you get
Posted: June 6, 2013 By Harvey Steiman
Ingredient labeling for wine seems to make perfect sense, but the devil is in the details. Despite several concerted attempts, some dating back 40 years, it hasn't happened yet, in part because making wine is not like bottling soda pop or mixing cereal. In those, ingredients are the same as contents. Not so with wine.
Wine is a product of fermentation, and not everything that goes into it comes out in the end. And alcohol, one of wine's prime constituents, is not added to table wines. It results from fermenting the sugar in grapes. How to handle those pesky details has derailed previous attempts at ingredient labeling for wine.
Posted: May 31, 2013 By Harvey Steiman
A great cuisine has taken different paths in Japan and America, but delivers delights in both
Posted: May 31, 2013 By Harvey Steiman
Blogs : Harvey Steiman At Large
Will lowering the legal blood alcohol concentration limit improve safety? An important conversation for the alcohol industry and the country
Posted: May 28, 2013 By Harvey Steiman
The National Transportation and Safety Board recently recommended lowering the maximum allowed blood alcohol concentration (BAC) for drivers to 0.05 from its current 0.08. Beer and restaurant industry groups called foul. So far official voices of the wine industry have been silent.
For me it's simple: I don't want to be the cause of someone's death if I can help it, and I can minimize that risk if I don't get behind the wheel buzzed. If I am driving, I simply won't take that extra drink. That's my choice. The sticky issue is whether the law should be tightened.
Blogs : Harvey Steiman At Large
It's a whole different non-trendy world
Posted: May 24, 2013 By Harvey Steiman
It was in Barcelona that I realized why they call it a tapas bar. You know what it's like in a crowded pub, the crush of humanity trying to get the bartender's attention over the happy buzz of the drinking crowd? The shoulder-to-shoulder throng pressed together in tiny El Xampanyet, near the Picasso Museum in Barcelona's Barrì Gotic, had the same vibe on a rainy Saturday afternoon. I could not fathom how a barmaid, er, waitress, could possibly get plates of croquetas and pintxos, not to mention glasses of cava, to those who ordered them.
Somehow Barcelona denizens, happily regaling each other in Spanish and Càtalan, navigate these treacherous scenes with aplomb. Here are my notes of five of the more popular tapas bars.
Blogs : Harvey Steiman At Large
An emerging category is missing a moniker
Posted: May 16, 2013 By Harvey Steiman
Near as I can tell, Ridge Vineyards started the trend. Saxum does it too. Andrew Will pioneered it in Washington, where Cadence followed suit, and Owen Roe is the latest to jump in. These are all first-class wineries, and they independently came to the same conclusion: That for these wines they would rather blend grape varieties from a single vineyard to a site-specific wine than make a series of vineyard-designated varietals.
It struck me, as I removed the bag in yesterday's blind tasting from Owen Roe's Cabernet Sauvignon-dominant blend simply called DuBrul Vineyard, that this is becoming a separate category. And yet, we don't have a name for it.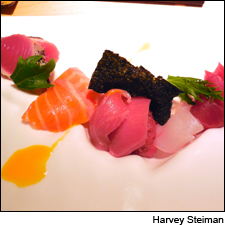 Blogs : Harvey Steiman At Large
Two of the Catalan city's most exciting restaurants owe much to sushi
Posted: April 30, 2013 By Harvey Steiman
Here in Barcelona on vacation, I could not resist trying what by all accounts is the go-to sushi place, Koy Shunka. Having explored the sushi cultures of Japan and America in my cover story of the May 31 issue of Wine Spectator, I wanted to see how another great food culture, that of Catalunya, translates the subtleties of Japan's most famous cuisine using the products of the Mediterranean Sea, as abundantly revered here as those of the Pacific Ocean are in Japan.
And then, for good measure, wouldn't you know that Japanese cuisine and sushi would play a critical role in the latest venture from brothers Albert and Ferran Adrià (who famously closed his own celebrated restaurant, El Bulli). They opened Pakta in early April, serving what they call Nikkei cuisine. Sushi is a part of the cuisine, Japanese by way of Peru, an east-west fusion made famous in America by Nobu Matsuhisa.