Aug. 31, 2013 Issue : Features
A Silicon Valley mainstay builds a cellar deep in Burgundy
Posted: August 31, 2013 By Harvey Steiman
Aug. 31, 2013 Issue : Tasting Reports
After a period of market turmoil, quality is rising amid a tide of new wines
Posted: August 31, 2013 By Harvey Steiman
Blogs : Harvey Steiman At Large
Science marches on, one sip of wine at a time
Posted: August 21, 2013 By Harvey Steiman
I love science. I grew up reading Isaac Asimov essays, and I lap up the latest scientific papers about wine. I came across the following nuggets in recent weeks, ranging from intriguing to frankly frivolous. Each one of them got me thinking. Maybe they will for you too.
Blogs : Harvey Steiman At Large
But how good is it? Results of a sampling
Posted: August 2, 2013 By Harvey Steiman
Every state in America makes wine. So everywhere I go, I try to taste at least a few examples of the local product. As my wife and I spend several weeks every summer in the Colorado Rockies, we have been exposed to Colorado bottlings from time to time. I've ordered glasses or bottles of local wines in places such as Arizona, Texas, Michigan, Maryland and Virginia, which get little respect except for a relatively few supporters. Generally I find what I've tasted likable enough. But two big questions keep me from hopping up and down with excitement. I ran into both of those questions as I tasted through a representative sample of 10 Colorado wines with Kyle Schlachter of the Colorado Wine Press website.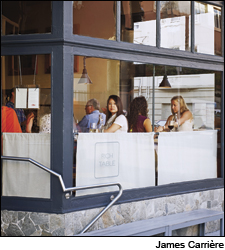 Three newcomers bring a casual vibe to elevated dining
Posted: July 22, 2013 By Harvey Steiman
Blogs : Harvey Steiman At Large
The Little Nell revamps its Grand Award winner in Aspen
Posted: July 19, 2013 By Harvey Steiman
Aspen, Colo., tucked high in the Rocky Mountains, may not be an ideal indicator of economic trends in America. But at the luxury hotel the Little Nell, the expensive wines have started to fly out of the cellar. It has sommelier Carlton McCoy shaking his head in wonder.
Bottles and magnums of first-growth Bordeaux and big-name Burgundy stud a 700-bottle glassed-in wine storage unit that holds a bottle or two of the most-ordered wines and some top-shelf labels. It runs the length of a cocktail bar at the entrance to Element 47, the awkwardly renamed restaurant that won a Wine Spectator Grand Award as Montagna, its previous incarnation.
Blogs : Harvey Steiman At Large
Washington wine book author Paul Gregutt switches gears with Waitsburg Cellars, and his first vintage looks promising
Posted: July 10, 2013 By Harvey Steiman
Washington wine writer Paul Gregutt got himself into quite a kerfuffle earlier this year when he sprung Waitsburg Cellars onto the world.
The longtime resident of the Evergreen state is a veteran critic and author of Washington Wines and Wineries, the definitive book on Washington wine, whose wine reviews appeared on his own blog and in several print publications. He had never been a winemaker, but in 2011 partnered with Precept Wines, the state's third-largest wine company, to craft his own wines for the new label. Questions were raised. Could a wine critic also be a winemaker without raising conflict-of-interest issues? Could an untrained neophyte's wines be any good?
Well, I tasted them blind with their peers, as we always do around here, and I can say they are better than good.
Blogs : Harvey Steiman At Large
How critics of the critics miss the point
Posted: July 3, 2013 By Harvey Steiman
The news media has jumped on a new study of judges at the California State Fair wine competition as evidence that all wine tasting is baloney. But the author of the study says that's not what he meant. Not by a mile.
The "Baron of Barossa" was a key figure in the wine region's renaissance
Posted: July 3, 2013 By Harvey Steiman
June 30, 2013 Issue : Features
Three new restaurants in San Francisco bring a casual vibe to elevated dining
Posted: June 30, 2013 By Harvey Steiman