March 31, 2015 Issue : Features
Anthony Bourdain's journey from cynical chef to culinary celebrity
Posted: March 31, 2015 By Harvey Steiman
Jan. 31 - Feb. 28, 2015 Issue : News
Posted: February 28, 2015 By Harvey Steiman
Jan. 31 - Feb. 28, 2015 Issue : Tasting Reports
Posted: February 28, 2015 By Harvey Steiman
Jan. 31 - Feb. 28, 2015 Issue : Tasting Reports
Oregon succeeds in 2012 with ripe' elegant Pinots
Posted: February 28, 2015 By Harvey Steiman
Blogs : Harvey Steiman At Large
Two California wines still good long past their drink-by dates
Posted: February 27, 2015 By Harvey Steiman
I often rummage through the cellar for an older wine to open for dinner. With too many wines I expected to drink up sooner, I'll grab the last bottle remaining of something now forgotten that looked interesting when I acquired it. Two California wines with more age on them than originally anticipated turned out to be pleasant surprises at dinner this week, and with two instructive results.
Blogs : Harvey Steiman At Large
More wineries look to find wine drinkers in America
Posted: February 19, 2015 By Harvey Steiman
Wine Spectator editor at large Harvey Steiman visits the annual WineAustralia tasting in San Francisco to get a look at what American consumers haven't had a chance to taste, and highlights some of the best Australian wines we might be seeing soon.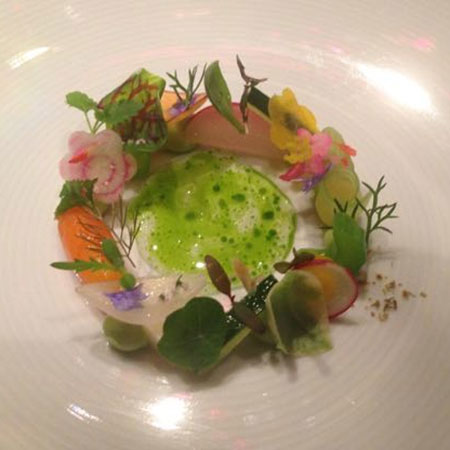 Blogs : Harvey Steiman At Large
Honolulu hideaway looks like the one to watch
Posted: February 13, 2015 By Harvey Steiman
Who would expect to find one of America's great restaurants hidden in the basement of a big shopping center in Honolulu? The archway entrance in the middle of the Ala Moana Shopping Center's lower parking level makes it feel like sneaking into a very fancy speakeasy. The meal I had there last week left me dazzled.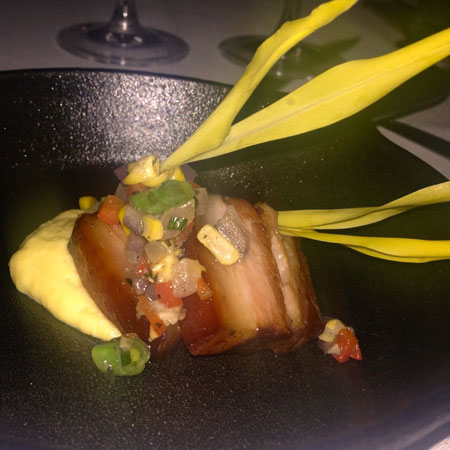 Blogs : Harvey Steiman At Large
Cooking with coffee—everything but the drink itself
Posted: February 6, 2015 By Harvey Steiman
Has anyone ever put together an eight-course menu in which every dish involves coffee—and mostly without using the beans themselves or the drink made from them? Frank Kramm, the chef at Daylight Mind, my cousin's ambitious coffee bar, café, restaurant and coffee school in Kona, Hawaii, creatively pureed the coffee fruit itself to flavor a butter, burned chaff from roasting the beans to smoke roast duck, and sprinkled coffee-flavored salt over slices of raw fish. We paired the dishes with Roederer Champagne Cristal, Château Margaux, Beaux Fréres Pinot Noir and a Muscat de Beaumes-de-Venise.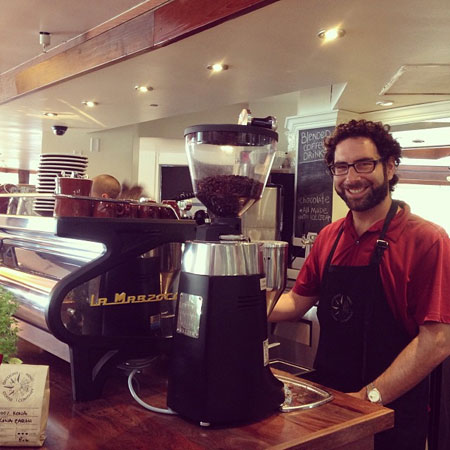 Blogs : Harvey Steiman At Large
Finding parallels with different brews and wines
Posted: February 2, 2015 By Harvey Steiman
My cousin, coffee guru Shawn Steiman, agreed to try three different wines with three distinct kinds of coffee with me, to compare how both beverages might reflect where they were grown and how they were made. I chose a fresh white wine, a lighter style of red and a full-bodied red, and Shawn used three different coffees in three styles: drip, full-immersion and espresso.
Blogs : Harvey Steiman At Large
Helen Keplinger takes on a new role as consultant at Force Majeure
Posted: January 27, 2015 By Harvey Steiman
The Washington winery that snagged the winemaker from Bryant Family, a California cult favorite, has added to the intrigue by bringing Helen Keplinger into the fold, too. Keplinger was Bryant's winemaker for two years before going off on her own in 2012 to focus on Grenache.
Now she's signed on to consult with the innovative Force Majeure, where her former assistant at Bryant, Todd Alexander, was named winemaker last year. Alexander worked at PlumpJack and followed Keplinger as Bryant's ace in the cellar, a position Philippe Melka, Helen Turley and Mark Aubert held previously. Starry names, all.