Aug. 31, 2014 Issue : Features
A wine supernova in San Francisco
Posted: August 31, 2014 By Harvey Steiman
Aug. 31, 2014 Issue : Tasting Reports
Posted: August 31, 2014 By Harvey Steiman
Chef Eric Ripert uses the ocean's bounty to create beauty and harmony at Le Bernardin
Posted: August 31, 2014 By Harvey Steiman
Aug. 31, 2014 Issue : Tasting Reports
Shiraz still dominates Australian exports, but the country's No. 2 red is coming on strong
Posted: August 31, 2014 By Harvey Steiman
July 31, 2014 Issue : Features
Posted: July 31, 2014 By Harvey Steiman
Blogs : Harvey Steiman At Large
A moment in the life of a new dish reflects the search to get things right
Posted: July 21, 2014 By Harvey Steiman
One key moment stands out when I was researching my Wine Spectator Aug. 31 issue profile of Eric Ripert, chef and partner of New York's fabled fish restaurant, Le Bernardin. It was the creative meeting.
Ripert and his top-ranking chefs meet daily in a small conference room, away from the hustle and bustle of the kitchen, to perfect their ideas for new dishes. The menu is constantly in flux. Anyone in the kitchen can present an idea, then work out the details until the results get the approval of Ripert and his lieutenants. They bring trays full of the latest iteration of the dish, along with some options they are considering, all in an effort to keep things fresh and lively.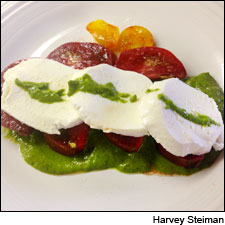 Blogs : Harvey Steiman At Large
But it's great with tomatoes or pasta, and a glass of rosé
Posted: July 16, 2014 By Harvey Steiman
Wine Spectator editor at large Harvey Steiman offers his recipe for Not Pesto, a basil-and-pine nut puree perfect over sliced heirloom tomatoes and fresh mozzarella or burrata and paired with a crisp rosé.
Blogs : Harvey Steiman At Large
Washington winery with "chemical symbols" on the label returns with a new direction
Posted: July 8, 2014 By Harvey Steiman
The Washington wine label Wines of Substance was invented in 2006 by a couple of Walla Walla hotshots—Waters' winemaker Jamie Brown and Greg Harrington, founder of Gramercy Cellars. It had a promising early run. Some of the wines hit 90 points on the Wine Spectator 100-point scale. The black-and-white label design emulated the periodic table of the elements you might recall from chemistry class, assigning two-letter symbols to the grape varieties used to make the wines, priced at $14 to $20.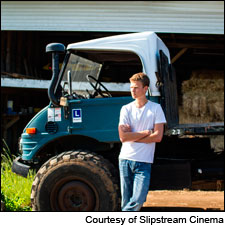 Blogs : Harvey Steiman At Large
A scattered view of those who give it all up for wine
Posted: June 27, 2014 By Harvey Steiman
American Wine Story is a fascinating, gritty and ultimately bittersweet movie about the people who give up their day jobs to make wine in unexpected places across the United States. It focuses on the story of Brooks Wines, a small but fast-growing winery in Oregon founded in 1998, and the outpouring of support from others in the industry on the untimely death of its founder in 2004.
Blogs : Harvey Steiman At Large
Cooler temperatures and wetter weather make for starker choices
Posted: June 20, 2014 By Harvey Steiman
Ripeness and alcohol continue to polarize wine drinkers. The prevailing trend almost everywhere these days is toward more moderate levels of alcohol, but a highly vocal wing still finds too much alcohol in too many wines.
It's the sugar in the grapes, of course, that ferments into alcohol, so winegrowers are seeking ways to get enough ripeness to deliver pleasurable flavors without the sugar getting out of hand. Finding a cool climate can do it. But sometimes a cool vintage is a mixed blessing, as my recent experience sampling 2011 Washington reds demonstrates.