Posted: May 31, 2014 By Bruce Sanderson
May 31, 2014 Issue : Savvy Shopper
Posted: May 31, 2014 By Bruce Sanderson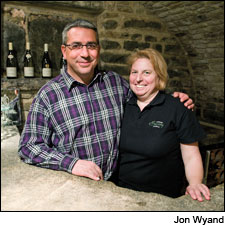 News & Features : Tasting Highlights
New reviews of Chardonnays from northern Burgundy
Posted: May 23, 2014 By Bruce Sanderson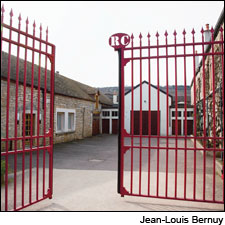 Blogs : Bruce Sanderson Decanted
Terroir dominates the vintage in DRC's 2012 lineup
Posted: May 22, 2014 By Bruce Sanderson
I made my annual pilgrimage to Domaine de la Romanée-Conti earlier this year. It marked the first time since I began visiting the domaine in 2005 that I did not taste with Aubert de Villaine, who was traveling.
However, I met Bertrand de Villaine, who is being groomed to succeed his uncle as codirector of DRC. Along with cellar master Bernard Noblet, we tasted through the 2012 vintage in barrel. WineSpectator.com members can read my non-blind scores and tasting notes below for the 7 DRC wines: Corton, Echezeaux, Grands Echezeaux, Romanée-St.-Vivant, Richebourg, La Tâche and Romanée-Conti..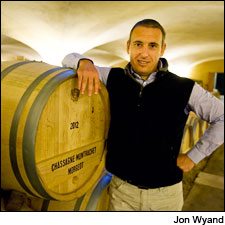 News & Features : Cellar Notes
Tasting notes for more than 150 red and white Burgundies from the 2012 vintage
Posted: May 20, 2014 By Bruce Sanderson
Blogs : Bruce Sanderson Decanted
Both Faller's and Sessions' beautiful wines made a lasting impression
Posted: May 15, 2014 By Bruce Sanderson
The wine world lost two winemakers this week. Laurence Faller, 47, who made the wines at Domaine Weinbach in Alsace, died of a suspected heart attack. Longtime Hanzell winemaker Bob Sessions died after battling Alzheimer's disease for several years. He was 82.
Both Laurence Faller and Bob Sessions made beautiful wines. They made a lasting impact on me as a critic and taster, and I consider myself fortunate to have shared some of those wines with them.
April 30, 2014 Issue : Features
The 2010 vintage caps a string of successful harvests for Piedmont's King of Wines
Posted: April 30, 2014 By Bruce Sanderson
April 30, 2014 Issue : Features
This dynamic region delivers a wealth of vintages and grape varieties for both short- and long-term enjoyment
Posted: April 30, 2014 By Bruce Sanderson
April 30, 2014 Issue : Savvy Shopper
Posted: April 30, 2014 By Bruce Sanderson
April 30, 2014 Issue : Features
Posted: April 30, 2014 By Bruce Sanderson