April 30, 2013 Issue : Savvy Shopper
Posted: April 30, 2013 By Bruce Sanderson
April 30, 2013 Issue : Tasting Reports
Cool growing conditions in Piedmont produced impressive results
Posted: April 30, 2013 By Bruce Sanderson
Posted: April 30, 2013 By Bruce Sanderson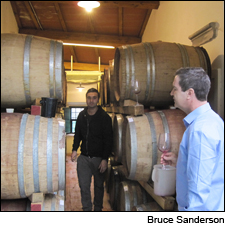 Blogs : Bruce Sanderson Decanted
Tasting Bibi Graetz' 2012 barrel samples in Chianti Classico, plus the latest vintages of Testamatta, Colore and Soffocone
Posted: April 15, 2013 By Bruce Sanderson
Does anyone have more fun making wine than Bibi Graetz?
He grew up in a castle outside Florence, Italy, and still lives there, making wine from an assortment of old vines sourced from around Chianti Classico, including 37 acres of vineyards at his property in Fiesole, where I caught up with him and his cellarmaster, Luigi Temperini.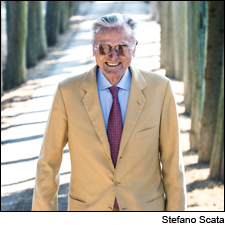 The patriarch of the Tuscan estate many credit with creating Brunello was an outspoken champion of the wine
Posted: April 8, 2013 By Mitch Frank, Bruce Sanderson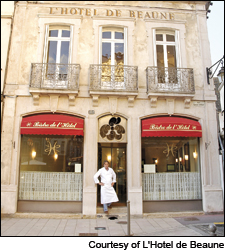 The medieval city of Beaune is an ideal base from which to explore the Côte d'Or
Posted: April 1, 2013 By Jennifer Fiedler, Bruce Sanderson
March 31, 2013 Issue : Savvy Shopper
Posted: March 31, 2013 By Bruce Sanderson
Blogs : Bruce Sanderson Decanted
Scores are in for the 2010s from Burgundy's legendary Domaine de la Romanée-Conti, which pushes the vintage to new heights
Posted: March 13, 2013 By Bruce Sanderson
Wine Spectator senior editor Bruce Sanderson gives his notes on the 2010 releases from Burgundy's Domaine de la Romanée-Conti. The Richebourg, La Tâche, Romanée-St.-Vivant, Romanée-Conti and more show just what could be achieved in this excellent vintage.
Jan. 31 - Feb. 28, 2013 Issue : Features
Senior editor and tasting director Bruce Sanderson has been with Wine Spectator since 1993. He is lead taster for the wines of Burgundy, Tuscany and Piedmont.
Posted: February 28, 2013 By Bruce Sanderson
Jan. 31 - Feb. 28, 2013 Issue : News
Posted: February 28, 2013 By Bruce Sanderson