Nov. 30, 2014 Issue : Savvy Shopper
Posted: November 30, 2014 By Bruce Sanderson
Posted: November 30, 2014 By Bruce Sanderson
Nov. 15, 2014 Issue : Savvy Shopper
Posted: November 15, 2014 By Bruce Sanderson
Oct. 31, 2014 Issue : Features
Posted: October 31, 2014 By Bruce Sanderson
Oct. 31, 2014 Issue : Savvy Shopper
Posted: October 31, 2014 By Bruce Sanderson
Oct. 31, 2014 Issue : Features
The super Tuscan evolves over 26 vintages
Posted: October 31, 2014 By Bruce Sanderson
Oct. 31, 2014 Issue : Tasting Reports
While Tuscany continues its success with international grape varieties, indigenous Sangiovese is on the rise
Posted: October 31, 2014 By Bruce Sanderson
Blogs : Bruce Sanderson Decanted
Refinement shows in a vertical tasting of Musigny Vieilles Vignes and the rare Musigny Blanc
Posted: October 24, 2014 By Bruce Sanderson
As the largest owner of Musigny, with roughly two-thirds of the grand cru holdings, Domaine Comte Georges de Vogüé is an important player in Burgundy. I tasted 8 vintages of Musigny Vieilles Vignes and the rare Musigny Blanc, going back to 1992. Here are my notes.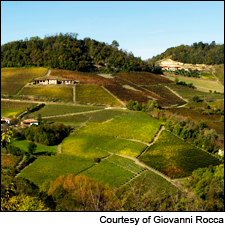 News & Features : Tasting Highlights
New reviews of Nebbiolo, Dolcetto and Barbera from Piedmont
Posted: October 17, 2014 By Bruce Sanderson
Blogs : Bruce Sanderson Decanted
The Wine Experience Grand Tasting floor map will take attendees on a wine journey around the world
Posted: October 15, 2014 By Bruce Sanderson
For a dozen years or so, I have worked with our events department organizing the floor plan for the Grand Tastings at the Wine Spectator Wine Experience. The primary goal is to create an interesting flow of regions, grape varieties and wineries for the attendees. The collateral benefit is that I get a preview of the more than 260 producers who will be there and the wines they are presenting.