Nov. 15, 2014 Issue : Savvy Shopper
Posted: November 15, 2014 By Bruce Sanderson
Oct. 31, 2014 Issue : Features
Posted: October 31, 2014 By Bruce Sanderson
Oct. 31, 2014 Issue : Savvy Shopper
Posted: October 31, 2014 By Bruce Sanderson
Oct. 31, 2014 Issue : Features
The super Tuscan evolves over 26 vintages
Posted: October 31, 2014 By Bruce Sanderson
Oct. 31, 2014 Issue : Tasting Reports
While Tuscany continues its success with international grape varieties, indigenous Sangiovese is on the rise
Posted: October 31, 2014 By Bruce Sanderson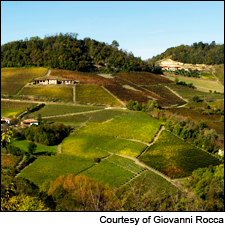 News & Features : Tasting Highlights
New reviews of Nebbiolo, Dolcetto and Barbera from Piedmont
Posted: October 17, 2014 By Bruce Sanderson
Blogs : Bruce Sanderson Decanted
The Wine Experience Grand Tasting floor map will take attendees on a wine journey around the world
Posted: October 15, 2014 By Bruce Sanderson
For a dozen years or so, I have worked with our events department organizing the floor plan for the Grand Tastings at the Wine Spectator Wine Experience. The primary goal is to create an interesting flow of regions, grape varieties and wineries for the attendees. The collateral benefit is that I get a preview of the more than 260 producers who will be there and the wines they are presenting.
Oct. 15, 2014 Issue : Savvy Shopper
Posted: October 15, 2014 By Bruce Sanderson
Blogs : Bruce Sanderson Decanted
The 2010 vintage in Barolo is delivering on its early promise
Posted: October 13, 2014 By Bruce Sanderson
To date, I have tasted more than 100 Barolos from the 2010 vintage. I was very excited about the vintage after visiting the region in November 2013. My tastings of the young 2010s, either from cask or bottle, indicated fabulous potential. The '10s appeared to be a hybrid of 2004, 2006 and 2008, offering purity, elegance, balance and complexity. The best should have the ability to age for decades.
Posted: September 30, 2014 By Bruce Sanderson