Posted: May 31, 2013 By Ben O'Donnell
Blogs : Mixed Case: Opinion and Advice
The challenges of the Millennial winemaker play out in sharp relief in this most traditional region
Posted: May 21, 2013 By Ben O'Donnell
The wine biz has spent several years now wringing its hands over What to Do About Millennials. Not so long ago, it was a received truth of this big, problematic, new generation of wine drinkers that they dismissed Bordeaux as an old man's game. But stop in at any Bordeaux walk-around tasting and it's immediately obvious that both sides of that formulation are wrongheaded today: More and more, what young Americans drink, young Frenchmen (and women) made. I asked a few of these young Bordelais what it's like trying to fit 2,000 years of tradition into our modern wine climate.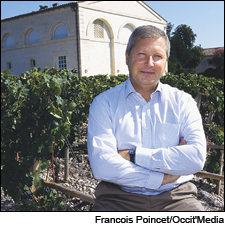 Most châteaus lowered prices, but consumers don't think the wines are worth the investment
Posted: May 21, 2013 By Ben O'Donnell, Suzanne Mustacich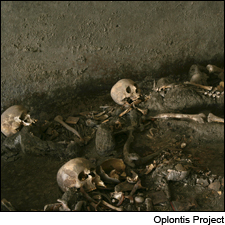 News & Features : Wine in History
When not making Santa Lucia Highlands Pinot at Wrath, archaeologist Michael Thomas leads a team that discovered a wine "négociant" outside Pompeii
Posted: May 6, 2013 By Ben O'Donnell
Posted: April 30, 2013 By Ben O'Donnell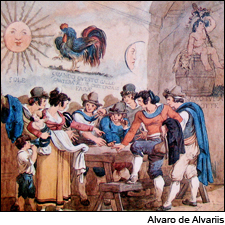 News & Features : Wine in History
From maddeningly hard to outright deadly, some games show our wine-swilling forebears had odd ideas about fun
Posted: April 23, 2013 By Ben O'Donnell
Blogs : Mixed Case: Opinion and Advice
Somms, writers and other wine tastemakers are sold on Sherry. But is anyone else buying it?
Posted: April 19, 2013 By Ben O'Donnell
Sherry is hot right now among sommeliers, writers and other opinion peddlers in the wine world. But few would call it an easy sell. It's a style of drink from another era, when wine was more like booze, and even among the great fortified wines, it's hard to deny that Sherry sticks out.
It doesn't taste like wine is "supposed" to taste. The main grape variety, Palomino, is generally considered too bland for table wine. Sherry's 10-or-so different styles are all over the map in flavor profile. The winemaking process involves a series of bizarre-seeming selections and aging regimens that wouldn't make sense in most viniculture—from aging some styles under a protective, foamy cap of yeast called flor to letting others oxidize extensively, to blending the young wines into older wines in a complex rotating system of barrels called a solera. In my last post, I discussed why Sherry, the great flightless bird of wine, provokes such fierce admiration from a small-but-growing group of American wine sellers.
Blogs : Mixed Case: Opinion and Advice
Why are American wine's tastemakers falling in love with Sherry—and can they sell the stuff? Part 1 of a case study
Posted: April 18, 2013 By Ben O'Donnell
Readers of a certain age will recall this enduring line from the 2004 Tina Fey-Lindsay Lohan picture Mean Girls, snapped by Regina George—the meanest girl—at her lieutenant: "Gretchen, stop trying to make 'fetch' happen! It's not going to happen!" (For readers of a different age: In the movie, "fetch" is a vaguely approving slang term "from England" that Gretchen haplessly tries to popularize.)
Regina's admonition has come to mind at times on the subject of Sherry. Perhaps you know Sherry from Sherryfest, a weeklong celebration of the Spanish fortified wine, held last month in Portland, Ore., and last fall in New York, or from the buildup to next month's World Sherry Day. Maybe you (I) went to that party last year at that East Village Dutch-fusion joint (now closed) where guests were encouraged to write their Twitter handles on their nametags and do a "bone luge" (scoop the marrow out of a bone, then glug amontillado through the hollow shank). Or perhaps you've sipped it at one of New York's Terroir bars, on whose eclectic wine lists Sherry is, plainly stated, "the world's greatest beverage."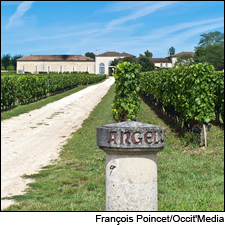 Merchants, retailers and consumers all want lower prices; Lafite and Mouton are helping set the pace
Posted: April 16, 2013 By Suzanne Mustacich, Ben O'Donnell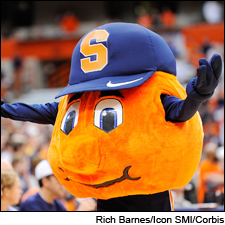 Wine Spectator's annual March Madness competition puts wineries from Kansas, Kentucky, New York and Michigan in the spotlight
Posted: April 5, 2013 By Robert Taylor, Ben O'Donnell