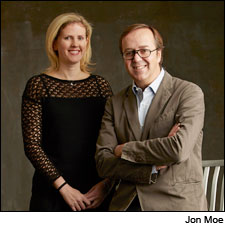 News & Features : News & Features
A vertical of Louis Roederer's prestige cuvée back to 1990 shows a flashy wine that's no flash in the pan
Posted: October 28, 2013 By Ben O'Donnell
A study concludes that glass shape and other factors cloud judgment in determining what's a single serving
Posted: October 8, 2013 By Ben O'Donnell
Blogs : Mixed Case: Opinion and Advice
For some wine categories, the price of entry is too high for most, but daily-drinking alternatives can send out the vibes of the real deal
Posted: October 8, 2013 By Ben O'Donnell
Brunello di Montalcino, the pure Sangiovese in the heart of Tuscany's wine country, is an expensive wine to make. Land is pricey and there's not much to go around. Producers are required to sit on inventory for two years in oak and four months in bottle—but the expected protocol is that the wines not reach the market until five years after the harvest. It's a cost passed on to the consumer: You're hard-pressed to find a bottle under $40 on the shelf.
Two Tuscan value categories can offer an impressive alternative to Brunello: Rosso di Montalcino and Morellino di Scansano.
Posted: August 31, 2013 By Ben O'Donnell
Blogs : Mixed Case: Opinion and Advice
There's a romantic notion of winemakers rooted to ancestral terroir. Many of the best aren't
Posted: August 20, 2013 By Ben O'Donnell
In Old World regions especially, we tend to think of estates as regencies to be passed down from generation to generation, the longer the pedigree, the stronger the bind to the terroir. A certain breed of purists sneers at "flying winemakers," spreading their seed in every corner of the wine world and leaving the next morning. What does Bordeaux's Michel Rolland know about Argentina, anyway?
The reality is that many of the most daring, and sometimes the greatest, wines today are made by individuals who come into a region as outsiders, with little incentive other than to innovate and little regard for the supposed limitations of the terroir and culture.
America is now wine's biggest market, and younger drinkers are starting to shape it
Posted: August 7, 2013 By Ben O'Donnell
A new Gallup poll shows consumers split between wine and beer, as young people, minorities and women shift to wine
Posted: August 5, 2013 By Ben O'Donnell
Posted: July 31, 2013 By Ben O'Donnell, Suzanne Mustacich
Del Frisco wine director David O'Day oversees 31 award-winning wine lists
Posted: July 31, 2013 By Ben O'Donnell
Posted: July 31, 2013 By Ben O'Donnell, Suzanne Mustacich