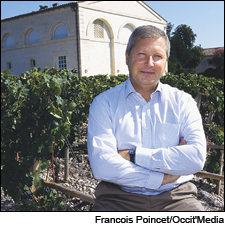 Most châteaus lowered prices, but consumers don't think the wines are worth the investment
Posted: May 21, 2013 By Ben O'Donnell, Suzanne Mustacich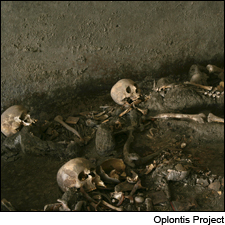 News & Features : Wine in History
When not making Santa Lucia Highlands Pinot at Wrath, archaeologist Michael Thomas leads a team that discovered a wine "négociant" outside Pompeii
Posted: May 6, 2013 By Ben O'Donnell
Posted: April 30, 2013 By Ben O'Donnell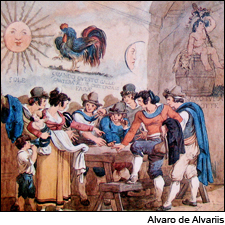 News & Features : Wine in History
From maddeningly hard to outright deadly, some games show our wine-swilling forebears had odd ideas about fun
Posted: April 23, 2013 By Ben O'Donnell
Blogs : Mixed Case: Opinion and Advice
Somms, writers and other wine tastemakers are sold on Sherry. But is anyone else buying it?
Posted: April 19, 2013 By Ben O'Donnell
Sherry is hot right now among sommeliers, writers and other opinion peddlers in the wine world. But few would call it an easy sell. It's a style of drink from another era, when wine was more like booze, and even among the great fortified wines, it's hard to deny that Sherry sticks out.
It doesn't taste like wine is "supposed" to taste. The main grape variety, Palomino, is generally considered too bland for table wine. Sherry's 10-or-so different styles are all over the map in flavor profile. The winemaking process involves a series of bizarre-seeming selections and aging regimens that wouldn't make sense in most viniculture—from aging some styles under a protective, foamy cap of yeast called flor to letting others oxidize extensively, to blending the young wines into older wines in a complex rotating system of barrels called a solera. In my last post, I discussed why Sherry, the great flightless bird of wine, provokes such fierce admiration from a small-but-growing group of American wine sellers.
Blogs : Mixed Case: Opinion and Advice
Why are American wine's tastemakers falling in love with Sherry—and can they sell the stuff? Part 1 of a case study
Posted: April 18, 2013 By Ben O'Donnell
Readers of a certain age will recall this enduring line from the 2004 Tina Fey-Lindsay Lohan picture Mean Girls, snapped by Regina George—the meanest girl—at her lieutenant: "Gretchen, stop trying to make 'fetch' happen! It's not going to happen!" (For readers of a different age: In the movie, "fetch" is a vaguely approving slang term "from England" that Gretchen haplessly tries to popularize.)
Regina's admonition has come to mind at times on the subject of Sherry. Perhaps you know Sherry from Sherryfest, a weeklong celebration of the Spanish fortified wine, held last month in Portland, Ore., and last fall in New York, or from the buildup to next month's World Sherry Day. Maybe you (I) went to that party last year at that East Village Dutch-fusion joint (now closed) where guests were encouraged to write their Twitter handles on their nametags and do a "bone luge" (scoop the marrow out of a bone, then glug amontillado through the hollow shank). Or perhaps you've sipped it at one of New York's Terroir bars, on whose eclectic wine lists Sherry is, plainly stated, "the world's greatest beverage."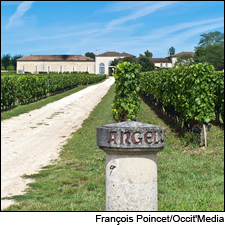 Merchants, retailers and consumers all want lower prices; Lafite and Mouton are helping set the pace
Posted: April 16, 2013 By Suzanne Mustacich, Ben O'Donnell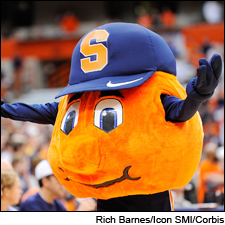 Wine Spectator's annual March Madness competition puts wineries from Kansas, Kentucky, New York and Michigan in the spotlight
Posted: April 5, 2013 By Robert Taylor, Ben O'Donnell
Blogs : Mixed Case: Opinion and Advice
Michel Chapoutier, Dave Phinney, Jean-Luc Thunevin and others are mining an obscure region in France for bold yet affordable reds
Posted: March 26, 2013 By Ben O'Donnell
If you're a fan of big, ripe, concentrated reds nowadays, you can expect to get slugged with equally muscular prices. In the span of a decade and change, longtime aficionados of Napa, Bordeaux, even Piedmont and Châteauneuf, have seen prices fly away, often out of reach.
There is yet one place, in France no less, where intense reds pop for as little as 10 or 15 bucks. "This region has been forgotten for 50 years," Michel Chapoutier said. "You can have some of the best soil in France and probably in the world." Could this be the next great region for red wine in France? "Oh, I am absolutely certain about that," he said. "Absolutely."
If you haven't guessed, we were talking about the Roussillon region, known in the United States as sidekick to the massive Languedoc zone in the south of France, with Roussillon reaching the Spanish border. Rhône power player Chapoutier has been snapping up plots around Roussillon for 15 years or so now, most of which go into his Domaine de Bila-Haut label. The wines run about $10 to $25, depending on the subappellation.
Blogs : Mixed Case: Opinion and Advice
Posted: February 28, 2013 By Ben O'Donnell
There are some superlatives virtually everyone in a community of enthusiasts locks up in a bejeweled memory box, to be opened and shown off on occasion. Your fastest mile, if you're a runner. Your SAT score, if you're a try-hard. If you're a wine freak, one superlative you can trot out is your oldest wine, a snapshot of a different world of wine than we inhabit, less and less likely to be revisited as bottles fade and disappear.
The oldest wine I've ever drunk was a 1947 Porto Rozes. This was at the Dînner des Grands Chefs that Relais & Châteaux puts on every year; last winter's was in Manhattan, and 45 chefs cooked at stations around the perimeter of the ovoid Gotham Hall while guests ate in the middle. Daniel Boulud, Gary Danko and Jean Georges Vongerichten manned the stoves. Waitstaff paraded out cradling child-sized bottles of Pommery. The Port needed no fanfare, being the age of India, Israel and the CIA.
Perhaps there's no substitute for the real thing in this case. (I previously recommended bargain alternatives to Châteauneuf and Champagne from their kin terroirs: Lirac, across the Rhône, and Burgundy's "Golden Gate.") But as I told Sauternes lovers on a $20 budget, sometimes the real thing is just the thing for your wallet.