Dec. 31, 2013 Issue : Features
Posted: December 31, 2013 By Ben O'Donnell
Dec. 31, 2013 Issue : Tasting Reports
Posted: December 31, 2013 By Ben O'Donnell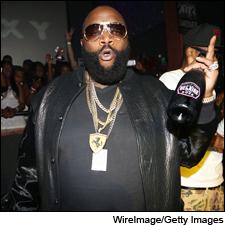 Blogs : Mixed Case: Opinion and Advice
Most wine companies fail to make a natural match with the music world, but one small importer may have unlocked the secret
Posted: December 18, 2013 By Ben O'Donnell
The youngest generation of wine drinkers wears an iPod like an appendage. Yet the wine industry fails again and again to gain traction with the music world, largely because celebrity brand allegiances look—and usually are—forced and phony, as I wrote yesterday. I became skeptical that wine companies could create cred out of nothing. One small import company, however, is topping all the charts and hitting high notes in sales.
In 2006, Jay-Z publicly boycotted Cristal Champagne over a clumsy remark by Roederer's managing director. The same year, Jay rapped about "gold bottles of that Ace of Spades," and the Champagne's shiny fuselage made a cameo in his video for "Show Me What You Got." Ace of Spades, in its shimmery metallic gold casing, is perhaps the most slickly packaged wine since, well, Cristal. The brand was officially called Armand de Brignac; it had no pedigree in Champagne—it seemingly materialized out of nowhere—but bottles cost $300.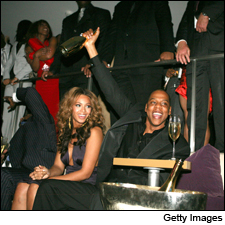 Blogs : Mixed Case: Opinion and Advice
When it comes to the seemingly natural pairing with the music world, wine is tone-deaf: Some lessons in how not to sell a wine
Posted: December 17, 2013 By Ben O'Donnell
Some Boston University School of Public Health professors and students were jamming out pretty diligently to produce a recent study tallying alcohol brand mentions in 720 Billboard-charting songs from 2009 to 2011. "The most striking finding was that alcohol-brand references are concentrated among a small number of brands [in pop music] …," according to the research published in Substance Use and Misuse. "Four brands alone—Patrón tequila, Hennessy Cognac, Grey Goose vodka and Jack Daniel's whiskey—accounted for more than half of all alcohol-brand mentions."
Yes, here we are, 17 years after Biggie Smalls proclaimed "Cristal forever!" on Jay-Z's "Brooklyn's Finest." Wine fervor among young people is at an all-time high—especially for bubbly and rosé, which are the most party of all wines. Yet most wine brands are still clueless on how to get a shoutout and a lucrative lyrical plug when, as the study shows, there are plenty of outs to be shouted: 64 brand mentions in 720 songs. But for wine? Two Moëts and two Cristals in the "urban" genre, plus a Dom Pérignon in a country song.
Posted: December 15, 2013 By Ben O'Donnell
Blogs : Mixed Case: Opinion and Advice
Is the mass-market fizz pulling up the premium styles? And what does the future hold for Muscat once the bubble bursts?
Posted: November 15, 2013 By Ben O'Donnell
A few years ago, I wrote a feature about Jorge Ordóñez & Co., a relatively new winemaking outfit from the heavyweight Spanish importer, in the foothills surrounding his native city of Málaga. The wines of the region were typically sweet wines made from Moscatel de Alejandría grapes left to raisinate on the vine or on straw mats. Ordóñez began making four wines in this style, plus a dry Moscatel called Botani.
My visit in 2010 predated the Moscato madness, so I shot an e-mail to Victoria Ordóñez (she oversees operations on the ground) asking if the thirst for Moscato had swelled upward past the $9 price point to wines of Ordóñez's caliber--the Botani retails at about $17. Sales were indeed up.
Blogs : Mixed Case: Opinion and Advice
Can the gold rush reach more venerable styles of Muscat, or will its collapse leave the wine's reputation in shambles?
Posted: November 14, 2013 By Ben O'Donnell
Australia soaked the world with critter labels. Zinfandel was lobotomized into a candy wine. Italian bubbly became an '80s ad jingle. California Merlot got overplanted, then yelled at in a popular movie. You know what happened next: The producers who got intoxicated on mass-market success didn't lift their premium counterparts with the rising tide-instead, they eventually torpedoed the whole category.
After the inevitable crash in market share and reputation, each of these regions or wine types floated facedown for years, even decades, before their recent renaissances as wines capable of depth and nuance. (Australia and Merlot are still swimming upstream, arguably.)
What next, then, once Moscato hits the iceberg?
Posted: October 31, 2013 By Suzanne Mustacich, Ben O'Donnell, Bruce Sanderson
Posted: October 31, 2013 By Ben O'Donnell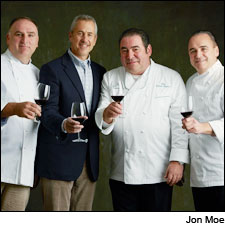 News & Features : News & Features
José Andrés, Emeril Lagasse, Danny Meyer and Jean-Georges Vongerichten take on a challenge of plating and pairing
Posted: October 29, 2013 By Ben O'Donnell