Blogs : Mixed Case: Opinion and Advice
Is the mass-market fizz pulling up the premium styles? And what does the future hold for Muscat once the bubble bursts?
Posted: November 15, 2013 By Ben O'Donnell
A few years ago, I wrote a feature about Jorge Ordóñez & Co., a relatively new winemaking outfit from the heavyweight Spanish importer, in the foothills surrounding his native city of Málaga. The wines of the region were typically sweet wines made from Moscatel de Alejandría grapes left to raisinate on the vine or on straw mats. Ordóñez began making four wines in this style, plus a dry Moscatel called Botani.
My visit in 2010 predated the Moscato madness, so I shot an e-mail to Victoria Ordóñez (she oversees operations on the ground) asking if the thirst for Moscato had swelled upward past the $9 price point to wines of Ordóñez's caliber--the Botani retails at about $17. Sales were indeed up.
Blogs : Mixed Case: Opinion and Advice
Can the gold rush reach more venerable styles of Muscat, or will its collapse leave the wine's reputation in shambles?
Posted: November 14, 2013 By Ben O'Donnell
Australia soaked the world with critter labels. Zinfandel was lobotomized into a candy wine. Italian bubbly became an '80s ad jingle. California Merlot got overplanted, then yelled at in a popular movie. You know what happened next: The producers who got intoxicated on mass-market success didn't lift their premium counterparts with the rising tide-instead, they eventually torpedoed the whole category.
After the inevitable crash in market share and reputation, each of these regions or wine types floated facedown for years, even decades, before their recent renaissances as wines capable of depth and nuance. (Australia and Merlot are still swimming upstream, arguably.)
What next, then, once Moscato hits the iceberg?
Posted: October 31, 2013 By Suzanne Mustacich, Ben O'Donnell, Bruce Sanderson
Posted: October 31, 2013 By Ben O'Donnell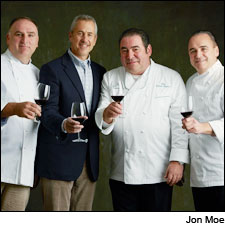 News & Features : News & Features
José Andrés, Emeril Lagasse, Danny Meyer and Jean-Georges Vongerichten take on a challenge of plating and pairing
Posted: October 29, 2013 By Ben O'Donnell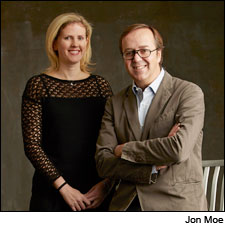 News & Features : News & Features
A vertical of Louis Roederer's prestige cuvée back to 1990 shows a flashy wine that's no flash in the pan
Posted: October 28, 2013 By Ben O'Donnell
A study concludes that glass shape and other factors cloud judgment in determining what's a single serving
Posted: October 8, 2013 By Ben O'Donnell
Blogs : Mixed Case: Opinion and Advice
For some wine categories, the price of entry is too high for most, but daily-drinking alternatives can send out the vibes of the real deal
Posted: October 8, 2013 By Ben O'Donnell
Brunello di Montalcino, the pure Sangiovese in the heart of Tuscany's wine country, is an expensive wine to make. Land is pricey and there's not much to go around. Producers are required to sit on inventory for two years in oak and four months in bottle—but the expected protocol is that the wines not reach the market until five years after the harvest. It's a cost passed on to the consumer: You're hard-pressed to find a bottle under $40 on the shelf.
Two Tuscan value categories can offer an impressive alternative to Brunello: Rosso di Montalcino and Morellino di Scansano.
Posted: August 31, 2013 By Ben O'Donnell
Blogs : Mixed Case: Opinion and Advice
There's a romantic notion of winemakers rooted to ancestral terroir. Many of the best aren't
Posted: August 20, 2013 By Ben O'Donnell
In Old World regions especially, we tend to think of estates as regencies to be passed down from generation to generation, the longer the pedigree, the stronger the bind to the terroir. A certain breed of purists sneers at "flying winemakers," spreading their seed in every corner of the wine world and leaving the next morning. What does Bordeaux's Michel Rolland know about Argentina, anyway?
The reality is that many of the most daring, and sometimes the greatest, wines today are made by individuals who come into a region as outsiders, with little incentive other than to innovate and little regard for the supposed limitations of the terroir and culture.