Blogs : Mixed Case: Opinion and Advice
In 10 years, India's wine drinkers will outnumber France's total population. Here's how Rajeev Samant and his Sula Vineyards helped light that fire
Posted: October 4, 2012 By Ben O'Donnell
Before becoming a vintner, Rajeev Samant struggled for more than three years to get a license to put down vines. Finally, he persuaded alcohol-suspicious authorities that the ability to grow vinifera in the region was "a gift from the gods." A novice grower, he had no idea what to plant and where, and once he decided on Sauvignon Blanc, he had no idea if his grapes would ripen—no idea if they would even bear fruit.
15 years later, India is poised to become one of the world's most important wine markets.
If dockworkers and East Coast ports can't make a deal before year's end, a strike could strand some wine imports
Posted: September 27, 2012 By Ben O'Donnell
Blogs : Mixed Case: Opinion and Advice
Is wine the party of conservatives or liberals? Or can it go beyond partisanship?
Posted: September 20, 2012 By Ben O'Donnell
I remember, four years ago, seeing the headline "Obama Clinches 'Joe Cabernet Sauvignon' Vote" in a humor magazine. It's a send-up of both the "Champagne liberal" stereotype and that of coveted, mythical voter Joe Six-Pack.
But is wine really a Democrat's game? I decided to ask Greg Martellotto, owner and winemaker at California-based Wine Dreamer. In 2010, the company launched a wine called Let The People Decide, a Tempranillo-based red blend from Santa Ynez bottled under two labels, Progressive and Conservative. One label is blue, with a donkey silhouette; the other red, with an elephant. Martellotto says, "We had high aspirations-could this be a straw poll for divining upcoming elections?"
I also spoke to Chris Trebilcock, who, half a country away, in Michigan, makes wine at The Political Winery; using Lodi, Calif., grapes, he blends "Jack Blue," "Ron Red," "Jackie O'Rouge" and "Elie Blanc."
Blogs : Mixed Case: Opinion and Advice
The question everyone selling wine is puzzling over
Posted: September 11, 2012 By Ben O'Donnell
When the Nielsen Company surveyed members of different age groups in late 2010 on how many of their wine shop purchases topped $20 a bottle, Boomers averaged 12 percent. For Generation X, the number crept to 14. Millennials, however, paid more than $20 for one in every four bottles they bought.
"Young people have absolutely no problem coming in and buying a bottle of Le Nez de Muse for $25 on a Monday night," Justin Chearno, the wine buyer at Uva Wines, told me, referring to an organic cuvée from small Burgundy producer Les Faverelles.
Another fun fact, from the Simmons National Consumer Study: In 2010, 24 percent of Krug drinkers in America were between 21 and 24 years old; another 20 percent were 25 to 34. If you are in the business of selling wine right now, you may be very interested indeed in learning more about this demographic of "impressionable young people who are easily parted with their money."
Blogs : Mixed Case: Opinion and Advice
With changes afoot, New York City's backyard wine region could finally remake its image
Posted: August 23, 2012 By Ben O'Donnell
Author and journalist Ron Rosenbaum once called New Jersey "the second most maligned and unfashionable place to come from in America." The line appeared in an essay about Long Island.
"I don't think it's a secret," said Kareem Massoud of the North Fork's Paumanok Vineyards, "that Long Island has an image problem." We were in the vineyard, talking about the thorny issue of Long Island wine, which also gets some punch-line treatment in the American wine world. I'd describe the skeptic spectrum as running from "underripe and overpriced" to "a bachelorette party with vines."
I went out to the East End with some friends to do some casual wine touring, but I also wanted to meet with a few winemakers and ask them about this. Why do Long Island wines get a bad rap, still? What can be done about it?
Blogs : Mixed Case: Opinion and Advice
For the world's loftiest wines, the price of admission can be too steep to get familiar. Here's the trick to benchmarking on a budget
Posted: August 14, 2012 By Ben O'Donnell
I admit: I'm a sucker for the classics, the stuff out of Bordeaux, or Oporto, or the Mosel tippled at feasts and fairs by princes, pashas and men in powdered wigs. These made up our modern wine world in its infancy, and these are the styles that taught the rest of the world how wine is made. I think it's important that they remain a part of a drinker's education and evolution. I also think that to understand a wine, you need to drink it, regularly, from different producers and vintages. Here's the rub: There are certain appellations that you essentially cannot crack without at least $35 to put down on a bottle. So I benchmark on a budget. How? By drinking on the edge. Here are two examples—alternatives to Champagne and Châteauneuf-du-Pape.
Posted: July 31, 2012 By Ben O'Donnell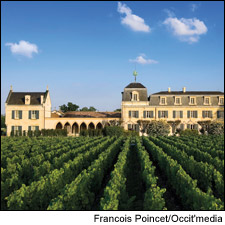 "The campaign that didn't happen" ended with a shrug as customers balked at prices
Posted: July 10, 2012 By Ben O'Donnell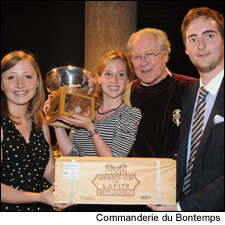 American grad students take on the world's top university wine clubs in a test of minds and palates at Lafite
Posted: July 3, 2012 By Ben O'Donnell
Posted: May 31, 2012 By Ben O'Donnell