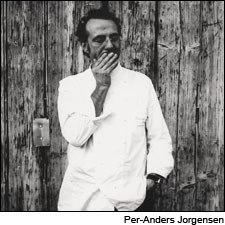 Blogs : Robert Camuto: Letter from Europe
A visit with the Italian culinary master every wine connoisseur should know
Posted: March 10, 2014 By Robert Camuto
If there were a Nobel Prize for Parmigiano cheese, Massimo Bottura would certainly be its first laureate.
For more than 20 years, Bottura, Italy's most acclaimed modern chef, has worked to perfect a signature dish founded on the belief that this famous aged cheese made near his native Modena wasn't getting the respect it deserved. "Why did we only use this incredible cheese—this symbol of our land—just to grate on pasta?" The 50-year-old Bottura, clad in chef's jacket and jeans, is nearly shouting.
Blogs : Robert Camuto: Letter from Europe
The world's greatest collection of vinestock is in play and vignerons sound the alarm
Posted: February 24, 2014 By Robert Camuto
One of France's greatest wine treasures lies off a dead-end road on a wind-swept strip of Mediterranean coastline.
Here, Blaise Genna, 60, sporting a white handlebar mustache direct from central vigneron casting, greets wine pilgrims (scientists, viticulturists and other professionals) who come for the world's greatest collection of vine stock: 2,600 separate grape varieties—7,500 genotypes—from 50 countries.
And like any wine lover should be, I am concerned about the tentative future of the collection, caught in a lease dispute after 65 years at this site.
Blogs : Robert Camuto: Letter from Europe
Alexandre de Lur Saluces has brought his exacting Sauternes methods to another family estate
Posted: February 10, 2014 By Robert Camuto
Ten years ago, when the board of Château d'Yquem fired him, president and former owner Count Alexandre de Lur Saluces was expected to fade into the Sauternes sunset.
Instead, Lur Saluces picked himself up off the mat. The 80-year-old aristocrat continues making great Sauternes a few miles away at his Château de Fargues. Here, since 2005, he has produced seven wines in the outstanding range or better by Wine Spectator. The most recently released, 2009 (97 points), sold for $170.
Not bad for a man who doesn't even consider himself a winemaker.
Blogs : Robert Camuto: Letter from Europe
Working solo for the first time, Jacopo takes on the challenges of running the venerable Brunello estate
Posted: January 27, 2014 By Robert Camuto
The 2013 vintage was tough for all of Montalcino, Tuscany's premier wine region. But for Jacopo Biondi Santi, it was a moment of truth.
It was the first harvest at his family's legendary estate following the death of his father, Franco Biondi Santi, this past spring at the age of 91.
"I have been harvesting here since I was eight years old, first with grandfather, then with my father," Jacopo, 63, said in his office over the winery. "This was the first time I did it alone."
Blogs : Robert Camuto: Letter from Europe
Wine's personality comes from the winemakers and grapegrowers behind the labels
Posted: January 13, 2014 By Robert Camuto
There are lots of reasons to love wine, but for me the most important reason is people. Wine is, after all, a story of humans working within the dynamics of nature, culture and history. When you put those forces together, you are bound to have tales of operatic proportions. These are the stories I love telling and will share in my new twice-monthly blog, Letter from Europe, reporting from the wine regions of France, Italy and beyond.
Dec. 15, 2013 Issue : Features
Northern France is home to great bubbly and a bucolic wine country that has upped its game
Posted: December 15, 2013 By Robert Camuto, Alison Napjus
Nov. 15, 2013 Issue : Features
The leaders of an Austrian wine renaissance coax stunning whites from stony hillsides
Posted: November 15, 2013 By Robert Camuto
Oct. 31, 2013 Issue : Features
The Mastroberardino family helped spark a quality revolution in the high hills of Campania
Posted: October 31, 2013 By Robert Camuto
Aug. 31, 2013 Issue : Features
A vault of great wine in the Piedmont hills
Posted: August 31, 2013 By Robert Camuto
April 30, 2013 Issue : Features
Farinetti is rapidly expanding his holdings throughout Italy
Posted: April 30, 2013 By Robert Camuto