A new generation arrives at St.-Emilion's Beau-Séjour Bécot
Posted: May 31, 2014 By Robert Camuto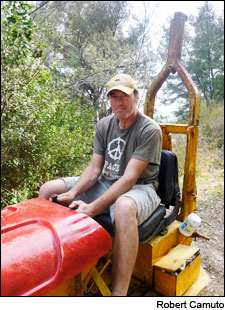 Blogs : Robert Camuto: Letter from Europe
A Rhône winemaker's labor of love in coastal Provence
Posted: May 26, 2014 By Robert Camuto
Starting a wine estate from scratch in the Bandol appellation of Provence has become rare. But that's exactly what Jean-Marc Espinasse is doing, planting 8 acres of Mourvèdre and Cinsault, after having started Domaine Rouge-Bleu in France's Rhône Valley. Wine Spectator contributing editor Robert Camuto checks out his new project.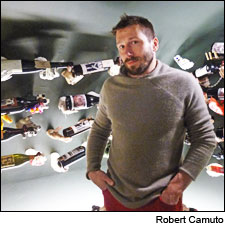 Blogs : Robert Camuto: Letter from Europe
A Russian phone magnate unleashes Hedonism on London. Is it the world's wildest wine shop or what?
Posted: May 12, 2014 By Robert Camuto
Yevgeny Chichvarkin is a big-shouldered guy who likes big wines—preferably in very big bottles.
When he opened a store in London nearly two years ago and decided to call it Hedonism Wines, he really meant it. Hedonism displays dozens of great wines—Bordeaux to Barolo to Spain and Sonoma—in huge formats that are at least eight times the size of a magnum.
A new generation is transforming Bordeaux's most misunderstood profession
Posted: April 30, 2014 By Robert Camuto
Blogs : Robert Camuto: Letter from Europe
New home in Chianti Classico demonstrates the family's commitment and connection to the land
Posted: April 21, 2014 By Robert Camuto
After seven years of work, nightmarish construction problems and a budget that ballooned 170 percent to more than $130 million, Marchesi Antinori's flagship property opened in 2013 on a hillside in Chianti Classico zone of Italy. The Tuscan winery was immediately praised for its audacious environmental design and has already attracted thousands of visitors. The facility includes a 129,000-square-foot winery, the company headquarters, an auditorium, boutique, restaurant, museum, olive oil mill and a facility for producing sweet Vin Santo.
"The idea was to bring the heart of the company back to the countryside where the wine is produced," says the trim, energetic Piero Antinori, who represents the family wine business's 25th generation.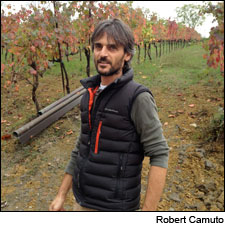 Blogs : Robert Camuto: Letter from Europe
Italy's fizzy red is worth your attention once again
Posted: April 7, 2014 By Robert Camuto
Trattoria La Busa, on the southern outskirts of Modena, is a window onto Emilia-Romagna's traditions: Italy's fastest cars, fantastic food and its most misunderstood wines.
Ferrari-racing memorabilia cover the walls, platters of melt-in-your-mouth salumi lap around the dining room, and the kitchen turns out delicious handmade pastas drizzled with thick traditional balsamic vinegar. And dominating the wine list is fizzy red Lambrusco. This Lambrusco is not the sweet red fizz that became Italy's most exported wine in the decades after the 1970s. It's the good stuff: dry, not-quite-sparkling, easy-drinking wine crafted from select grapes and offered at reasonable prices.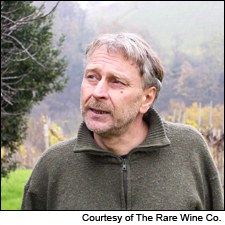 Blogs : Robert Camuto: Letter from Europe
How Italy's new cru labeling rules stifle Barolo traditionalists
Posted: March 24, 2014 By Robert Camuto
Giuseppe Rinaldi has always danced to his own tune. A producer of great old-school, cask-fermented Barolos, Rinaldi has been guided by his own gut and local tradition—not others' rules or expectations.
Now, Italy's wine authorities have hemmed in the maestro and provocateur at the age of 65 with a new law dictating how producers blend and label designated crus. Since the death of his father 22 years ago, Rinaldi has bucked the modern, French-influenced trend of single-cru Barolos in favor of a traditional approach of blending from different vineyards.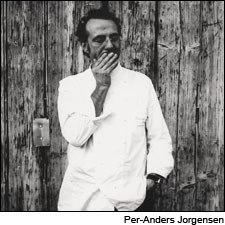 Blogs : Robert Camuto: Letter from Europe
A visit with the Italian culinary master every wine connoisseur should know
Posted: March 10, 2014 By Robert Camuto
If there were a Nobel Prize for Parmigiano cheese, Massimo Bottura would certainly be its first laureate.
For more than 20 years, Bottura, Italy's most acclaimed modern chef, has worked to perfect a signature dish founded on the belief that this famous aged cheese made near his native Modena wasn't getting the respect it deserved. "Why did we only use this incredible cheese—this symbol of our land—just to grate on pasta?" The 50-year-old Bottura, clad in chef's jacket and jeans, is nearly shouting.
Blogs : Robert Camuto: Letter from Europe
The world's greatest collection of vinestock is in play and vignerons sound the alarm
Posted: February 24, 2014 By Robert Camuto
One of France's greatest wine treasures lies off a dead-end road on a wind-swept strip of Mediterranean coastline.
Here, Blaise Genna, 60, sporting a white handlebar mustache direct from central vigneron casting, greets wine pilgrims (scientists, viticulturists and other professionals) who come for the world's greatest collection of vine stock: 2,600 separate grape varieties—7,500 genotypes—from 50 countries.
And like any wine lover should be, I am concerned about the tentative future of the collection, caught in a lease dispute after 65 years at this site.
Blogs : Robert Camuto: Letter from Europe
Alexandre de Lur Saluces has brought his exacting Sauternes methods to another family estate
Posted: February 10, 2014 By Robert Camuto
Ten years ago, when the board of Château d'Yquem fired him, president and former owner Count Alexandre de Lur Saluces was expected to fade into the Sauternes sunset.
Instead, Lur Saluces picked himself up off the mat. The 80-year-old aristocrat continues making great Sauternes a few miles away at his Château de Fargues. Here, since 2005, he has produced seven wines in the outstanding range or better by Wine Spectator. The most recently released, 2009 (97 points), sold for $170.
Not bad for a man who doesn't even consider himself a winemaker.