Nov. 15, 2014 Issue : Features
Posted: November 15, 2014 By Robert Camuto
Nov. 15, 2014 Issue : Features
Greece's top white wines flow from volcanic soils on a legendary island
Posted: November 15, 2014 By Robert Camuto
Oct. 31, 2014 Issue : Features
Seven producers that are setting the pace for progress
Posted: October 31, 2014 By Robert Camuto, Alison Napjus
Pino Cuttaia cooks his way to the top of Italian gastronomy by sticking to his roots
Posted: October 31, 2014 By Robert Camuto
Oct. 31, 2014 Issue : Features
Led by a group of notable winemakers, Tuscany's lesser-known neighbor is stirring up a scene in the heart of Italy
Posted: October 31, 2014 By Robert Camuto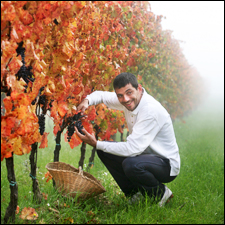 Blogs : Robert Camuto: Letter from Europe
Coaxing subtlety from an Italian monster
Posted: October 27, 2014 By Robert Camuto
Giampaolo Tabarrini knows Sagrantino. He is a fourth-generation winemaker whose father and grandfather sold their Sagrantino wines in bulk to French and Luxembourg merchants. He still lives on the family farm in a rural hamlet outside Montefalco, with his wife, son, parents and assorted other Tabarrini.
Fifteen years ago, his father handed more than 50 acres of vineyards and the wine business over to him. When he started putting his own wine in bottles, Tabarrini noticed differences in his three principal Sagrantino vineyards, all located in a cool part of the wine zone that is one of the last to be harvested in late October. With the 2003 vintage, he started bottling the wines separately.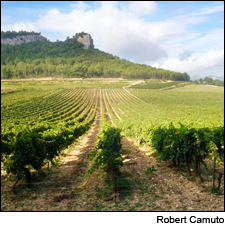 Blogs : Robert Camuto: Letter from Europe
A freewheeling Provence winemaker's ride from ruin to recovery
Posted: October 13, 2014 By Robert Camuto
Raimond de Villeneuve grins like he's won the French Loto as he looks over rows of Syrah vines loaded with dark, healthy grapes.
"It's my first real harvest since 2011," says the 52-year-old producer, who is in his 20th vintage at his Château de Roquefort in Provence.
It's a happy chapter in a story that looked like a tragedy two years ago after a hail storm destroyed his entire 62-acre crop and left half his vines damaged for the next vintage.
Blogs : Robert Camuto: Letter from Europe
A hard-learned winemaking lesson: Growing is the tough part
Posted: September 22, 2014 By Robert Camuto
This was the year I coulda been a contender. Instead, here I am crying in my grape juice.
The 2014 harvest was going to be the one when my small, 100-vine plot of Syrah on a patch of earth in southern France was going to shine. I am not a professional winemaker so there was no hope of my wine being tasted and scored 95 points by Wine Spectator. But it was going to put a smile on the faces of friends and vignerons who drank it.
Today I have one word: fuhgeddaboudit.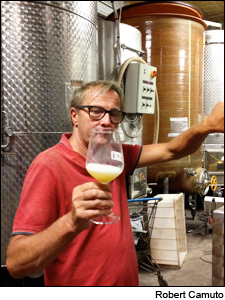 Blogs : Robert Camuto: Letter from Europe
How Piedmont pioneer Walter Massa revived Italy's newest celebrated white wine
Posted: September 8, 2014 By Robert Camuto
In a corner of eastern Piedmont you probably haven't heard of, Walter Massa is considered something of a prophet.
At 58, Massa is known as the farmer and visionary in Monleale (pop. 600+) who resurrected the local white Timorasso grape from near extinction with wines celebrated in Italy and beyond. In the U.S in recent years, his bottlings have found an important niche on top Italian wine lists.
Aug. 31, 2014 Issue : Features
The Mediterranean laps the shores of London
Posted: August 31, 2014 By Robert Camuto