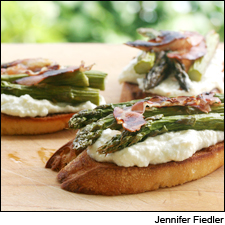 A Chilean Sauvignon Blanc makes an ideal pairing for this easy spring meal
Posted: April 9, 2013 By Jennifer Fiedler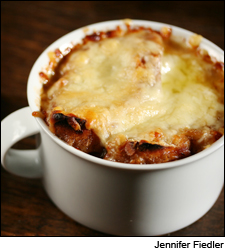 Warm up a still-cool spring evening with this simple, delicious soup and a red Bordeaux
Posted: April 8, 2013 By Jennifer Fiedler
Blogs : Mixed Case: Opinion and Advice
Trendy menus get fattier while edgy wine lists focus on restraint
Posted: April 4, 2013 By Jennifer Fiedler
Can I ask a question? Why does it seem that menus in young, trendy restaurants tout big flavor from fat and spice, while the dog-whistle words of trendy wines are "balance" and "restraint"?
OK, I know the word "trendy" is problematic, so here, a warning: There will be some broad generalizations ahead. To avoid putting everything in "quotes," when I say young and trendy, I mean those restaurants designed to appeal to twenty-somethings in the creative class living in urban areas, and trendy wines are on those restaurants' wine lists.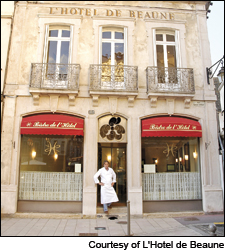 The medieval city of Beaune is an ideal base from which to explore the Côte d'Or
Posted: April 1, 2013 By Jennifer Fiedler, Bruce Sanderson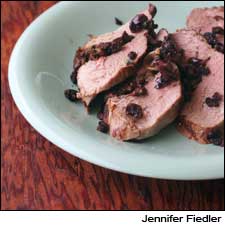 Currants help tie the wine to this easy recipe inspired by Southern France
Posted: March 12, 2013 By Jennifer Fiedler
Blogs : Mixed Case: Opinion and Advice
Hint: They're constantly trying to get better at a super elite level
Posted: March 5, 2013 By Jennifer Fiedler
Earlier this winter, Château Margaux managing director Paul Pontallier travelled to New York to present ongoing experiments involving organic and biodynamic viticulture, as well as experiments with screw caps. Coming from a famed first-growth, this is something of a big deal in the wine world.
Margaux, of course, isn't the only winery in the world taking steps toward organic or biodynamic farming (the chateau has not used herbicides or insecticides for the past decade-only fungicides to prevent rot) or considering adopting screw caps, but on account of its first-growth status, you could say that it might have more to lose than most. After all, why fix something that's not broken?
To answer that—and this may be a bit of a leap—let's look at what's been happening recently in big-wave surfing.
Jan. 31 - Feb. 28, 2013 Issue : Features
Chef Pam Mazzola, Prospect, San Francisco
Posted: February 28, 2013 By Jennifer Fiedler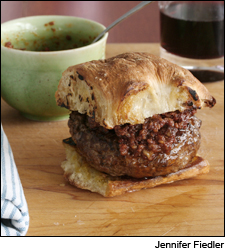 A California red sings alongside a topping made from pantry staples
Posted: February 25, 2013 By Jennifer Fiedler
Blogs : Mixed Case: Opinion and Advice
We keep using that word, but I don't think it means what you think it means
Posted: February 19, 2013 By Jennifer Fiedler
Since Matt Kramer wrote his excellent (and extremely popular column) on "How to Taste Wine" this past December, I've been giving some thought to the term "complexity," which he considers to be one of the six most important words in wine tasting.
True complexity in a wine, he wrote, is the ability to return to the glass and find something different in it each time, and further, a sense of uncertainty or surprise about what you find. It's a neat idea and one that really resonated with me, especially about the element of surprise.
News & Features : Wine & Health Q&A
Posted: February 13, 2013 By Jennifer Fiedler