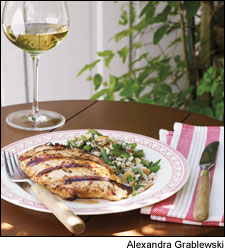 A tangy marinade lends great flavor to a simple supper
Posted: October 8, 2012 By Jennifer Fiedler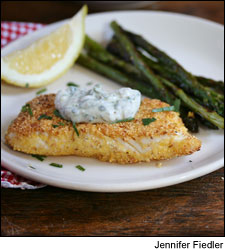 A pared-down ingredient list yields crisp, tasty results
Posted: October 1, 2012 By Jennifer Fiedler
Sept. 30, 2012 Issue : Features
A California chef builds a kitchen and life less ordinary in small-town Alabama
Posted: September 30, 2012 By Jennifer Fiedler
Sept. 30, 2012 Issue : Features
A trio of restaurants in New York pairs Eastern Food & Western Wine
Posted: September 30, 2012 By Owen Dugan, Jennifer Fiedler
Sept. 30, 2012 Issue : Features
Diverse terroirs host a variety of expatriates who are making their mark
Posted: September 30, 2012 By Jennifer Fiedler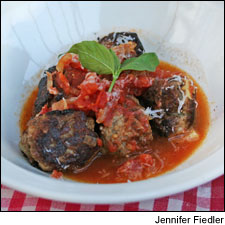 Revive a classic pairing for cooler weather
Posted: September 25, 2012 By Jennifer Fiedler
Blogs : Mixed Case: Opinion and Advice
3 tips on how to remember what you drink from memory expert Joshua Foer
Posted: September 25, 2012 By Jennifer Fiedler
Getting "good" at wine is not necessarily just about being good at tasting wine. A lot of non-drinking homework is involved too. And the crazy volume of places, names and vintages tends to reward those with a good memory for facts (or those who work at memorizing facts).
But is it possible to get better at remembering data? Certainly, suggests author Joshua Foer, in his 2011 book Walking with Einstein: The Art and Science of Remembering Everything, which chronicles his rise from regular guy to winner of the 2006 U.S.A. Memory Championships. His experience shows that we all have the ability to improve our memory, with effort. I called Foer to see if he had any memory tips regarding wine specifically. Below are three of his suggestions.
Kick up your burgers with an easy, zesty Italian condiment
Posted: September 17, 2012 By Jennifer Fiedler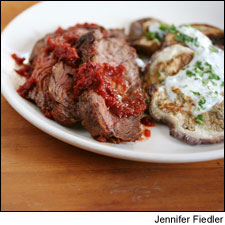 Roast eggplant with a garlic-yogurt sauce makes a delicious seasonal side
Posted: September 11, 2012 By Jennifer Fiedler
Blogs : Mixed Case: Opinion and Advice
6 ways the seminal surfing film could be recast as a movie about wine
Posted: September 6, 2012 By Jennifer Fiedler
From Sideways to Bottle Shock to A Walk in the Clouds, there are movies about wine aplenty. But could the best movie about drinking wine—like the real experience of drinking and learning about wine—actually be a surfing movie?
In the mid 1960s, filmmaker Bruce Brown took two young Californian surfers and a camera around the world, following the summer season across hemispheres in search of warm water and perfect waves. The result, Endless Summer—the documentation of their epic year-long surf trip to Africa, Australia, New Zealand, Tahiti and Hawaii—introduced a nation to surf adventure tourism. Forty years later, yes, parts of it are a little dated, but as a longtime surfer myself, I find it still holds up as one of the best mashnotes to surfing ever put to celluloid.
Tucked within the docu-style narration are some gem lessons about surfing and traveling and, if you look at it with the right mindset, plenty of things that apply equally to learning about wine. Watching surfing will always be more interesting than watching someone drink wine (sorry!), but if you can get in the right frame of mind, here are six scenes that transfer well.