Dec. 31, 2012 - Jan. 15, 2013 Issue : Menu
Three classic yet simple appetizers and wine pairings for your holiday gathering
Posted: December 31, 2012 By Jennifer Fiedler
Dec. 15, 2012 Issue : Features
Posted: December 15, 2012 By Jennifer Fiedler
Dec. 15, 2012 Issue : Features
A wave of prematurely oxidized bottles of white Burgundy threatens the reputation of the region, but the problem may reach much further
Posted: December 15, 2012 By Jennifer Fiedler
Blogs : Mixed Case: Opinion and Advice
4 tips for making a high-impact impression this holiday season
Posted: December 13, 2012 By Jennifer Fiedler
If you were to believe everything you see in romantic comedies, you'd know that a toast is a time of extreme drama. For a screenwriter, that familiar scene—glasses raised, all eyes on the protagonist—is an easy opportunity for character and plot development: poignant success or comically bad catastrophe.
One of the funny side effects of being around wine people is that you end up hearing—and making—many toasts. Something about being in a group with glasses in hand means that, at some point, conversation will be shushed, a speech given and glasses clinked. So for this holiday season, when toasting opportunities abound, I thought it would be timely to ask some wine folks for tips on making these impromptu moments seem effortless. Share your own tip, or a particularly memorable toast, in the comments section below.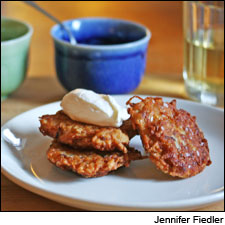 You can't go wrong with fried potatoes and sparkling wine
Posted: December 11, 2012 By Jennifer Fiedler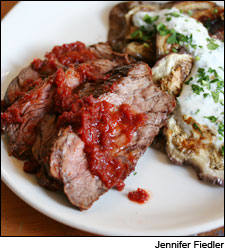 A bold and spicy weeknight dinner that calls for a smoky red
Posted: December 3, 2012 By Jennifer Fiedler
Nov. 30, 2012 Issue : Features
The son of  famed restaurateur Sirio Maccioni shares his family's Italian summer home
Posted: November 30, 2012 By Jennifer Fiedler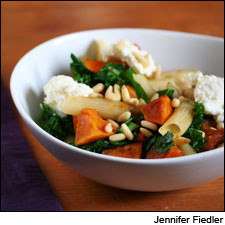 Pancetta, ricotta and kabocha squash make a perfect combination for a winter night
Posted: November 27, 2012 By Jennifer Fiedler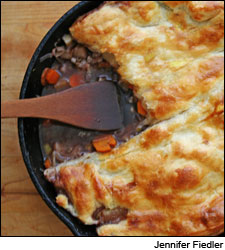 Warm up with the robust one-dish meal, paired with a Spanish red
Posted: November 19, 2012 By Jennifer Fiedler
Blogs : Mixed Case: Opinion and Advice
Pro tips for navigating dress codes of the wine world
Posted: November 15, 2012 By Jennifer Fiedler
Walk-around tastings. Auctions. Winemaker dinners. The wine world has no shortage of social gatherings, and with each event comes the seemingly silly, yet kind of important question: What should you wear?
In these days when hoodie-clad tech execs top the Forbes 400 and Malvasia gets more attention than Meursault on Brooklyn wine lists, yes, you can wear whatever you want to wine events. End of story. What's really important at these things is the company you keep and what's in your glass, etc., etc.
But let's get real. It's telling that many comments on Talia Baiocchi's blog post last week about a new generation of Napa winemakers revolved not around stylistic decisions in winemaking, but the clothes winemakers wear—specifically whether it was apt to describe 1980s Napa as "linen-wearing." Clearly, this stuff matters.