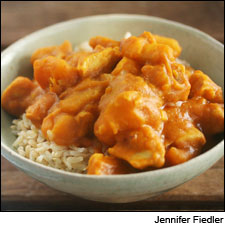 A mild sweet curry base makes a comforting weeknight meal
Posted: March 11, 2014 By Jennifer Fiedler
Blogs : Mixed Case: Opinion and Advice
Posted: March 4, 2014 By Jennifer Fiedler
There's nothing like the tail end of winter to set off daydreaming about the year's upcoming vacations, right? This February, I've been reminiscing in particular about a cycling trip I took a few years ago with five friends through Canada's Okanagan Valley wine region. I had done wine-tasting trips before, as well as bike trips, but this was the first time I had combined the two. The good news: We survived, put on some great mileage, drank great wine and are still friends! But we definitely could have planned things better. Here's what I learned,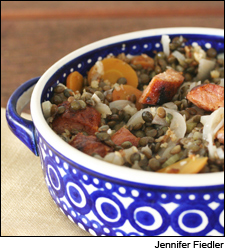 An easy, delicious stew to warm up a winter eve
Posted: March 3, 2014 By Jennifer Fiedler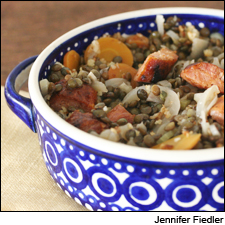 A Beaujolais red makes an ideal weeknight pairing
Posted: February 11, 2014 By Jennifer Fiedler
Blogs : Mixed Case: Opinion and Advice
A game plan for getting started
Posted: January 21, 2014 By Jennifer Fiedler
Gianpaolo Paterlini, wine director of Wine Spectator Grand Award-winning Acquerello in San Francisco, lays out a game plan for understanding Italy's Piedmont region.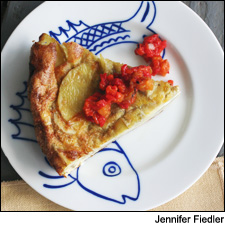 A simple minced red pepper garnish ties everything together
Posted: January 14, 2014 By Jennifer Fiedler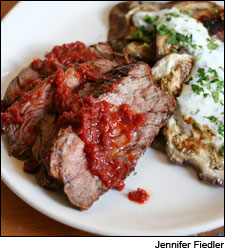 Add roast eggplant with a garlic-yogurt sauce and top with a chile-and-pepper sauce for a zesty winter dinner
Posted: January 6, 2014 By Jennifer Fiedler
Blogs : Mixed Case: Opinion and Advice
Is there a common trajectory to appreciating wine and, if so, an endpoint?
Posted: December 24, 2013 By Jennifer Fiedler
Do you still drink the same wines you did when you started drinking wine? I don't, and I'm guessing you don't either.
It's a truism that understanding wine is a journey. With so many styles and types of wine out there, it's natural that people start in one place and end in another.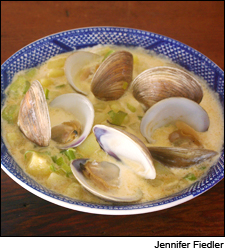 Bacon and paprika enliven this easy weeknight dish
Posted: December 16, 2013 By Jennifer Fiedler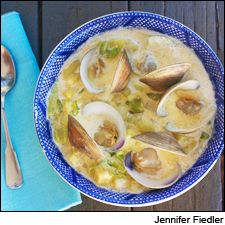 Bacon and smoked paprika help make an ideal pairing for this easy weeknight dish
Posted: December 10, 2013 By Jennifer Fiedler