Blogs : Mixed Case: Opinion and Advice
Wary vintners are increasingly picky about who deserves a spot on the mailing list, and who's just in it for the money
Posted: January 10, 2013 By Robert Taylor
How much would you pay for a bottle of California Sauvignon Blanc?
The only wine from that category to ever earn a classic rating, the 2007 Merry Edwards Russian River Valley (96 points), cost $29, and the current vintage, 2011, is $30. So would you pay more than 8 times that for a bottle of Screaming Eagle Sauvignon Blanc Napa Valley? No? Well what if I told you that you could immediately turn around and re-sell it for 10 times that price? (That's more than $2,500 for a single bottle of Napa Sauvignon Blanc, for those still trying to do the math, at a profit of $2,250 per bottle.)
Some list members sold their wines, and a few months later, there were some angry people who had been kicked off the mailing list.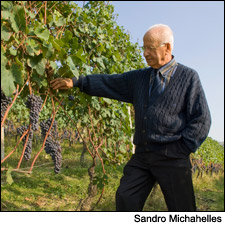 News & Features : News & Features
Tributes to wine industry leaders who died this year
Posted: December 28, 2012 By Robert Taylor
Facebook Gifts enables members of legal age to buy and ship wine to one another
Posted: December 14, 2012 By Robert Taylor
Blogs : Mixed Case: Opinion and Advice
Modern winery architecture has been inspired by Hellenic temples and medieval castles, but a new breed takes its cue from the simple, iconic farmhouse
Posted: December 6, 2012 By Robert Taylor
I first met vintner Achille Boroli four years ago in New York, where I was as impressed with photos of his family's modern winery, designed by his architect brother Guido, as I was his Barolo Villero 2001. The Boroli tasting room and cellar in Castiglione Falletto is a thoroughly modern, three-level barn-inspired facility with sharp lines, shadowbox windows and, most striking, vertical clapboard siding composed of repurposed oak barrel staves that make the winery appear to shimmer and undulate in the Piedmont sun.
Boroli was back in New York this past October, hosting a small dinner to showcase three of his Barolos at Lincoln restaurant, a fitting architectural setting for a winery passionate about design. The restaurant is nestled beneath the Tisch Illumination Lawn, a hyperbolic paraboloid (think saddle-shaped) park framed by glass fins that serves as Lincoln's roof. Lincoln's Brazilian wood plank ceiling mimics the park's contours. Boroli and Lincoln served as reminders that, as with wine, there's more outstanding and accessible architecture today than ever before.
Oct. 31, 2012 Issue : Features
Posted: October 31, 2012 By Robert Taylor
Blogs : Mixed Case: Opinion and Advice
Collegetown ain't what it used to be. Tailgating at LSU from a Hummer packed with high-end wines
Posted: October 16, 2012 By Robert Taylor
Tailgating is religion in Baton Rouge, La., and when it comes to a huge game between national championship contenders, the Tiger faithful pull out all the stops. Some of them even pull a few corks.
On Saturday night, the defending South Eastern Conference Champion Louisiana State Tigers hosted the undefeated South Carolina Game Cocks at Tiger Stadium, or as I've always known it, Death Valley. As the saying goes here, "You don't just walk into Death Valley." Sometimes, though, you drive up in a fine wine–laden white Hummer.
Blogs : Mixed Case: Opinion and Advice
Ouch. Enological grammar, spelling and usage can be tricky business
Posted: October 2, 2012 By Robert Taylor
When "normal" people think of wine experts, occasionally a few unsavory words come to mind: Geek. Snob. Bibulous fusspot. Coincidentally, those same words are commonly associated with another profession: Copy editor.
Imagine, then, the frustrations of the copy-editing wine pro. As someone who has copy edited professionally for more than a dozen years and has been a member of the Wine Spectator editorial staff for nearly 10, it's my pleasure to present here a few of the myriad misused terms in the wine industry. Hopefully we can all learn a little, laugh a little and lift each other's wine language skills.
Blogs : Mixed Case: Opinion and Advice
The evolution of the most important wine-industry innovation in nearly 150 years
Posted: September 18, 2012 By Robert Taylor
The Northern Hemisphere harvest begins this month, and in the vast, vast majority of the world's vineyards, it starts with a heavy machinery operator turning the ignition on a mechanical grape harvester.
Many wine lovers might imagine—or might prefer—a scenario that involved skilled harvesters gently selecting the very best bunches of grapes, all by hand. But the half-dozen experts I polled—including industry insiders, vintners and mechanical harvester operators—conceded that 90 percent or more of the world's wine grapes are likely harvested mechanically.
If you're interested in the intersection of quality and value, you should be grateful.
Blogs : Mixed Case: Opinion and Advice
An embargo has changed the way the small former Soviet nation's wines are made, for the better, but will its impending lift reverse all that?
Posted: September 4, 2012 By Robert Taylor
You may have noticed it's an election year, not just here but around the world. Of all the recent campaigns, I was particularly captivated by the one in Russia. The return to power of Vladimir Putin-who remains a regular headliner in the news-got me thinking about the wines of the old Soviet Bloc.
The former U.S.S.R. once had a booming wine industry, much of it in what is now the Republic of Georgia. Even after Georgia declared independence in 1991, almost all of its wine was exported to Russia, but that ended in 2006 when Russia placed an embargo on Georgian wine and mineral water. Russia claimed the Georgian products were of such poor quality that they could no longer be accepted. However, the embargo also happened to coincide with Georgia's announced intentions to join NATO (which doesn't exactly always share Russian interests) and a 2006 espionage controversy, in which Georgia very publicly arrested four Russian officers and charged them with spying.
That all turned out to be a good thing for those of us who love undiscovered—and undervalued—wines.
Blogs : Mixed Case: Opinion and Advice
Exploring the restaurants of New York's underappreciated borough
Posted: August 21, 2012 By Robert Taylor
With the amount of time I spend at Citi Field each summer, I've come to learn the restaurants along the No. 7 train through Queens fairly well. As decent as the ballpark's food is, sometimes you want to stop at a real restaurant (or just pick up one of the city's best Cubanos on the way home).
All-Time N.L. East villain John Rocker certainly didn't mean it nicely when he commented to Sports Illustrated about the diversity along the No. 7 train, but it's wonderfully true that there are myriad ethnic cuisines and exciting restaurants to be found along every turn and stop of the subway ride from Manhattan to Citi Field (and beyond).
My favorite restaurant in Queens, just one stop from Manhattan, is Tournesol, an authentically French restaurant with affordable prices and a solid wine list. I'm also including a run-down of some of my other Queens' top draws on the way to or from the game.