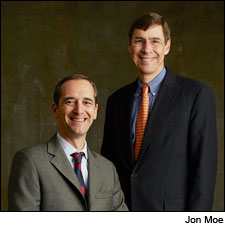 News & Features : News & Features
Winemaker Manuel Louzada presents four vintages of Numanthia-Termes' boutique red
Posted: October 29, 2013 By Robert Taylor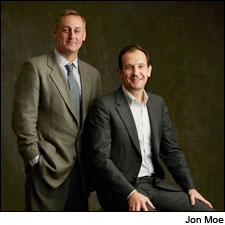 News & Features : News & Features
The Perrin family maintain their devotion to Mourvèdre in Châteauneuf-du-Pape
Posted: October 29, 2013 By Robert Taylor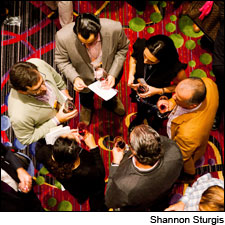 News & Features : News & Features
Wine Spectator's New York Wine Experience welcomes thousands
Posted: October 25, 2013 By Robert Taylor
Blogs : Mixed Case: Opinion and Advice
With one piece of mail, New York government aimed to further limit wine shoppers' choices instead of expanding them—and the state's coffers
Posted: October 15, 2013 By Robert Taylor
This past August, the New York State Liquor Authority (SLA) quietly issued a cease-and-desist letter to New Jersey's Wine Library, one of the largest retailers in the Garden State and a popular wine source for many New Yorkers.
The SLA ordered Wine Library to stop shipping wine to New Yorkers, a practice that is technically illegal but that has been happening for years without complaint or repercussion. Cease-and-desist letter or not, the ban is practically unenforceable-the SLA simply doesn't have the manpower to adequately monitor interstate sales.
Because of the letter, Wine Library and a few other out-of-state retailers indicated they would stop selling wine to New Yorkers. New York retailers worried that they would start receiving similar letters from alcohol authorities in other states, as a form of retaliation. Since then, however, there's been nothing but silence from the authorities, and Wine Library has continued shipping wine to New York.
State Liquor Authority sends cease-and-desist letter to prominent retailer; sign of an organized crackdown on retailer shipping?
Posted: August 23, 2013 By Robert Taylor
Blogs : Mixed Case: Opinion and Advice
For the best-designed brands, the bottles outlive their contents
Posted: August 15, 2013 By Robert Taylor
If you're anything like me, you have quite a few wine bottles in your home, and not all of them are full. A quick tally in my apartment came to more than two dozen empties on display or in storage. Some are mementos from special occasions, but most simply serve as art.
It's no coincidence that so many wine labels are suitable for hanging. Product packaging is as important to sales as the product itself. For a collectible competing against other products that bear the exact same size, shape, appellation and vintage, it makes sense that most vintners enlist the help of artists and marketing firms when creating a wine label.
Blogs : Mixed Case: Opinion and Advice
The American Wine Consumer Coalition will support direct shipping, grocery-store sales, privatization, BYOB laws and more
Posted: July 3, 2013 By Robert Taylor
The 21st century has been a tumultuous, albeit productive, one for Drinkers Rights, were one so inclined to dub the movement. The tug-of-war over where, when and how alcohol can be bought and consumed has played out everywhere from local community boards to state legislatures to the U.S. Congress and the Supreme Court.
In the past 10 years, interstate direct-to-consumer shipping has vastly expanded for wineries, but contracted for retailers; wholesalers continue to thrive and exert political influence despite claims that deregulated wine markets would drive them out of business; politicians perpetuate stereotypes of politicians by pandering to special interests. Yet somehow one group affected by each development—consumers—never seems to have a say. The founders of a new wine lovers' advocacy group hope they can change that.
Blogs : Mixed Case: Opinion and Advice
Privatized alcohol sales looked like a lock in the Keystone State a few months ago; now opponents appear to have the upper hand
Posted: May 30, 2013 By Robert Taylor
The last time you had friends over, you probably made a run to the supermarket for supplies before playing the good host. If you live in Pennsylvania, it wasn't so easy. You drove to the supermarket, you drove to the state beer distributor and you drove to the state wine and spirits store. Pennsylvania is one of the few remaining "control" states, meaning that the state exerts direct control over alcohol sales.
Sound like a wasteful, inconvenient and costly hassle?
Most Pennsylvanians think so. The governor and lieutenant governor think so. Most of the Pennsylvania House of Representatives thinks so. Labor unions do not, however, and their full-throated opposition has stymied a proposal to privatize alcohol sales in the state Senate. Despite all the initial support, the longer the debate drags on, the further Pennsylvania seems to be from privatizing its alcohol distribution and sales. For the consumer, that means limited selection and more hassle.
Blogs : Mixed Case: Opinion and Advice
Direct-to-consumer wine sales jumped dramatically again in 2012, to the tune of $1.46 billion
Posted: May 2, 2013 By Robert Taylor
The numbers are in and, as expected, 2012 was another banner year for winery direct-to-consumer shipping. American wineries shipped nearly 3.2 million cases of wine directly to consumers' front doors in 2012, at a value of $1.46 billion.
That's a 7.7 percent increase in volume and a 10 percent increase in value over 2011. Not only are Americans buying more wine straight from the cellar, we're buying more expensive wine—at an average price of $38.42 per bottle, up from $37.63 in 2011 and $36.56 in 2010.
$1.46 billion, with a B, is an eye-popping sum. But these numbers, presented in an annual report issued in April by ShipCompliant and Wines & Vines, shouldn't surprise anyone who's been following the decade-plus-long fight to make winery direct shipping legal across the United States. Today it's permitted in 39 states, and a look at a few newcomers confirms that wine lovers love having the option to buy straight from the winery, especially smaller wineries that aren't carried by local wholesalers.
Rep. Theodore Speliotis has introduced House Bill 294, which would allow local and out-of-state wineries, after applying for a $100 state permit, to ship up to 24 cases of wine a year to Massachusetts residents. Sen. Daniel Wolf has co-sponsored the bill, crafted with the assistance of the Wine Institute, a winery advocacy organization.
And now the bill's proponents have a new secret weapon: former Patriots quarterback-turned-Washington vintner Drew Bledsoe.
Consumers could have fewer choices if legislation squeezes small wholesalers, while State Liquor Authority forbids some third-party wine sales
Posted: April 25, 2013 By Robert Taylor